Angle Park Speed Star Tips For Thursday 24th September 2020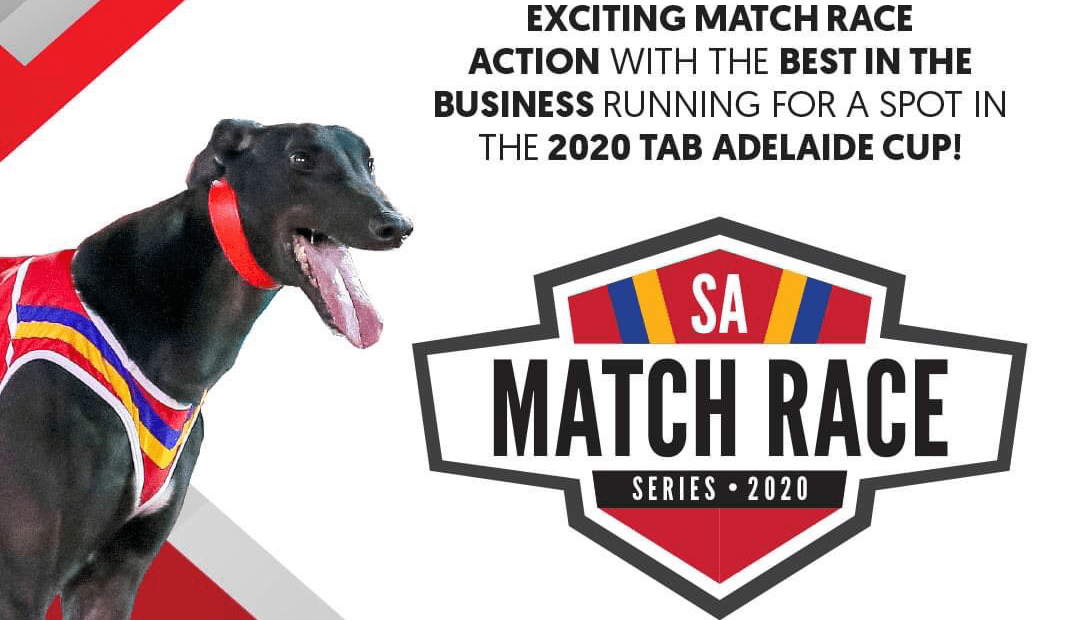 The 2020 SA Match Race Series is on tonight at Angle park, just a few weeks after The Meadows held the Victorian version of the match race series.
A couple of Victorians have made the trek to SA's home of greyhound racing to add some interest to the series with the most prominent being Catch The Thief, who was all the talk after the last series when narrowly gunned down by Christo Bale in his match race.
Officially the match race series race is Race 3 on tonight's race card, and the first match race isdue to start at 7.22pm (SA time), Match 2 at 7.31pm, Match 3 at 7.40pm and Match 4 at 7.49pm.
GRSA ranked the greyhounds nominated to determine their match races pitching 1v4 ranked against each other; 2v3, 5v8 and 6v7. Is ranking the greyhounds and hand selecting the head to head races the right formula? Personally I prefer less intervention and the matchups left to random draw.
Prizemoney for each Match will be range between $2,500 and $3,250 with unplaced $350 for each Match.
The overall SA Match Series winner will be based on overall times and will collect $5,000 for first, second $1,430, and third $715. Additionally, the winner of the SA Match Race Series will be guaranteed a spot directly into the Group 1 Adelaide Cup Final which is perhaps more valuable than the prizemoney on offer from tonight's series.
You can bet on the overall winner and placegetters at Australia's best greyhound bookmakers, as well as on each individual match race.
Before we get in to the head to head matchups, for reference here are the top 20 fastest times ever recorded at Angle Park. We doubt any will get down to Brett lee's marks tonight, but Shadow Mist and Catch The Thief will give the low 29's a good shake.
Angle Park's Fastest Greyhounds
Brett Lee 28.88 in 2001
Brett Lee 29.04 in 2001
Betty's Angel 29.12 in 2007
Big Daddy Cool 29.14 in 2004
Betty's Angel 29.17 in 2007
Worm Burner 29.17 in 2016
Hooked On Scotch 29.19 in 2019
Fernando Bale 29.20 in 2015
Eduardo 29.20 in 2015
Sennachie 29.21 in 2020
Mepunga Blazer 29.25 in 2017
Worm Burner 29.25 in 2016
Classic Capri 29.26 in 2001 (second behind Brett Lee)
Rulebook 29.26 in 2014
Shadow Mist 29.29 in 2020
Dyna Double One 29.30 in 2015
Bothing 29.30 in 2006
Big Time Max 29.30 in 2007
Shima Breeze 29.30 in 2019
Querencia 29.30 in 2019
AustralianRacingGreyhound.com provide you with every Speed Star series match race head to head winner.
Angle Park Match Race Free Greyhound Speed Star Tips
SA Match Race Overall Winner

For the overall match race placings, we only see it as a race in two between Shadow Mist and Catch The Thief for fastest times, with the odds slightly favouring Catch The Thief from a preferred draw. Back on home soil Shadow Mist shouldn't be underestimated. Zipping Zarbo looks the best each way bet of the series at $13.00.
Match Race H2H Race 1 7:22PM: Oakvale Beauty v Shadow Mist

| | | |
| --- | --- | --- |
| GREYHOUND | BET TYPE | SPORTSBET ODDS* |
| Shadow Mist | Win | $1.05 |
*ODDS CORRECT AT TIME OF PUBLICATION
Match Race H2H Race 2 7:31PM: Golden Night v Lektra Theory
Match Race H2H Race 3 7:40PM: Alfieri v Catch The Thief

Match Race H2H Race 4 7:49PM: Defy v Zipping Zarbo
More greyhound news