In Greyhound Racing First Out Is (Usually) Best Dressed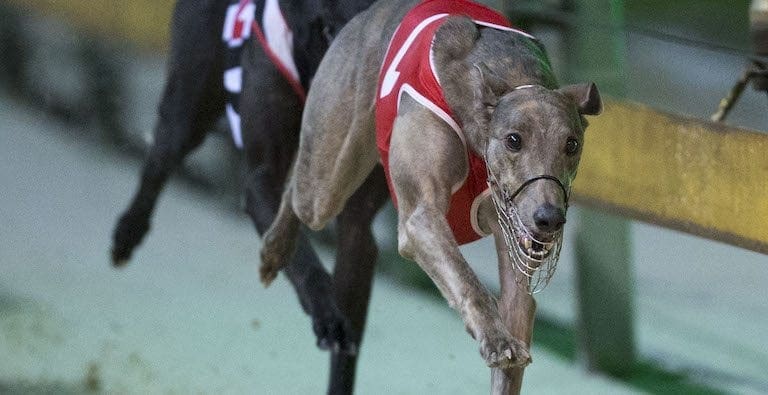 Pardon me for stating the obvious at times, but…
Big Jo is a name that promises much but – so far – has delivered only a little. Still, it did really well in a low grade 520m at Cranbourne last Wednesday. More exciting than the Speedsters at The Meadows that same evening, I would argue.
Big Jo (Fernando Bale x Naughty Cazza), which belies its name as it is a 27kg bitch trained by Kayla Cottrell, began in the ruck but then tigerishly roared through to lead in the back straight and win comfortably in a spritely 30.08 – a number which very few get down to. They knew it was coming as it was backed in to start at $1.90.
We knew it had ability as its career included wins in 30.35 at The Meadows and 29.53 at Sandown. But that's all. It has now won only 3 of its 19 starts, seemingly "stonkered" by its failure to jump well. On that basis its SP was almost certainly "unders", which is a pretty common event these days as mug gamblers jump onto any band wagon they can find.
Yet it tells the story of many a fine galloper and hard chaser. Doing it in a race is much tougher than highballing it out front on your own.
Which brings us back to the connections and the luck of the draw. Cottrell must be frustrated at seeing all that ability going to waste so many times. Training is a tough gig if the luck does not run your way or you don't have a flash beginner. It's something we do not appreciate as much as we should. So well done.
Let's hope that track builders keep finding ways to improve layouts so that both fast and slow beginners can show their best. Cranbourne 520m is a tough test but its shape has never been great. Indeed, if you think about it, its awkward turns may be why it is so tough. They don't help but hinder.
EDITOR'S NOTE: Big Jo won again on Sunday from box four again running 29.74 best of day, this time jumping to the lead early.
Early Sectionals Times – They Vary & Not Just With The Dogs Themselves
Which brings us back to the question of good and bad beginners and what happened at The Meadows Speed Star series.
We now know that the much publicised Catch the Thief ($1.60) was run down by a whisker by Christo Bale ($4.60) for the ten grand. Catch the Thief was easily first away, as expected, but the final few metres found it out, not for the first time. It's hard to do it at both ends. But that was a two-dog race.
Overall, at the three 500s where it has raced most often (Meadows, Sandown and Cannington) the dog's first sectional shows it chalks up times over a full two lengths range, or maybe a little less at Cannington. That's for its wins. Generally, a faster first section will produce a faster overall time. And that's for a top class racer. Obviously, times for lesser dogs will vary even more.
I don't disagree too much with the pricing in this particular race but, otherwise, too few race assessments take sectional variability into account, especially at a tricky circuit like The Meadows where it is hard to get across from outside boxes. (See Hooked on Scotch, for example).
Of note is that quite a few dogs hoping to compete in the Million Dollar series will have been qualifying in NSW provincial races where reported sectionals can be scarce. Goulburn and Temora are cases in point, but times at Wenty are sometimes a problem as well. Bulli is OK at the moment but has been erratic. Not a good look.
Mind you, a good half of all Tasmanian sectionals are also outright lies in the OzChase formguides – they assign a single time to the race winner, which may or may not have been the early leader.
Speed Star Series Not Popular With Tote Punters
Strangely, the Speed Star series were not particularly popular with tote punters. Forgetting the betting on individual matches (not published), earlier races in the 5:25 pm to 6:12 pm slot were better patronised than the tri-distance Speed Stars from 6:30pm to 8:00 pm, particularly in NSW.
By comparison, at the "normal" Meadows meeting on the following day, turnover on races between 3:50 pm and 6.30 pm was effectively double that of the Wednesday meeting. (It ran during the twilight period as Victorian race times have been brought forward in sympathy with the state's night time lockdown laws).
It seems the innovative concept of the Best Time from all four matches did not work out for gamblers who wanted more instant or more obvious results. Maybe they just did not understand the method.
Do Leaders Win More Match Races?
As a bit of a throwaway line, I wholeheartedly subscribe to a point made by another writer that leaders are rarely run down in top class races. Yet such races are for four to eight runners, not two, and so in those cases a seemingly better dog but slower beginner will find the traffic an extra problem if it fails to get the lead. It may also be forced to cover more ground (see Hooked on Scotch again).
But two-out is not four-out or eight-out. In a genuine match race the slower beginner is mathematically less likely to strike hassles on the way round. It's possible but it won't happen often. So I would have said prices of $1.80 and $2.50 would have been nearer the mark. Bear in mind their history showed only a one tenth difference between the two dogs in overall time and Christo Bale would normally have had more traffic to contend with.
Similar Greyhound Racing News