Greyhound Racing's Future Is Open For Discussion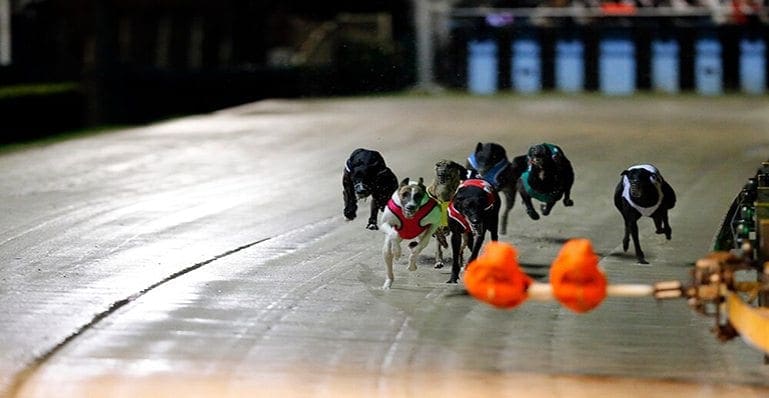 As always, things are changing, and not just in this crazy COVID world. They will also continue to change, so the future will depend on just how we take note of the symptoms and how we react to them. From the shirt maker to the pizza seller, everyone will be doing business differently in a few years' time, if not earlier. Below are just a few snippets about stuff which makes you sit up and take notice.
Greyhound racing is an odd deal: intensely personal and commercial at the core but massively bureaucratic at the top. Or speed at the bottom and plodding at the control level. That, too, must change. Add to the list as you wish.
HOW FAR, HOW FAST
Overlaid on the Meadows videos (GRV-Youtube) the other day were the actual speeds of the leading greyhounds. Perhaps this is part of the GPS tracking program on greyhound vests at the moment. Whatever, it is interesting.
This underlined a point I mentioned recently. Speeds will vary, of course, but in the back straight a typical dog was doing around 67kph. By the time it passed the post, it was only 55kph. The 500s obviously separate the men from the boys. Overall, a fair-average Meadows dog will record about 57kph for the whole trip.
Exceptions apply, of course. The long home straights at Bulli (472m) and Horsham (485m), for example, make them equally as demanding as the 500s – sometimes more so.
By the way, during that meeting, checks on longer races – this time over 600m – showed almost identical speed numbers as those for 525m races. When they reached the post, the winner was still making a good 55kph. No doubt those dogs would have been better conditioned to the trip, but it does suggest that the Australian greyhound can be built up to handle longer distances. Breeding is one thing, training another.
Either way, it all points to the folly of allowing the increasing habit of running sub-400m races. Ultra-short races offer no benefit to anyone, including the dogs themselves as well as punters – partly because of the disruptive nature of the starts. To advance the industry, let's give more power to the Speed Star over 525m.
IS THIS IN THE LIVE BAITING CATEGORY?
What should you do when your dog has had 17 starts without a win?
Stewards queried the history of Taipan Jill when the two-year-old bitch again failed at Shepparton last Saturday (at one of the "exciting" morning meetings conjured up by GRV).
Its previous five runs had been accomplished over nine days from September 3rd to 12th, an average of 1.9 days between runs. Its earlier performances had included similar short breaks.
How about a week off?
NATIONAL CONTROL IS NOT JUST ABSENT, IT'S PATHETIC
Racing Rules forbid running dogs in races on successive days. Gaps of two, three, or four days are OK, that implies.
In its media statement on 1 August 2018, GA stated that Rule 21A had been changed to "safeguard the health and welfare" of greyhounds and avoid "the increased risk of metabolic conditions and musculoskeletal injuries". It offers no authority for that technical claim, but it is probably good thinking.
This is worryingly similar to GA's decision to ban cobalt and arsenic above certain levels – all based on a single test of the quantities found in a normal batch of greyhounds. What effect, if any, these substances had on greyhound performance was never assessed.
Several veterinary and scientific experts have called for the removal of existing bans and also queried what they consider unsatisfactory methods of assessing the quantities allegedly present in the dog.
GA has several times declined to answer queries about this rule.
MORE PROOF OF THE PUDDING
Punters were disappointed when Sir Truculent ($1.30) failed to pick up the leader over 731m at Angle Park last Monday. Accepted as the state's best stayer, the dog finished off the race fairly well but looked a bit tired before that. The time of 43.63 was terrible, a full second short of Sir Truculent's best at the trip, which included several runs in the 42.60-42.75 bracket.
After a heavy program during August and September, Sir Truculent had raced over 515m on September 3rd, over 600m on September 10th and then the poor run over 731m on September 14th. That last four-day gap may have been the killer. Too much of a good thing?
STAYING IN HIDING DOES NOT WORK
Some weeks back, GA announced it would soon conduct a review of Racing Rules. No further statement has been made. Nor has there been any information on the missing national statistics which GA once published annually. None have been seen since 2015.
A journalist composing an article for the Sydney Morning Herald was told they were a work in progress. The same guy was looking for details of euthanized dogs, but GA has never counted those at any stage. Barring GWIC in NSW, nor have any other jurisdictions shown them with any regularity.
So the writer was forced to make his own assumptions about industry practices, all coloured by a carer who was very critical of greyhound racing. He had no choice.
More Greyhounds News