Rockhampton greyhound tips & value picks – Wednesday, March 9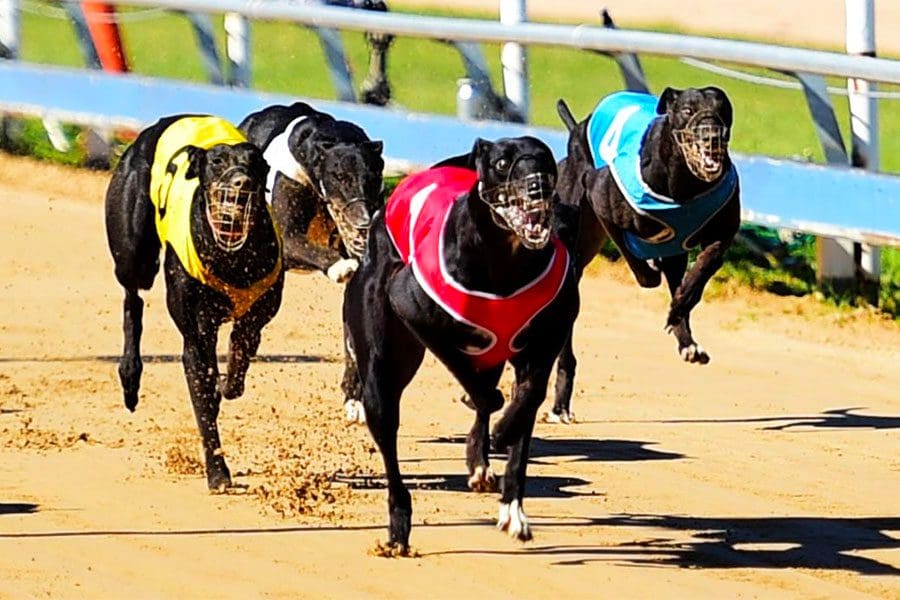 Rockhampton will play host to 12 greyhound races this Wednesday night, kicking off at 6:35pm AEST. ARG's Queensland racing expert has gone through the card and picked out the top selections in each race. Happy punting!
---
Race 1: TAB Maiden (407m)
Tarawi Opal (box 3) may improve a little off her first start at Rockhampton last Saturday, where she pinged the lids and crashed across from box 8 to lead early but tired late to finish third only running 25.18. For this reason, Zipping Raven (box 6) is a good chance to position up second early in this race and run past Tarawi Opal to win. Surprise Pocket (box 4) is normally a slow beginner but does run home late, as she did last Saturday night when beating home Tarawi Opal after giving her a fair start early.
Selections: 6-3-4
---
Race 2: Sky Racing Novice (407m)
Zipping Fern (box 4) won well at her debut start at Rockhampton last Wednesday night, clocking 24.20 from this same draw, so a repeat of that run should go close to winning this novice race. She is a litter sister to Zipping Raven, so Clinton Thompson looks to have a couple of handy greyhounds out of this Zulu Zeus x Zipping Meg litter. Tokyo Chief (box 2) has run second three times from his last four starts, so from this inside draw tonight he should also be given a winning chance. Big Time Becky (box 1) hasn't started since winning at this track and distance back on January 5 from box 3, running a moderate time of 24.76, but may have had a problem after last start, so respect her from this good draw tonight. My Gal Pinky (box 7) won't start tonight after injuring herself last Saturday night, having to get three stitches in her paws.
Selections: 4-2-1
---
Race 3: Garrard's Horse And Hound Other Grade (510m)
Foxy One (box 2) had her first start over the Rockhampton 510m last Wednesday night, resulting in a good second-placing at 30.52. She should be better for that run this week and can go close to winning. Air Supply (box 7) is trained by Rockhampton's leading trainer, Ken Boody, and is having his first start over the 510m tonight. The extra distance may suit this greyhound, who should get a good run early from this outside draw. Nomad Road (box 8) is also having her first start at the Rockhampton 510m. She is normally a slow beginner but does run home over 407m trip, so you would think the 510m suits. Dr Kammi (box 4) only ran 31.67 over this distance last Wednesday in the same race as Foxy One, so she would need to improve sharply to beat her home tonight.
Selections: 2-7-8-4
---
Race 4: Diplock's Collision Repair Centre 5th Grade (407m)
This is a good little 5th Grade race with a few winning chances. Shian Ned (box 3) has been luckless at his last few starts, so he may be due to get some luck tonight. Given a clear run early, he might be the greyhound to beat here. Blazing Norman (box 8) has had three starts now for his new trainer, Clinton Thompson, resulting in a win last start and two second-placings, but all from the two inside boxes. He weighs about 35kg, so this big fellow might appreciate the wide draw and get clear galloping room out wide. Pacific Bug (box 2) has won his last three starts, likes inside draws and runs well here at Rockhampton, so he is a winning chance. Hearts Thunder (box 4) has only won one race from 17 attempts at Rockhampton but has managed to run 10 other placings, whilst Velocity Tamika and Rosa's Kitchen could also be place chances.
Selections: 3-8-2-4
---
Race 5: Rocky Feed & Seed 5th Grade (407m)
This is another competitive 5th Grade race with many greyhounds currently in form. Velocity Cazau (box 6) may be able to lead this field early but hasn't raced since January 12. She has won all two starts at this track and distance. Say Some Words (box 4) had been running over the 510m distance but was switched back to run over the 407m here last Saturday and won clocking 24.13 from box 1. The dog is not as well drawn tonight but will be strong to the line. Rosa's Memory (box 1) hasn't won from this draw from four attempts but has won from boxes 2 and 3 so should be in the winning mix. Kennelmate On The Bayou (box 2) may get a good run from this inside draw but has winning form from wider draws.
Selections: 6-4-1-2
---
Race 6: Newsxpress Richardson Road 4th Grade (407m)
Petite Olga (box 3) can lead this race early and hold on to score, as she normally runs about 24.10 seconds over the Rockhampton 407m. Hear Footsteps (box 2) has drawn well tonight, and his last run from this draw netted a win in 24.05 seconds. Daisy Cousins (box 5) can't seem to draw a good box lately (all middle draws in his last five starts) but may get a good run across tonight outside Petite Olga so may be a winning chance. Wink At Me (box 4) has only run over the 510m at Rockhampton, but tonight Ken Boody has elected to run over 407m. He should be strong late in this race but may give them at fair start early.
Selections: 3-2-5-4
---
Race 7: Dinky Di Web Design 3rd/4th Grade (407m)
This is our fast-class race tonight. Blue jeans Talk (box 3) has never been unplaced in five starts this track and distance. This son of Thirty Talks can hold his ground around first turn and win tonight. Mexicali Jane (box 1) loves inside draws and should get a good run again tonight, so she looks one of the main dangers. You can never leave Informality (box 8) out of your tips, as she is very honest and a strong chaser. She has won twice from three starts from box 8 but will just need a little luck rounding the first turn; still, she must still be a winning chance. Red Card Bob (box 2) should get a good run tonight from this inside draw and must be a good place chance.
Selections: 3-1-8-2
---
Race 8: Wendy Mulry Travel 5th Grade (510m)
We think Swift Titch (box 7) leads all the way here. She likes outside draws, has good early speed and should run a good time. The only danger, if any, looks to be Deadly Choice (box 8). She may struggle to match Swift Titch early but has a good record this track and distance (3:1-2-0). Velocity Kayla (box 3) is consistent and has placed in all two starts over the 510m here so must be a good place chance, whilst Queen Norma (box 1) and Swift Anna (box 2) have both drawn well but are only rough place chances tonight.
Selections: 7-8-3-1
---
Race 9: TAB 5th Grade (510m)
Pereira (box 2) steps up to the 510m again tonight. She is well drawn, having won all two starts from this box draw, and has been running well lately over the 407m here. She has run 30.36 to win over this track and distance from box 6 and maps well tonight to get a good run. Unique Speed (box 7) looks the main danger on form but has only won once over this distance in 12 attempts, albeit with nine minor placings. Wise Decision (box 3) likes inside draws and could get a good run so deserves to be in the winning chances. Prosecutor (box 8) normally runs well at this track and distance but hasn't won yet (22:0-11-11), so take him in your trifectas.
Selections: 2-7-3-8
---
Race 10: Sandal Welding 5th Grade (407m)
Perfect Mate (box 2) has struck a not overly strong 5th Grade race tonight. From this inside draw, she might be able to win tonight. Tokyo Dreamer (box 7) would go on top if he drew an inside box, but he has not drawn well tonight. He has been unplaced in all five starts drawing outside of box 4, and tonight might be his chance to be placed. Blazing Brothers (box 5) can show early pace but normally struggles to run out the 407m. Just Law (box 3) may be drawn well enough to run a place here tonight.
Selections: 2-7-5-3
---
Race 11: Garrard's Horse And Hound 5th Grade (407m)
In what is another open and even 5th Grade, we are tipping all the inside four box draws, but with not much confidence. Camino Angel (box 1) has previously won from this draw four starts ago, clocking 24.20, and that effort would probably win this race, but she hasn't produced that effort since. Calla Ebony gets a run now from box 3 with the scratching of We're Back Boys and has previously clocked 24.20 when winning from this same draw. Mad Morgan (box 2) won last Saturday running 24.60 from box 1, beating Erratic George (box 4) from his same draw of no.4.
Selections: 1-9-2-4
---
Race 12: Sky Racing M5 (407m)
In this Masters race, the Ken Boody-trained Won't Win Larson (box 8) might be too good for this lot. He clocked 24.30 to run second to Dr Braelyn last Wednesday from this same draw, and a repeat of that might win this race. Chase Man (box 4) has not drawn well tonight but is currently in fair form. Electron Kev (box 2) has drawn better tonight and could also be a winning chance, as he beat home Headliner (box 1) last week from an awkward draw of 6.
Selections: 8-4-2-1
---
Similar Greyhound Racing News