Bogie Bekim back to his brilliant best in time for Topgun Stayers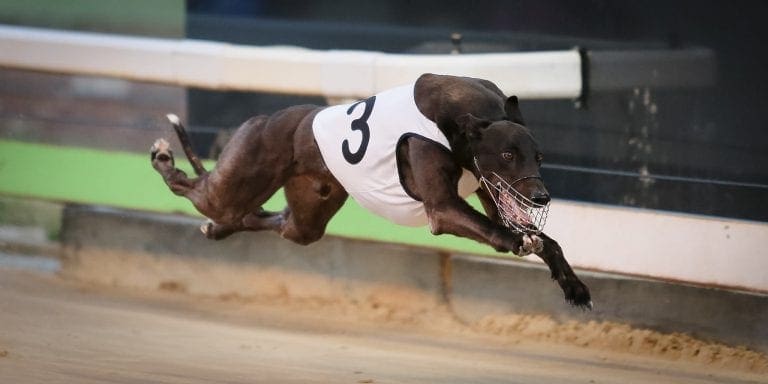 BEN Rawlings is hopeful Bogie Bekim (Bekim Bale x Bogie Skye Apr '14) has done enough to make the field for the invitation-only Group 2 Topgun Stayers (725m) at The Meadows later this month after scoring emphatically in Friday's Premier's Cup (731m) at Angle Park.
Stepping from box three, Bogie Bekim was out-paced early by Brick Lane (Bella Infrared x Honky Tonk Girl Apr '15), which came into the race on the back of three straight wins over 643m at Gawler.
However, Bogie Bekim quickly slipped into second spot before finding the lead at the post on the first occasion. Once on the bunny it was a case of times and margins, with the black dog striding clear to score by just under 13 lengths in a race record 43.07.
It was a welcome return to form for the Group 1 Galaxy winner which had finished behind Brick Lane at his three starts prior to Friday, the most recent being a nasty fall on October 3.
Rawlings said it was a massive relief to see his greyhound return to the winner's list.
"I was absolutely rapt with him," Rawlings told Australian Racing Greyhound.
"I didn't think the fall would worry him, he doesn't seem to let most of that stuff bother him – but you never know how they are going to come back after a fall both mentally and with any underlying injuries.
"But he was back to where he loves it over the 700 at Angle Park so it was great to see him show just how good he is."
Bogie Bekim took his career record to 20 wins from 57 starts, having also run 17 placings and now having earned $195,000 in prize money.

Lewiston-based Rawlings said the win, which was just outside his 42.97 personal best over the Angle Park 731m, proved he is back to his peak just in time for the Melbourne Spring Carnival.
"It was nice to see him win – but the style of the win, how he did it and the time on the board was all great and showed he is going as good as before he went over and won the Galaxy.
"I knew he was capable of doing it – but it was nice to see him prove that to everyone else."
Bogie Bekim will now target the Topgun Stayers at The Meadows on October 28. The 34-kilogram powerhouse received a first round invitation for the $75,000 to the winner feature, with the final field to be announced this Tuesday night.
Rawlings is confident his star chaser has the ability to match it with the best stayers in the country – including Burn One Down and Fanta Bale – provided he gets a start and draws well.
"He got an invite and we accepted – so I am hopeful that win puts him back in contention to get a start in the final.
"He's come up against [Fanta Bale and Burn One Down] a couple of times and hasn't fared well, but we've always had a big opinion of him.
"He has always been able to run time – he went 41.96 at Wentworth Park and even the good dogs don't seem to be running anywhere near that at the moment.
"The draw is key to him – in the big races he needs to draw wide as he likes a bit of room to move.
"If he gets that and can possie in the first few early we'll see a different dog, for sure."
More Greyhounds News