Lismore Cup the next target for Gold Coast Cup winner Opal Nera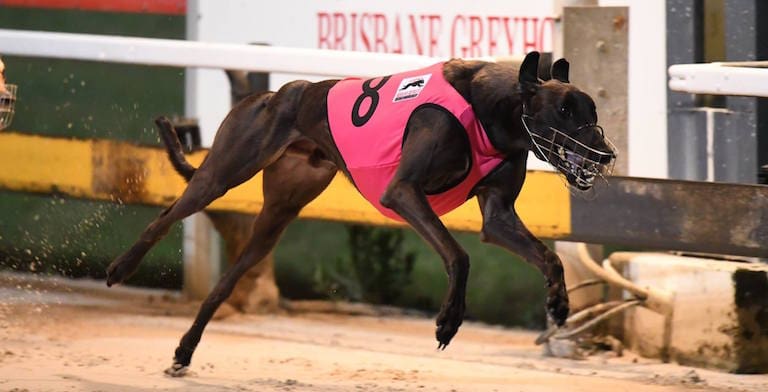 OPAL Nera (Dyna Tron x Black Sambuca May '15) will be aimed at the Lismore Cup followed by the Melbourne Cup after scoring a dominant win in Thursday's Group 3 Gold Coast Cup (520m) at Albion Park.
Stepping from box eight, the big striding dog mustered pace and slipped straight to the front of the field and was never headed, stretching out to defeat outsider Not Like Tommy (Spring Gun x Mini Pod Mar '13) by two and one quarter lengths in 29.86.
Tony Brett, who trains the speedster for owner George Kairouz, praised Opal Nera for the gutsy performance.
"He has matured and turned into a very nice race dog," Brett told Australian Racing Greyhound.
"Six months ago if he were in that position he'd probably get run down, but I think the trip down to Melbourne strengthened him up.
"You have to give credit to him – he really stepped up against a very good field."
Opal Nera has now won 11 races from 23 starts with his prize money now sitting at $72,916. He has proven to be a more than handy dog, having also run third in the Group 3 Townsville Cup and having qualified for the Group 1 Maturity Classic, the Group 3 Vince Curry Memorial and the Listed Flying Amy Classic.
The black dog will now head to Lismore on Tuesday night to contest a heat of the Group 2 Lismore Cup where he has drawn box six in the third head against talented NSW sprinter Ebby Chance (box two), Queensland duo Fab Dooley (box three) and Slick (box four) as well as recent Group 3 Casino Cup winner Terra Torra (box five).
"Unfortunately, because of the Gold Coast Cup we haven't had a chance to trial him at Lismore – but he went to The Meadows and Townsville without a look and he handled them both so I don't think it will be a major problem for him," Brett explained.
"After that we'll target whatever is coming up with him with the main goal being the Melbourne Cup."
Brett had a massive night at Albion Park on Thursday, also collecting a feature race win with Pure Vengeance (Jagger Swagger x Midnight Tammy Aug '15) which won the Eric Thomson Memorial Maiden.
It was a big effort from the 34-kilogram powerhouse which missed the start off box one, coming from behind to run down the leader in 30.41.
Pure Vengeance, whose race track debut was delayed due to a cracked hock, has now won two races from two starts and earned $14,000 in prize money.
"I was real happy with his run," Brett said.
"It's been a long haul due to injury but to get a first up win in a good maiden series is a nice reward for your patience.
"I expected him to jump and go from box one, but he missed it and had to come from behind so I was very pleased with him.
"Even though he came from behind he isn't overly strong – but he is a really good chaser."
The next seven days will be massive for team Brett, heading to Lismore on Tuesday with Opal Nera as well as Group 1 National Sprint Championship winner Jury and Fast Times which will be having just his second start back since injuring a pin muscle in the lead up to the Maturity Classic at The Meadows in July.

Then, next Friday, Brett will make the trek to Geelong for the heats of the Group 2 Geelong Gold Cup with his four-time group winner Thirty Talks.
The brindle dog, which was sidelined for six months with a back muscle injury at the start of the year, dead-heated for fourth in the Gold Coast Cup on Thursday night.
The 27-time winner had won four straight races in Victoria heading into the series and then ran second in his heat before crossing the line three and one quarter lengths behind his kennel mate in the decider.
"I tipped Thirty Talks – I thought Opal Nera would lead and that Thirty Talks would follow him around run him down," Brett said.
"He got beaten a length in 29.73 in his heat – but he got in a position in the final where he was entitled to pick the leader up if not run second.
"I was a bit disappointed in the run because I have no doubt in my mind he is going just as good as before he got injured – he is still a 29.70 dog at Albion Park or a 29.30 dog at Sandown Park.
"I'm going to take him down to Geelong where it is a big open track. I think a lot of it is in his head – he needs to be confident in what he's doing and I'm hoping he get some confidence racing down there."