Mr Pupparazzi aiming for back to back Wentworth Park wins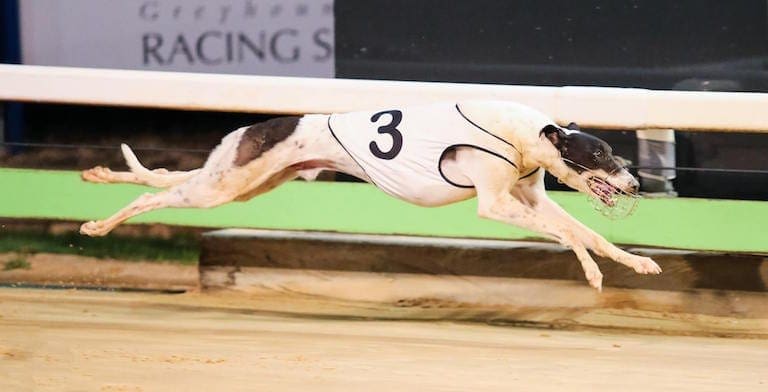 MR Pupparazzi (Djays Octane x Pie Thief Sep '15) looks a leading local chance for the heats of the Group 1 Vic Peter Classic later this month after recording an impressive 30.03 Wentworth Park win on Saturday night.
The white and black dog was fairly away from box two and was able to settle in second spot through the first turn where he stayed for the majority of the race before railing through to take the lead swinging for home.
In the run to the line the Barry Riccio-trained greyhound was too strong, defeating Dual Keroma (Lochinvar Marlow x Duanna Keroma Jun '15) by one and a half lengths.
"I thought he was a certainty," Riccio told Australian Racing Greyhound.
"He was well boxed and he had trialled there in the week leading up and went 30.26 – the only two dogs that went quicker than him were Packey Keeping and Scott Keeping which made the Sydney Cup final.
"He is starting to begin better and I thought if he could get up near the lead they wouldn't run him down because he is strong."
It was his eighth win at start 16, having also run four placings throughout his short career to date. He has now won three of his past four outings, his only defeat being a luckless seventh in the final of the Group 3 SA Derby at Angle Park.
Riccio said despite not featuring in the finish of the South Australian final, the interstate trip has worked wonders for Mr Pupparazzi.
"He was the right age for it and he is a very hard chasing dog so I decided to have a crack.
"He won his heat well but then he almost fell in the final. Although he didn't have any luck I am glad I sent him over there for it because I think he has come back a more mature dog."
Owned by Riccio's son Matthew, Mr Pupparazzi is a special greyhound to his Loftus-based trainer, being named after his late-friend of 40 years, former greyhound photographer and columnist George Cliff.
"We bred him and the day this dog was born was the day George was buried," Riccio explained.
"My son text me to tell me Pie Thief had just had another pup and I asked him whether it was a bitch or a dog and what colour it was.

"I was sick of having black dogs so when he told me it was white and black I told him that we would keep him and that we were going to name him George.
"When it came time to name him my wife suggested to call him Mr Pupparazzi which was the name of George's old column in the Greyhound Recorder – and the rest is history."
Although the 30-kilogram greyhound never started out exceptional from a young age, Riccio explains he has always had a big opinion of him.
"He broke in 19.65 at Dennis Barnes' place and while that isn't anything special I have always liked the dog.
"He had something about him and he has a very good nature. When I got him back from the breakers he kept improving every time I put him around and he has turned out a very good pup.
"He is the fastest dog I have put a lead on."
Mr Pupparazzi will return to headquarters this Wednesday night, with Riccio rating him a chance despite drawing poorly in box six in race 10.
After the race 'George' will temporarily join the kennel of successful trainer Jason Magri who will prepare him throughout the upcoming Vic Peters series.
"I grade HSC papers so things are about to get very busy and the dog needs to come first," Riccio explained.
"I won't have the time to devote to him over the next few weeks so he will go home with Jason after Wednesday's race as I know he will do a good job with him."
After the Vic Peters Riccio has more big plans, with an assault on the Group 1 Silver Chief Classic at The Meadows at the end of the year the main goal before embarking on a staying campaign.
More Greyhounds News