Bogie Bekim steals the show in Group 3 Summer Cup heats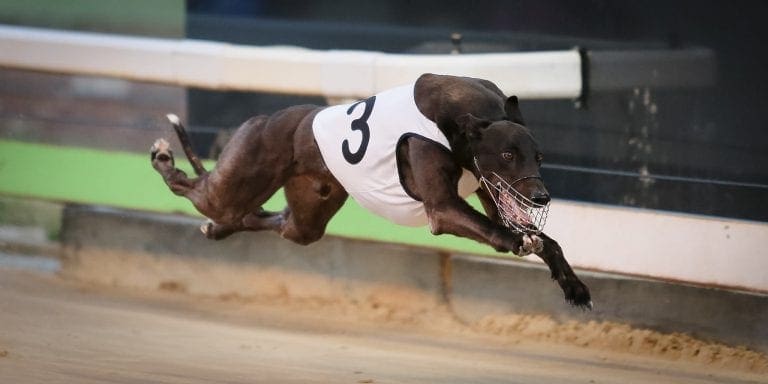 BOGIE Bekim (Bekim Bale x Bogie Skye Apr '14) stunned racegoers at Wentworth Park on Saturday night with an emphatic victory in his heat of the Group 3 Summer Cup (720m).
Trained in South Australia by Ben Rawlings, Bogie Bekim began brilliantly from box two and speared straight to the lead.
From there it was game, set, match as the black powerhouse charged to the line to defeat the fast-finishing Ebby Ripper (Sh Avatar x Ebby Miss Feb '15) by two and three quarter lengths in 42.67.
Scott Keeping (Bekim Bale x Kim Keeping May '15) and Big Daddy Bee (Kinloch Brae x Winning Charm Jan '15) filled third and fourth respectively and will also progress through to the final.
The time was significantly quicker than the remaining heat, won by champion bitch Fanta Bale (David Bale x Ucme Typhoon Aug '14). Her heat was also a one act affair, leading from the outset in a moderate 43.13 on the rain-affected track.
REPLAY ? It takes a lot to better Fanta Bale, but Bogie Bekim did just that, recording a faster time than the champion in last night's Summer Cuo heats. Also check out Ebby Ripper's huge run home for second ? pic.twitter.com/luOXsdXXog

— The Dogs (@Thedogs_com_au) December 3, 2017
Rawlings, who admits he was tossing up whether or not to contest the series with Bogie Bekim, said he couldn't have been more pleased with his effort.
"He is not used to being in that position other than when he is at home, so it was nice to see him jump straight to the front and show everyone what he can do," Rawlings told Australian Racing Greyhound.
"I've always wanted to see him do what he did on Saturday night – he was in the race after Fanta Bale, they both led all the way and he went nearly half a second quicker."
Bogie Bekim is already proven at group level, having won the Group 1 Perth Galaxy (715m) and the Group 2 Topgun Stayers (725m). His record is impressive, having started 63 times for 25 wins, 13 seconds and four thirds with over $285,000 banked for Rawlings and his owner, Les Bein.

Although he has always shown ability, Bogie Bekim has really his his straps in recent months, winning six of his past seven starts. Rawlings believes he has found the key to his star chaser and is now hoping he can keep the 34-kilogram dog at his peak for the foreseeable future.
"He is at his peak now. He is three and a half so the key will be just trying to maintain him – we have learned not to over race him and I think that will help to keep him at his best moving forward.
"It's also been good to go back home to Angle Park and have some runs in between travelling against some easier opposition – he seems to be thriving on what we are doing with him at the moment.
"He has also matured into a nice, honest, good stayer now. At the start he wasn't walking home, but he is definitely stronger and he seems to be able to do it at both ends of his races."
Bogie Bekim will jump from box six in the $25,000 to the winner final; his main rivals Ebby Ripper and Fanta Bale will start from the seven and eight respectively.
Well done to team Rawlings with Bogie Bekim winning his heat of the Summer Cup at Wentworth Park tonight. Now for the final next Saturday night and another clash with Fanta Bale!

— Greyhound Racing SA (@TheDogsSA) December 2, 2017
Rawlings concedes any race against greyhound racing's third million-dollar earner is hard to win, but said Bogie Bekim is right in contention if he brings his best.
"Fanta Bale will naturally be hard to beat and you can't afford to make any sorts of mistakes in these types of races.
"Box six isn't too bad – his first split was quicker than Fanta Bale's in the heats so if he can jump level with her and hold out I am hoping he can put in another all the way performance."
Win, lose or draw on Saturday night, Rawlings said Bogie Bekim will head home after the Summer Cup and will bypass the Group 1 Sale Cup (650m) over Christmas.
"No matter what happens in the final he'll come back for a couple of runs at Angle Park – we will give the Sale Cup a miss – as I said we don't want to over race him.
"We'll probably head back to Sydney for another feature race in early January – all going well that will be his next trip away from home."
Group 3 Summer Cup box draw
1 – Big Daddy Bee
2 – Scott Keeping
3 – Zipping Lady
4 – Packey Keeping
5 – Fire And Smoke
6 – Bogie Bekim
7 – Ebby Ripper
8 – Fanta Bale
Reserves
9 – Zipping Katelyn
10 – Midnight Treat
More Greyhounds News