Comeback King Knight Sprite to contest 2017 Lismore Cup heats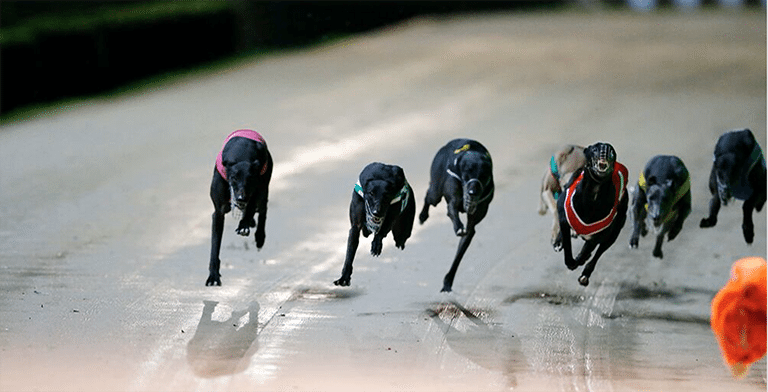 KNIGHT Sprite (Magic Sprite x Jaydo's Neglect Feb '13) has proven to be the John Farnham of greyhound racing.
On Tuesday the veteran greyhound will stage another comeback when he contests a heat of the Group 2 Lismore Cup (520m).
Knight Sprite, or 'Ollie' as he is affectionately known, is trained at Hexham by Gayle Masterson and is the winner of 34 races from 94 starts with a staggering $237,011 in prize money earnings.
The dual group 2 winner was retired at the beginning of the year, but failed to settle into life as a pet at Masterson's property and was put back into work.
Upon returning to the track, Knight Sprite won a further four races including the Gunnedah Cup and also ran fourth in the NSW Sprint Championship at Wentworth Park.
His most recent run was at Wentworth Park in August where he lead before being dragged down, lacerating the sheath on his Achilles.
Now, after another two months on the sidelines, Masterson says her prized sprinter is ready to return to the track.
"He gets upset when he stays at home, if I take the other dogs out and not him he pulls his blankets off his bed and piddles on them," Masterson told Australian Racing Greyhound.
"While the Lismore Cup is on I took some of the pups at the property down to Sydney for a couple of weeks.
"Because the others had gone somewhere and he was still at home he has chewed the canvas cover off his bed and he has been playing up – he thinks he is missing out on something,"

Despite being four and a half years of age, Masterson said she couldn't be happier with how Knight Sprite is trialling ahead of Tuesday's heats.
"He doesn't know how old he is and I don't tell him," she said.
"He has been trialling up the straight at Redhead in preparation for the heats. He never trials the best of the day because he tends to save his best for race day – but since being back he has taken over two tenths off what he normally trials there.
"He is happy to be back."
Knight Sprite will face a challenging field on Tuesday night including Group 1 Winter Cup winner Fast Times (Barcia Bale x Clockwise Apr '15), Queensland champion Cyndie's Magic (Magic Sprite x Regal Silver Mar '13), Darwin Cup winner Off And On (Tomac Bale x Jackie's Trouble Mar '15) and the in-form Alotta Amy (Cosmic Rumble x Maywyn Or EBay Nov '13).
One thing working in his favour is a suitable draw in box three, with Masterson optimistic he can sprint well fresh and find the early lead.
"He has freshened up nicely and he is ready – his first sections have improved at his last few trials so hopefully he can come out running," she said.
"The night he got injured he had the fastest two sections of the night before he got galloped on from behind so I have no doubt he is still capable of running quick times.
"I'm not worried about him not having raced going into the heats. When I brought him back earlier this year he had the same amount of work and he came out and beat Mister Twister by five and three quarter lengths at Richmond."

While admitting she doesn't want the ride to end, Masterson concedes the day will come when it's time for Knight Sprite to hang up the collar and lead for good.
However, she is hopeful there is still more racing left in his legs and says she will let him decide when he's had enough.
The Hunter Valley trainer has plenty to look forward to in the future, with Knight Sprite's sister Nyxie whelping a litter to leading Australian sire Barcia Bale in July.
Four heats of the Group 2 Lismore Cup will be run on Tuesday night, with first and second from each qualifier progressing through to the $40,000 to the winner final.
Other big names to watch out for include National Sprint Championship winner Jury (Cosmic Chief x Velocity Sheba Mar '15), Townsville Cup winner Sonic Thunder (Cosmic Rumble x Dulcinea Jun '15), Casino Cup winner Terra Torra (Don't Knocka Him x Kingsbrae Sam Nov '14), Gold Coast Cup winner Opal Nera (Dyna Tron x Black Sambuca May '15) and QLD Derby champ Rather Dapper (Dyna Lachlan x Pearl Za Zinger Apr '15).
The first heat is race four which will jump at 7.52pm.
More Greyhounds News