Lismore greyhounds may not resume for another month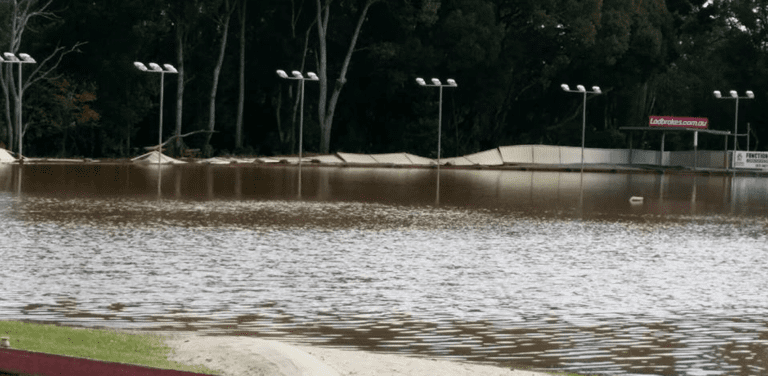 NORTHERN Rivers trainers are growing increasingly frustrated after nearly three months without two-turn racing at the Lismore track.
The Lismore circuit was inundated by water in late March after floodwaters broke the town's levee, causing significant damage to the venue.
As a result, the meetings scheduled for Lismore have been transferred to Casino, with the track not expected to be back in order until July 18.
Local trainer Dean Turley said the loss of Lismore has had a diverse impact on trainers and their greyhounds.
"We all do our own thing up here to get by. The biggest impact is on the dogs themselves – they haven't got the variety of tracks to go around and we also don't have a 520m distance at the moment," Turley told Australian Racing Greyhound.
"You've got dogs that like certain tracks and certain distances then you've got to change that on them. Then the owners aren't happy and the trainers don't make the money they should – it snowballs from there."
So when Lismore greyhound track washes away yet again in the next few days, can we all just agree to "pen it" and stop wasting $$'s there?
Located along the Wilsons River, the Lismore greyhound track is no stranger to flooding. The venue also went under in June 2016, February 2013 and May 2009.
The process of re-instating racing once took a matter of weeks but now greyhound racing participants have to tolerate months on the sidelines due to new procedures in place as Greyhound Racing NSW (GRNSW) and the Club, which is run by the NSW GBOTA, attempt to repair the track and also meet the new standards of animal welfare required for racing.
While Turley is fully supportive of a higher standard of animal welfare in NSW, he described the process to get racing underway at Lismore as "disgusting" and lamented the amount of red tape that has been put in place since the banning and subsequent reinstatement of greyhound racing.
"The track has been there 80 years but we only seem to be out for long periods of time since all the welfare issues came to a head," he said.
"Beforehand if the track got flooded everybody would knuckle in, get it sorted and off we'd go – now you've got department on department arguing about who's going to pay for this and that.
"I am all in favour of improving welfare and it's fine if GRNSW want to come up and inspect the work to ensure it comes up the standard.
"But I don't think its as bad as what they are making it out to be – it should have been fixed within a couple of weeks.
"The biggest issue here wasn't the flood itself – its people trying to justify their jobs who are holding us up from getting things done."

While conceding the process may seem drawn out, NSW Greyhound Breeders, Owners and Trainers Association (GBOTA) Operations Manager Ellen Harris said certain protocols had to be put in place to ensure greyhounds only return to racing on a safe surface.
"Ultimately as an industry we are committed to the best possible animal welfare outcomes. Consideration was given to a number of options and proposals of how we could achieve [what was needed] within the budget of all parties involved," Harris said.
Harris explained the GBOTA would also look into further measures to reduce the risk of damage by future floods, but admitted the location of the track presented significant challenges. As such the location of the greyhound track will be reviewed moving forward.
"We feel that we've come out with the best outcome possible and that is to get two turn racing re-instated into the area," she said.
"The reality is the venue is in a difficult position given its proximity to the Wilsons river. We are reviewing every option available to us which is not a quick process – it's not something we can decide tomorrow.
"It is imperative that participants in the area get the opportunity to race their dogs on two turn tracks whilst the Association considers its long-term position regarding other venue options in the future."
Similar Greyhound Racing News