Patch Adam recovering well and expected to race again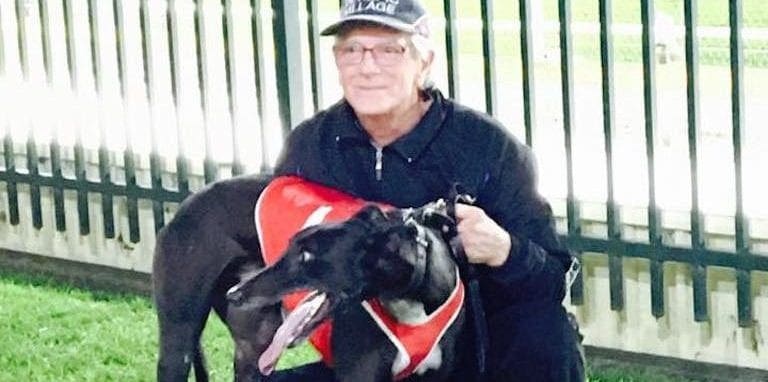 MAX Rimmer is confident we haven't seen the last of his sensational sprinter Patch Adam which injured his hock when racing at Wentworth Park on June 17.
Patch Adam had begun fairly from box seven and was about to race into second spot around the first turn when going amiss, dropping back sharply through the field and failing to finish.
"It was the last thing we expected – Patch was just racing past them and I don't know if he got off stride or if he bumped with the one – perhaps he was just going too fast," Rimmer told Australian Racing Greyhound.
"It was a big fright when it happened – I just remember rushing onto the track to get to him."
Rimmer says his star greyhound has recently undergone surgery and is now on the mend. He is hopeful with plenty of tender loving care Patch Adam can make a full recovery.
"No hock injury is good, but it could have been a lot worse," Rimmer said.
"Dave Larratt did the operation for me on Monday. The plaster will stay on for two weeks and the pin will stay in there for another six week. Then if everything is going well and it looks like it is healing up the pin will come out.
"It can take a while for the pain to come out of the leg once it heals, so we won't be rushing him to get back. We also won't know if it will affect him on the track, we probably won't know until he gets back into to work."

A son of Black Magic Opal and Limited Addition, Patch Adam has stamped himself as one of the most talented greyhounds in the state, winning 10 of his 26 starts with seven minor placings.
Included in his victories are stunning times at The Gardens (29.43), Wentworth Park (29.55) and Richmond (30.40).
Rimmer said despite his injury, Patch Adam is in good spirits and no matter what happens in the future will have a home with him for life.
"My grandkids used to live in the granny flat at my house, but its empty now so that's where he is sleeping. He is happy and walking around our back yard with his cast on," Rimmer said.
"Realistically he probably won't race for another six months, but he is only a baby so by the time he gets back to racing he is only just going to be turning three.
"But he is a very special dog to us so no matter what happens he'll stay here with us – he'll always be with me."
Similar Greyhound Racing News