Reality Hawk poised to swoop in Hobart St Leger final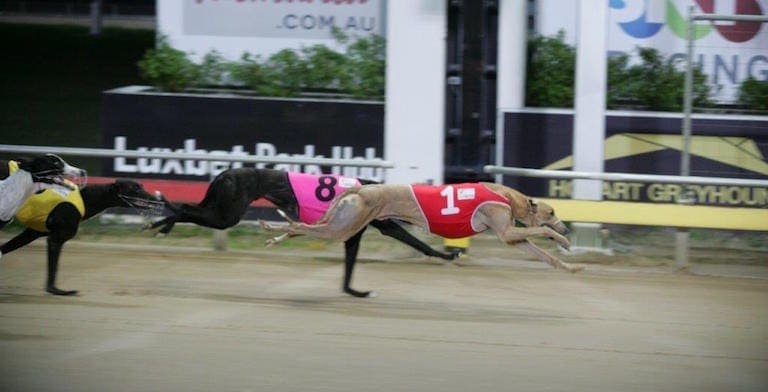 MANGALORE trainer Allan Anderson looks poised to take out Thursday night's M A Morgan St Leger at Hobart when he places his talented young sprinter Reality Hawk (Nolen x Top Reality May '15) in the boxes for the $7,320 event.
Reality Hawk defeated a stellar field to win his heat last week against the likes of Launceston Breeders Classic winner Winklee Dutchy (Kc And All x Winklee Whisper Oct '15), Devonport Puppy Championship champ Hetti's Produce (Destini Fireball x Miss Hetti Dec '15) and boom sprinter It's A Deal (El Grand Senor x Hail Queenie Jun '15).
Although he was only fair to begin off box one, Reality Hawk got clear room in the early stages, settling in a mid-field position before powering home down the centre of the track in the home straight to salute by three quarters of a length over Yogi Mac in a handy 26.38.
Anderson said he was pleased with the effort, Reality Hawk's fourth win since heading to Tasmania in July.
"I was very happy with the run – he got balanced up and took off nicely even though box one didn't suit him at all," Anderson told Australian Racing Greyhound.
"One of his worst traits is that he isn't a brilliant beginner, but he can definitely run when he gets clear room which he did last Thursday."
Owned in Victoria by Michael Tharle, Reality Hawk has now won five of his 13 starts with three minor placings, with a win in Thursday's feature set to take his earnings to just below $12,000.
"He has always shown ability and I was very fortunate that Michael Tharle sent him over and gave us a chance with him – hopefully he can keep getting the job done for a while," Anderson said.
"I am very pleased with him – I couldn't be happier with him. It's nice to get a good dog in the kennel."

Reality Hawk will jump from box seven in the decider up against a handy field including Wynburn Boxer (Destini Fireball x Miss Hetti Dec '15) in box three, Hetti's Produce in box four and Winklee Dutchy in box eight.
Anderson, who has been training for 40 years, is confident he is well positioned to feature in the finish.
"Box seven suits him – I think he is better drawn off the track at Hobart.
"He is going through his grades very quickly and he looks a very handy pup – I don't tend to win many finals so it would be very nice if he could get the job done on Thursday."
Anderson rates Reality Hawk highly, putting him up there ability-wise with his former top stayer Lashing Jill which finished third behind Smart Valentino in the 2013 Group 1 National Distance Championship at The Meadows.
Although it is early in his career, Anderson says he is excited to see what the future holds for Reality Hawk.
"She was a stayer and he is a sprinter, but in terms of how fast they are I put him up there with her.
"We don't know just how good he is yet. There are a couple of nice races coming up such as the Gold Cup in a couple of weeks. That will really test him out and see where he's at and how good he is."
Thursday's meeting at Hobart is set to be a cracker, with the other feature event being the Big Moose Laurels final.
The favourite in that race will be the freakishly talented Wynburn Cutie (Destini Fireball x Miss Hetti Dec '15) which won her heat in a best of night 26.17 last week.
A winner of nine from 12, she will be aiming to break her feature race hoodoo when she jumps from box three – her only career defeats thus far being in the finals of the Launceston Breeders Classic, the Devonport Puppy Championship and the Hobart Breeder's Classic.
More Greyhounds News