Coorong Lucy Wins Delayed Doug Payne Feature Race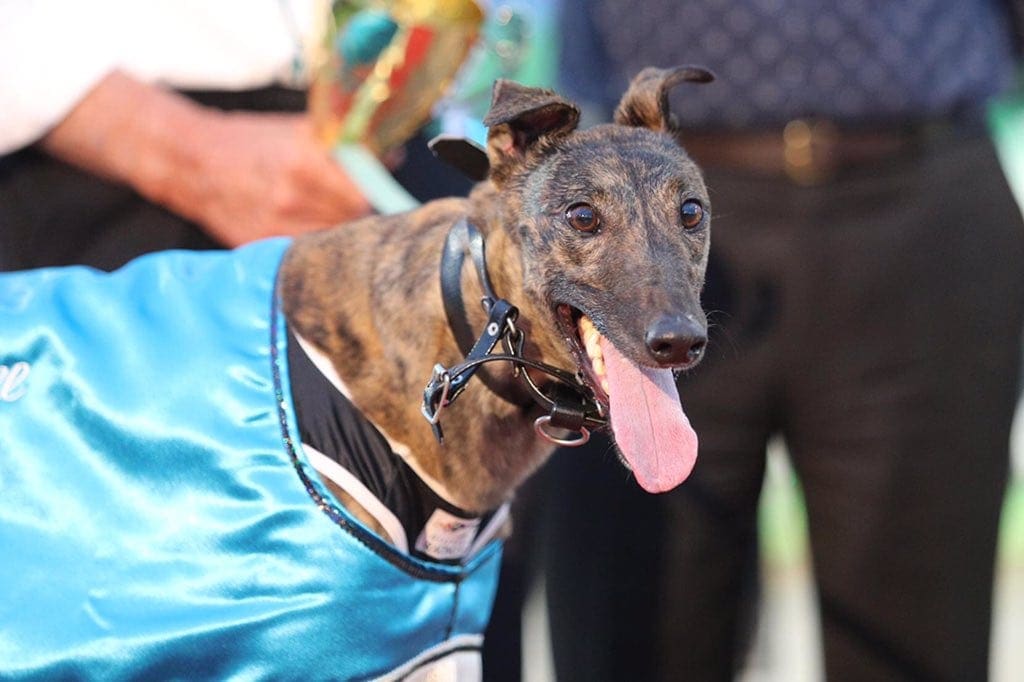 The 2020 SA Bred Doug Payne Feature was run Thursday night at Angle Park after it was delayed from December of last year with the darling of the SA sprinting ranks, Coorong Lucy, taking out another feature event for trainer Cameron Butcher.
The daughter of Worm Burner and Molly Be Nimble went into the race as a short priced favourite on the back of her brilliant SA Sprint Championship win earlier in the month. However there was an outstanding line up of SA Bred chasers waiting for her and hoping to make it difficult for the queen of SA sprinting.
As the start was affected Coorong Lucy did what she does best and exploded from box 7 to lead easily to the first turn. Miss Bellawood for Gino Grgurovic also began swiftly from box 4 to move to second while kennel mate Mister Harlewood made use of his inside draw to move to third while the remainder of the field jostled for position. Into the back straight and Coorong Lucy opened up a nice break over both Miss Bellawood and Mister Harlewood who were battling hard for second with Rugged And Ready moving out of the chasing division into fourth for Ken Gill.
Off the back straight and Coorong Lucy was high rolling in the lead out by 5 lengths from her rivals and turned for home with a race winning break. Mister Harlewood gradually was gaining the ascendancy over his kennel mate and edged into a clear second ahead of Miss Bellawood while the remainder of the field struggled to make ground. Down to the finish line and Coorong Lucy was in full flight going on to win by 4 lengths in a brilliant 29.67 for the 515m journey with splits of 4.40 and 16.81 and just packed to much speed for her rivals. Mister Harlewood ran a super race into second and looks to be getting near his top which saw him rated one of the best stayers in the country in the middle of last year when he was trained in Victoria. While Miss Bellawood ran a gallant third after chasing hard all race.
Coorong Lucy is owned by both Cameron and Yvonne Butcher and the $6,000 first prize took "Lucy's" prizemoney to just under $150,000 with an outstanding career record of 36 wins from 50 starts including 7 placings.
Doug Payne is one of only three South Australian's inducted into the GCA Hall of Fame and is recognised as an icon of SA greyhound racing. He was a true ambassador for the industry winning the first three Adelaide Cups in 1972, 73 and 74 in addition to winning 14 training premierships.
Greyhound Racing South Australia (GRSA) said "it was an absolute pleasure to have some of Doug's family on course again this year with Doug's great grandchildren Evelyn and Xavier presenting the trophy to the winning connections".
Coorong Lucy Wins Doug Payne Feature
Similar Greyhound Racing News