Couch Surfer, First Picked primed for Galaxy at Cannington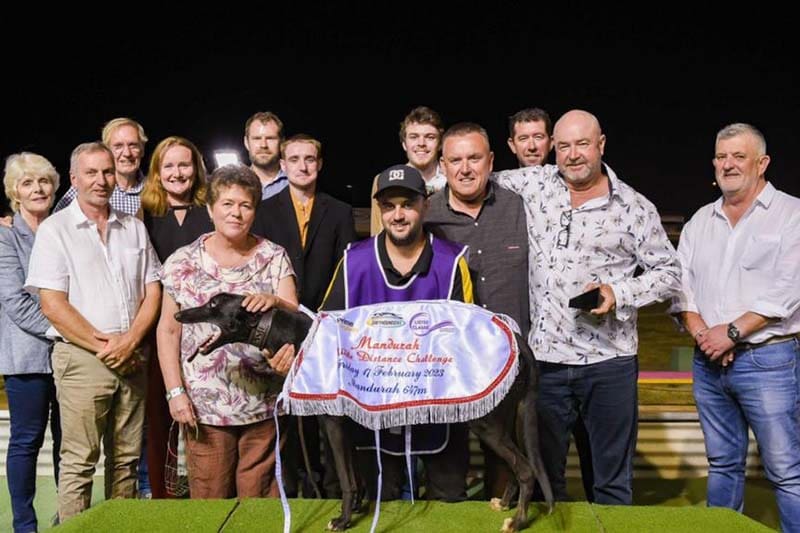 Despite drawing unfavourable boxes, Chris Halse believes Couch Surfer and First Picked will both put up good fights in the Galaxy at Cannington on Saturday night.
Couch Surfer is the $2.80 favourite from the four lane after registering the fastest heat time of 41.89 seconds over the 715m distance last weekend.
In an ominous sign, Halse thinks his two-year-old dog can only get better in the final.
"He did everything how I wanted him to do it. I thought he could go a bit quicker," the experienced conditioner told Australian Racing Greyhound.
"The draw is not favourable, but it's not too bad either.
"The three dog (Rippin' Grace) wants to go to the fence. I think he can show a bit more speed after we freshened him up this week.
"So hopefully he's right in the race. It's going to be a good, competitive race."
Cannington R2 replay | 11/3/2023 | Couch Surfer (1st)
From the sought-after box one, Couch Surfer did not expend too much energy before crossing the finishing post on the first time around last Saturday night, edging his way into first spot shortly afterwards.
From there, he gradually widened his lead on the back straight and that only increased by the time he hit the line, prevailing by four lengths.
First Picked also produced a gutsy effort to hold on for second and edge out Chloe Ant from box eight in the third heat, crossing in 42.17 seconds.
She will start from box seven in the final.
Last year's Bold Trease victor, Stagger Out Lee, was a classy 2 ¾-length victor, producing a 41.97-second effort.
The $4.40 winning chance for Jack Strutt drew box one for Saturday night.
"Obviously (she's the one to beat). Her and Ariarne Bale will go better for getting a look at the track," Halse said.
"It should be a good, competitive race all round."
Cannington R3 replay | 11/3/2023 | Stagger Out Lee (1st)
Halse said First Picked could offer punters good value with $12 winning odds.
It will be her third start in Perth after coming across from the champion Robert and Tim Britton kennels in Victoria.
"The other bitch in the race is going good. She seems to be getting better the longer she stays here," Halse said.
"I'm expecting her to be right in it as well. She ran a real good race.
"If she's in the first three or four she'll be right in the race as well.
"You just need a bit of luck before the first corner. That will probably be the defining moment of the race.
"I'm looking forward to it."
Halse said a stress-free week for Couch Surfer would have him in prime physical and mental condition for the Galaxy final, worth $178,600.
"I've galloped him a bit more earlier in the week than I will towards the end of the week," he said.
"He had a cut in his foot a couple of weeks ago, so we'll probably go down to the beach a few times.
"It was nothing drastic. He feels good, so it's all systems go for Saturday night.
"I just want him to get clear running – that's all he wants."
2023 Galaxy Box Draw & Field

Cannington715mGroup 1$178,000Saturday, March 18, 2023

1

Stagger Out Lee

T: Jack StruttF: 1131Career: 61: 13-16-10Prizemoney: $305,300

2

Chloe Ant

T: Enzo CrudeliF: 1213Career: 11: 3-2-1Prizemoney: $22,700

3

Rippin' Grace

T: Shayne WilliamsF: 2313Career: 23: 6-4-8Prizemoney: $41,365

4

Couch Surfer

T: Chris HalseF: 1111Career: 19: 11-3-1Prizemoney: $89,225

5

Ariarne Bale

T: Daniel GibbonsF: 6111Career: 53: 14-10-7Prizemoney: $246,111

6

Ballistic Ant

T: Enzo CrudeliF: 3142Career: 21: 3-2-2Prizemoney: $24,975

7

First Picked

T: Chris HalseF: 3442Career: 33: 10-4-6Prizemoney: $86,975

8

Speed Freak

T: Enzo CrudeliF: 1252Career: 21: 4-6-1Prizemoney: $34,265
Similar Greyhound Racing News