Marsh declares Elite Machine a live chance in Perth Cup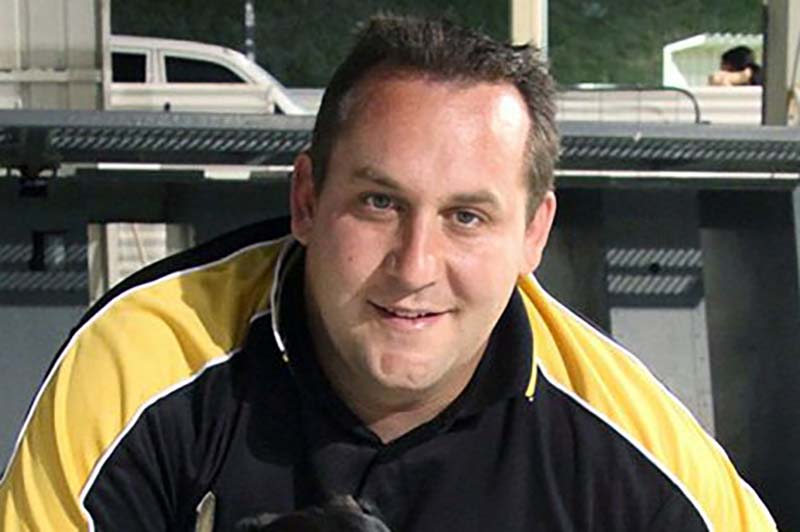 Elite Machine not only has the ideal box, but an ideal straight running style to beat the mighty Electrified in the Perth Cup at Cannington on Saturday night.
They were the thoughts of trainer Jamie Marsh after he was allocated box one for the Group 1 final worth $285,950 and over 520m.
The two-year-old ran a super heat, recording the fastest time of 29.55 seconds.
"It was nice to watch him get a bit of galloping room early, get to the front and do the rest of his work," Marsh told Australian Racing Greyhound.
"It was exciting."
Elite Machine widened his lead to three lengths on the back straight, producing a strong second section of 18.24 seconds.
Importantly though, this was after he started well from box two and stayed straight.
This kept him in front of Mission To Mars, who swiftly cut left from the eight lane.
Marsh said this was an impressive component of Elite Machine's racing style.
"Yeah, he'll stay pretty straight and that's the beauty of him," he said.
"He can win from most boxes. He doesn't carve hard left and he doesn't want to get up the track or anything like that.
"As long as he can get two or three strides in to get going in a good running position, he's OK.
"He's not overly-reliant on box speed. He's probably more reliant on a bit of space early."
Now with 13 wins from 26 starts, Marsh said Elite Machine's time in Victoria where he contested the Warragul Cup and four races at The Meadows made him a more developed chaser.
"He's turning into a really nice dog. I don't know whether it was the stint in Melbourne which made him come back a bit more mature," he said.
"Even running 18.2 at the back is hiking along – that's good going.
"And then he gets to the line good. You can't knock him with the form he's in at the moment, and the way he's going.
"He's going enormous."
Marsh has only had Elite Machine for his past three starts – all at Cannington.
The improving chaser made an instant impression on him, running 29.59 seconds and winning by 5 ½ lengths on February 26.
Along with his abundant talent, Marsh was impressed with Elite Machine's resilience.
"His first run 29.59 was super. He was probably a bit unlucky in his next run," he said.
"He copped a couple of checks at bad times. That was his first 500.
"And his second 500 when he ran third he was a bit flat. He wasn't 100 per cent.
"That 500 on the arm first up after a few weeks was a bit of a gut-buster.
"And then to bounce back into a Perth Cup heat and be the fastest qualifier was exciting.
"You don't say no to having additions like that to your kennel."
Good first impressions aside, Marsh said Elite Machine will have a steep task against Electrified for Steve and Krystal Shinners in the final.
One of Western Australia's top sprinters, the fellow two-year-old dog ran an impressive 29.63 seconds to win his heat.
Electrified was the second-favourite with greyhound betting sites at $2.60 to win on Thursday, but Marsh said the reigning Young Stars Classic winner and Australian Cup Consolation runner-up was the one to beat from box three.
"He's the favourite, and so he should be. His run at The Meadows in the consolation was enormous," the Canning Vale-based conditioner said.
"I think he ran (29.65 seconds). And his heat win was super.
"Probably the difference between us and him is he's gone and done it at a top level.
"He's travelled and done it in Melbourne against the real top dogs.
"Whereas we've not stepped up to Group 1 company or anything like that yet."
Similar Greyhound Racing News