Crumble Monelli on track for Australian Cup, Golden Easter Egg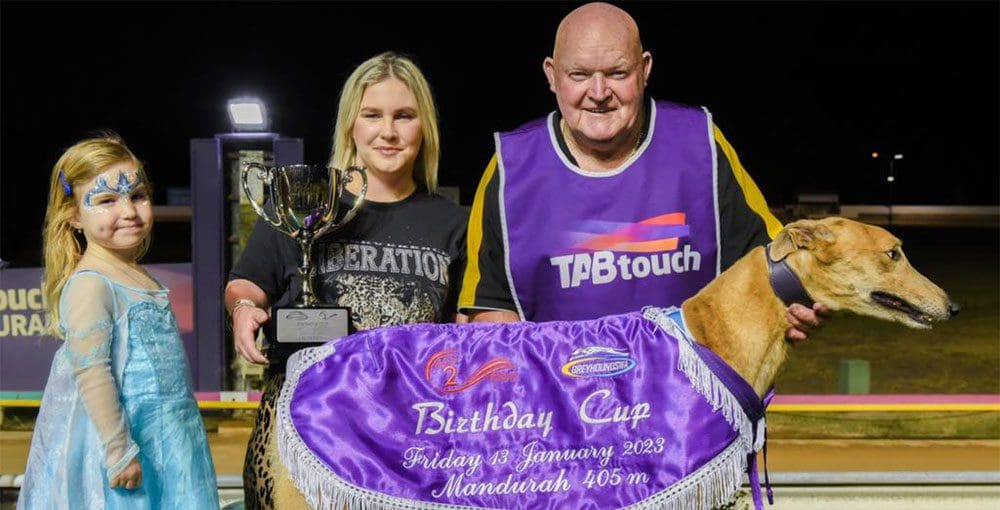 David Hobby says if Crumble Monelli continues getting his times down, then the veteran Western Australian trainer might have to consider a rare trip to the east coast.
They were his thoughts when looking back on his 23-month-old's victory in the $57,000 Greyhounds WA Birthday Cup over 405m earlier this month.
The star young sprinter was a convincing 6 ¾-length winner, crossing the line in 22.27 seconds.
Now with a very impressive nine triumphs from 12 starts and after seeing his amazing potential from day one, Crumble Monelli's trainer believes that performance at Mandurah on January 13 – following a scorching heat win in 22.31 seconds the week before – was the best of his career to date.
"That was probably his most classy run," Hobby told Australian Racing Greyhound.
"The week before in the heat it was a really good field, so it was a good win.
"He ran sensational times when I was breaking him in. And I said right from the word go that he was a potential Victorian Cups type of dog."
2023 Greyhounds WA Birthday Cup Final – Crumble Monelli (1st)
Before heading east for a possible crack at the Australian Cup heats at The Meadows on February 18 or the Golden Easter Egg at Wentworth Park, Hobby believes Crumble Monelli will only continue to improve at Cannington.
"The objective is to head back to Cannington and see if he gets back to the 29.60 (over 520m)," he said.
"He reminds me a lot of Sunset Spitfire early doors. I think Sunset Spitfire was a bit stronger, but he raced over 500.
"He got accustomed to it.
"So this dog, if he gets down to the 29.60 mark we'll look at heading over for a big cup race like the Australian Cup or Golden Easter Egg."
Hobby has been a greyhound trainer for 48 years, so he knows not to get too far ahead of himself in what is an unrelenting industry.
Right now he is just focusing on his five runners – Adzuki Monelli, Borlotti Monelli, Custard Monelli, Fava Monelli and Lupini Monelli – who will compete in the Sandi's Me Mum Memorial heats at Cannington on Saturday night.
"I don't get too excited until they show it, and I'm not really a traveller because I don't have the time," he said.
"But it's close to the end for me, so if I'm going to travel it'd be now.
"We've got a Sandi's Me Mum race coming up, which is a WA-bred race and good money.
"We've got some good WA-bred dogs here who have got good early toe.
"And we've got the Puppy Classic straight after it, which clashes with the Australian Cup.
"That's as far ahead as I'll look."
Hobby might not have travelled much in the past, but has no regrets because he's made a good living out of greyhound racing in WA.
"I've had plenty of good dogs, but I've never really travelled with them," he said.
"His mother (Flake Monelli) – I should've travelled a lot with her, but she won me good money staying here.
"She won close to $200,000, plus breeder-owner bonuses. So there was no need to travel with her."
Hobby said Crumble Monelli was born by chance on one of his rare ventures east.
"How he was born – I went over with Flake Monelli for the Sale Cup and she came on season," he said.
"So I thought 'oh well, I'll breed with her'.
"I went with her and Zack Monelli. Zack Monelli made the final, but she probably had a lot more speed.
"And she was a better 600m dog. But she came on season, so I just thought 'we'll breed with her'.
"That's how Crumble was born.
"Flake wasn't that old at the time – she was fairly young."
Hobby said he simply saw an opportunity to breed with Flake Monelli, so he went with his gut instinct.
"I like racing dogs when they're young, but if you have a bitch who has potential to breed, then you go for it," the veteran conditioner said.
Hobby said he wasn't too worried about Crumble Monelli not showing lighting speed out of his four box in the Birthday Cup final.
It wasn't long until he shot to the front before going on to win in commanding fashion.
"You've just got to take it race by race. He's not what I would call a ping-beginner," he said.
"He begins there with them, but he's not an absolute flying machine out of the boxes.
"But as soon as he hits the ground he can really accelerate."
Hobby said he won't worry about doing too much box work with his emerging sprinter.
"I think they become that (good beginners). That's my belief. People believe in box work, but I'm a believer in the dog having that instinct naturally," he said.
Similar Greyhound Racing News