Crumble Monelli too strong in the Keith Harding Canning Trophy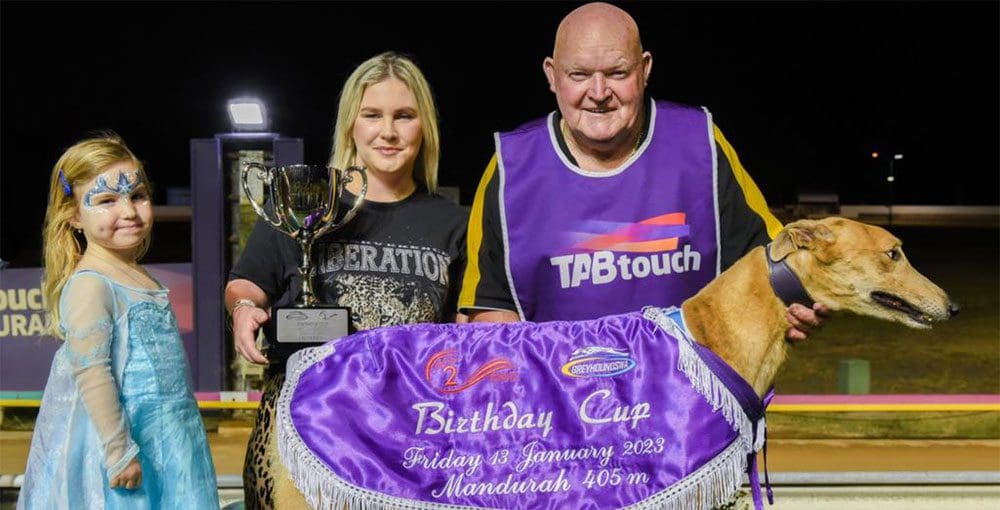 Crumble Monelli is proving to be like a diamond under pressure – he again was unbreakable from box eight in the Keith Harding Canning Trophy at Cannington.
The two-year-old was a comprehensive 9 ¼-length winner, crossing the line in 29.74 seconds in the Listed feature over 520m on Saturday night.
In fact, he has now won his past eight starts each by a comfortable margin and is third favourite at $7 across betting sites for the Perth Cup on March 18.
But after proving way too good for his opponents from the outside lane, trainer David Hobby is not getting too carried away just yet.
That is because his biggest challenges will come in the Perth Cup heat this Saturday night and – if expected – the final next weekend.
"He's in good form, but he hasn't met the topliners yet," Hobby told Australian Racing Greyhound.
"So that's the next test.
"I'm not getting too excited. He's only met grade five-type dogs."
If there is one fault against Crumble Monelli, it is that he's not known for being a lid-pinger right out of the boxes.
But the developing star with 13 wins from 16 starts was almost perfect in the Keith Harding Canning Trophy.
He started beautifully, reeling off a first section of 5.44 seconds and seamlessly crossing over from the pink lane.
That meant he led comfortably by three lengths at the first turn, easily increasing his front-running position on the back straight.
He then had enough in the tank to prevail by almost 10 lengths by the time he hit the finishing line at pace.
The reigning Birthday Cup and Puppy Classic winner also has good pedigree, by Barcia Bale and out of Flake Monelli.
But his real tests will come in the coming weeks.
"Probably breeding (is one of his strengths), I guess. And he's got ability," Hobby said.
"He's got early toe and knows how to get out in front.
"If you have a look at most races – if you lead, you win.
"But I'm not getting too excited. He's only met grade five-type dogs.
"When he won the Birthday Cup he did meet some handy sprinters, but he hasn't been challenged yet.
"And that'll be the test when he gets challenged against dogs with the same speed."
Kennelmate and fellow two-year-old brother Custard Monelli finished third in a time of 30.43 seconds on Saturday night.
In what might have come as a surprise to some punters, Hobby last month told this publication Crumble Monelli has the endurance to stay in front of his talented sibling if he was to find the lead early.
This is why he will also have belief he can qualify for the Perth Cup final from the heats this Saturday night.
"In the right races and if he draws the right boxes, he's a 29.60 dog," the veteran conditioner said.
"(On Saturday) night he had the six, and he wanted to run out and stay wide.
"He always does. And he couldn't get past them."
2023 Canning Trophy Final Race Replay – 4/3/23
1st: Crumble Monelli – 29.74 seconds
Similar Greyhound Racing News