Top trainer David Geall hits back at greyhound racing detractors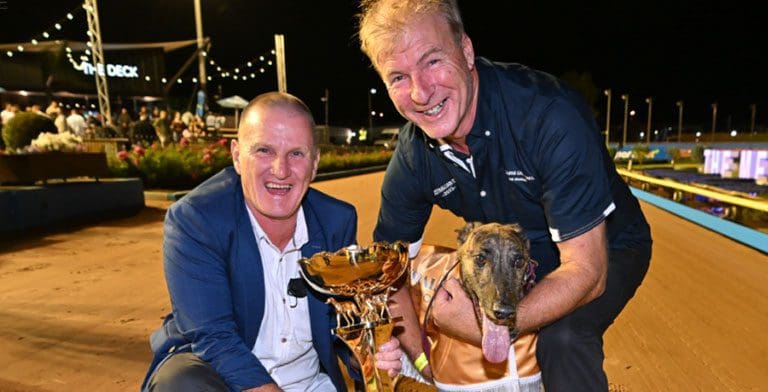 Last month's Australian Cup-winning trainer with Fernando Mick, David Geall, has time for everyone – except the greyhound racing detractors.
You could not meet a more genuine person than the 63-year-old, who is also a two-time Melbourne Cup and Golden Easter Egg victor.
But don't get him wrong – he is passionate about an industry which has brough him, his friends and family so much joy over the years.
And with greyhound racing never short of detractors calling for it to be shut down due to perceived poor treatment of the animals from outsiders looking in, Geall has a simple message for them.
"Gee, what a miserable world it would be without greyhound racing," he told Australian Racing Greyhound.
"It's just a fantastic sport – recreationally, socially and for us a profession.
"It's magical. And we're just fortunate we've had a number of good dogs over the years.
"Fernando Mick has had 101 starts and it's unbelievable what he's done."
Geall said greyhound racing has not just provided limitless happiness for those in the industry.
He has seen first-hand how much joy retired dogs give their new owners.
"The detractors – I haven't got any time for them," he said.
"Racing is a profession, hobby, recreation, social and it's therapy.
"And the elderly and disabled get so much joy out of adopted greyhounds.
"We get a big kick out of that. The industry does a lot."
The outside noise and barbs aimed at greyhound racing have become so loud and pointed that it is a good week if you do not read any negative media from left-learning publications.
The industry is so often torched by nay-sayers regarding its perceived lack of collective care towards the dogs.
But Geall believes those theories could not be further from the truth.
"OK, we've got to improve – everyone's trying to improve the safety of greyhounds," he said.
"That's our main objective. We hate when a dog gets injured, but geez it happens in all sports.
"There are some horrific accidents in human sports. So we trainers and owners hate it more than anybody.
"Everybody's doing their bit and we've still got to get better. But it'll improve."
And for those who believe greyhounds hate racing, Geall offered this the day after Fernando Mick's stunning 3 ½-length victory in the Australian Cup Final at The Meadows on February 25, crossing the line in 29.85 seconds.
---
Fernando Mick wins 2023 Australia Cup
---
"One of my staff had a lead on Fernando Mick. The day after the race the lead went on and he thought he was going racing again," the experienced conditioner said.
"And he bolted to the van to race. He was supposed to be resting and he should be having a break.
"I thought 'geez, he wants to go again'. It's a good feeling knowing your dogs love racing."
And Fernando Mick's physical and mental welfare?
Both of those, too, are in tip-top shape after 101 starts for 35 wins.
"The signs aren't there yet to say that he's had enough. As soon as he tells us I'll know," Geall said, with his four-year-old's next assignment to be a Perth Cup heat at Cannington this Saturday night.
"But he's such a joy to train – he's a beautiful dog with a great nature.
"He's quiet and doesn't bark. He's a terrific dog to train and so easy for me because he hasn't had an injury thus far.
"He's had 101 starts without an injury. How lucky are we?"
Last month's Super Stayers Final winner with Ariarne Bale, Daniel Gibbons, shares a similar to belief to Geall.
"Like I've always said, the people from the outside throwing stones don't actually know what goes on behind the windows," he said.
"They've got no idea. The dogs love what they do, and we love them just as much as they love us.
"At the end of the day they're the ones who do all the hard work.
"We're just there to help them and guide them."
Similar Greyhound Racing News