Dual group winner Buck Forty retired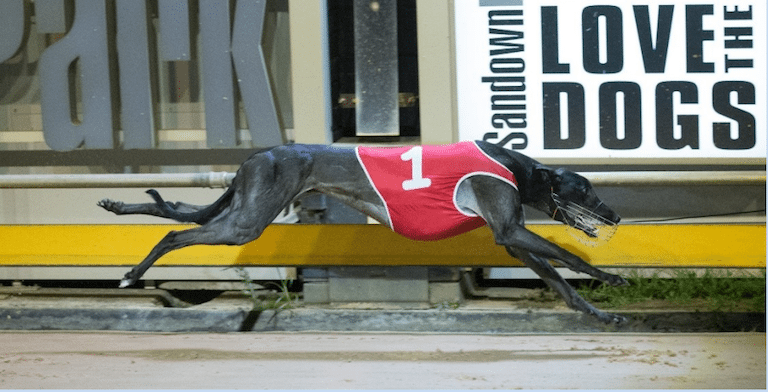 OWNER David Pringle has confirmed that his group 1 winning sprinter Buck Forty (Buck Fever x Fancy Jaffa Jan '14) has been retired after suffering a hock injury during a trial.
Trained throughout his career by Jason Thompson, Buck Forty had not raced since April when finishing down the track in a heat of the Group 1 Golden Easter Egg.
Following that run the black powerhouse was spelled before returning to Thompson's Pearcedale kennel where he was trialling in preparation for a racetrack return when the injury occurred.
"He had two or three trials back before injuring himself in a trial at The Meadows," Pringle said.
"It was a shame it happened but he had a good career – he earned over $300,000 in prize money.
"He was a quick dog – he ran 29.20 around Sandown and he was a good honest chaser."
A litter brother to champion stayer Burn One Down, Buck Forty faced the starter on 54 occasions, racking up 19 wins and 19 minor placings.

His career highlights were wins in the 2016 Group 1 Peter Mosman Classic and the 2016 Group 2 Launching Pad, whilst he also ran second in the 2016 Group 1 Hume Cup, third in the 2016 Group 3 Sir John Dillon Memorial and qualified for the 2016 Group 2 Bob Payne and the 2017 Group 1 Rookie Rebel.
"The Launching Pad was the highlight for me," Pringle said.
"It was the first big race we won with Jason – no one gave him a chance but we knew what he could run and he was able to come from behind. I will never forget that night."
Pringle said Buck Forty is recovering well from his injury and is enjoying life at his Clergate property where he will live out the rest of his days and be kept occupied doing what greyhounds do best – running.
"He'll have the life of luxury here. He has his on yard at the moment and he'll stay there for another couple of weeks and then we'll put him in with some pups so he can start galloping around again.
"Eventually he'll come back into the kennels and he'll be a lead dog when we are slipping and he'll work some of the other dogs which I'm sure he'll love."
And whilst most greyhounds which earn $390,000 head to the breeding barn, Pringle says he has no inclination to stand Buck Forty at stud.
"His brother Burn One Down will go to stud, but the way things are at the moment with the breeding industry it's not worth it – no one seems to be breeding," he said.
"I've had offers from people to stand him at stud but to be honest I don't trust anyone – I'd rather have him here with us that way we know he is being looked after and he can have a good home for life with us."
More Greyhounds News