Fabwik wins 2018 SA bred Doug Payne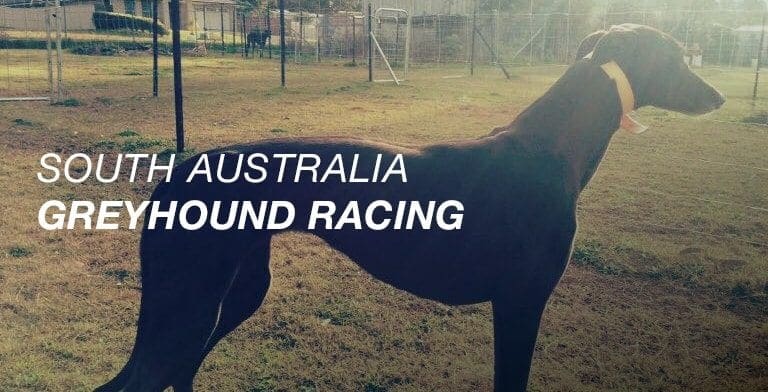 The 2018 SA Bred Doug Payne Feature was run last Thursday night at Angle Park in warm conditions in front of a large crowd and they would have seen Kirin Corby win her third Doug Payne Feature when her star sprinter Fabwik won in easy fashion.
Kirin previously won the prestigious event in 2003 with superstar Lion Hearted and then in 2008 with Cool Keepsake and last night she had a two pronged attack for the feature SA bred race.
In the small but quality field of five Fabwik was sent out a well-supported favourite just ahead of kennel mate Tauwitchere which was aiming to keep her unbeaten record in tact after a perfect 5 from 5 beginning to her racing career. As the starting boxes flew open Fabwik came out running from the inside box early but was challenged but Amity Marlow for Tony Milligan and then Alicante Bouchet for Ben Rawlings who was driving hard towards the fence.
Leaving the winning post on the first occasion Fabwik accelerated away from her rivals with Tauwitchere whipping around the outside to move to second while Alicante Bouchet dropped back and was challenged by Highbury Hustle for John Mundy along the inside. Down the back straight Fabwik was flying in the lead however Tauwitchere was running a bold race and keeping in touch with her more experienced kennel mate.
Alicante Bouchet moved to a clear third but was giving the Corby duo a big start. Off the back straight Fabwik had opened up a race winning lead out by 6 or 7 lengths while both Tauwitchere and Alicante Bouchet tried hard to make ground. Down to the finish line and Fabwik was in no danger going onto record a brilliant win in a sizzling 29.51 for the 515m journey with splits of 4.46 & 16.72. She won by just over 5 lengths from Tauwitchere which kept coming in the run and lost no admirers with Alicante Bouchet a further 4 lengths way in third.
Fabwik is by Fabregas and Wikena and is Owned, Bred and Trained by Kirin Corby. The $7,495 first prize too Fabwik's prizemoney to just under $50,000 with a career record of 18 wins from 33 starts including 9 placings.
Doug Payne is one of only three South Australian's inducted into the GCA Hall of Fame and is recognized as an icon of SA greyhound racing. He was a true ambassador for the industry winning the first three Adelaide Cups in 1972, 73 and 74 in addition to winning 14 training premierships.
Similar Greyhound Racing News