Fanta Bale channels Black Diro with staying victory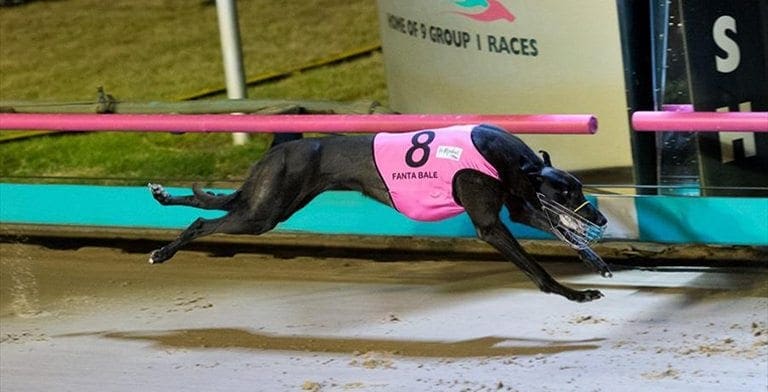 ON Thursday night, April 20 at Sandown Park, the Robert Britton-trained Fanta Bale finally made her long-awaited debut over the longer journey, contesting a heat of a fifth grade special event over 715m.
Fanta Bale had the advantage of being classes above her opposition and, more importantly, being prepared by one of the best in the business when it comes to getting greyhounds cherry ripe for 'half-mile' racing.
From box seven, Fanta Bale was sent out a short-priced favourite and punters who took the skinny odds would have been very happy when the black bitch scooted to the lead and opened up a big break on her rivals. She kept on going and scored by an easy eight lengths in a fast 41.70.
Fanta Bale took her imposing record to 21 wins from just 33 outings (with two seconds and five thirds) and she is clearly being aimed at the Sandown Cup and clashes with the likes of Trip To Eden, assuming she completes a victory in the final next week.
Notably, while Fanta Bale has previously contested races up to 650m, this was her first attempt at a genuine staying test and her immediate success makes her the first Australian Cup winner to be tried with success at the 'half-mile' trip since the great Black Diro, way back in 1971.
It's hard to imagine that it has taken 46 years for an Australian Cup winner to be especially set for a staying career after winning one of the great sprint events on the racing calendar. Yet, just looking through the list of those who have taken out the Australian Cup since 1971, Fanta Bale is indeed the first.

Black Diro, owned and trained by Tom Bleazby, was, at one point, the second-highest prize money winner in Australia.
Black Diro took out the 1971 Australian Cup at his 26th race start (Fanta Bale won her Australian Cup at her 29th start), narrowly defeating the brilliant NSW sprinter Petite Panther. There was just half a neck between them at the finish and they streeted their rivals by 10 lengths over the 560 yards (512m) at the old Olympic Park circuit.
Black Diro raced another dozen times over the sprint journey before Bleazby decided the Venetian Court x Lena Black greyhound should be aimed at a potential distance career.
His first run was a third grade-class event over 785 yards (718m) at Sandown Park.
Naturally enough, Black Diro was sent out an even-money ($2.00) favourite but missed the start and finished up being beaten one length by a greyhound named Roman Copy. A fawn stayer, the injury-prone Roman Copy was one of the best long distance performers of his era, so Black Diro's defeat was hardly a disgrace.
A week later, Black Diro contested a heat of the inaugural John McKenna Memorial at Sandown and redeemed himself with a narrow but strong victory over the smart Expo Charm.
Black Diro was outclassed in the final, finishing sixth behind the brilliant Saki Dasher (1971 National Distance Championship winner). That was the end of Black Diro's distance 'career': three starts for one win, one second and one unplaced run.
For Fanta Bale, I would be surprised if she didn't step up into the top rank of stayers in Australia and would fully expect her to be in the thick of things for the Sandown Cup, and beyond.
It's worth mentioning that when Black Diro took out the 1971 Australian Cup his winning cheque amounted to $12,500. Almost five decades later and Fanta Bale collected $250,000 for her Australian Cup win.
Similar Greyhound Racing News