Fernando Bale making his mark in the breeding barn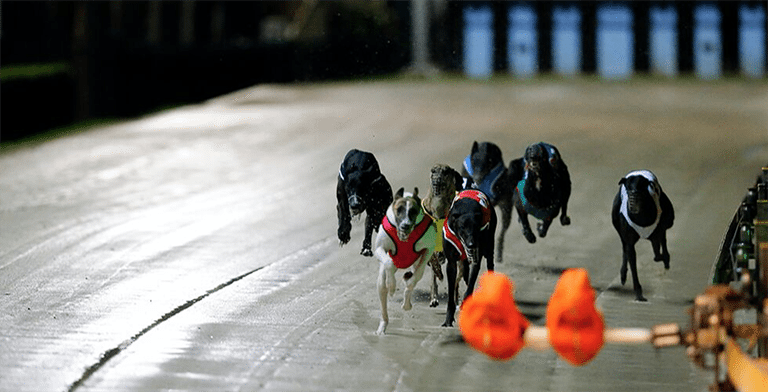 STUD master Paul Westerveld says he is thrilled by the first crop of youngsters hitting the track by champion greyhound Fernando Bale (Kelsos Fusileer x Chloe Allen Mar '13).
Trained by Andrea Dailly, Fernando Bale was arguably the best greyhound we have seen, winning 35 of his 44 starts – including eight groups 1s – and earning just under $1.3 million.
Retired in December 2015, Fernando Bale's eldest pups are approaching two-years-old and are just starting to race.
Last week was a particularly successful one for the white and dark brindle greyhound, collecting a double at Thursday's Sandown Park meeting and four winners at a provincial meeting at The Meadows on Wednesday.
With a huge amount of pressure for him to translate his success to the breeding barn, Westerveld says it is pleasing to see 'Flying Fernando' produce some quality pups so early on.
"It's fantastic – his pups have really hit the ground running," Westerveld told Australian Racing Greyhound.
"Naturally there were some high expectations on him being such a champion race dog and at first I guess its easier for people to be more negative than positive.
"But to the dog's credit you can't fault the way his stud career has started – his had some nice winners and from all reports there are plenty of fast ones coming through."

Some pups to keep an eye on by Fernando Bale include brothers Dirk Bale and Allen Ablett (Fernando Bale x Langi Bale Aug '15). Allen Ablett has won both his starts to date, his most recent being a slick 29.54 run at Sandown Park last Thursday night, while Dirk Bale has won three from four including a 29.89 run at The Meadows last start.
Fernando Bale also has a nice litter by Scissor Queen whelped in August 2015, with four of the six pups to have raced all having won from limited career starts.
Flying the flag for her sire in the west at the moment is promising newcomer Abba Monelli (Fernando Bale x Bingle Monelli Nov '15) which has won four of her five starts over the 405m sprint at Mandurah.
Westerveld says the real test will come for Fernando Bale's progeny when they progress through their careers, but says there are plenty of positives to be excited about thus far.
"He ticks all the boxes to be a great stud dog – he had the ability, he is well bred, he had early speed, mid race speed and strength – he is everything you could want in a stud dog," he said.
"The signs are fantastic so far – now we've got to see him go on with it and for his pups to keep winning as they go up in grade and through to group races because that's what really sets the best sires apart from the rest."
It has been a big few years for Westerveld's Meticulous Lodge with another of his sires, Barcia Bale (Go Wild Teddy x Princess Bale Mar '10) currently Australia's number one sire in terms of winners and on the metropolitan standings.
Westerveld is hopeful that the success will also continue on in the future, with his stud also acquiring semen for dual group 1 winner Lightning Frank (Black Magic Opal x Kirabilli Abbie Sep '14) and Sandown Park track record holder Unlawful Entry (Knocka Norris x She Ain't Late Dec '13), both of which are still racing.
Lightning Frank is the best performed son of former Melbourne Cup winner Black Magic Opal which is now overseas, as is Knocka Norris, the sire of Unlawful Entry, the 2015 Group 1 Hobart Thousand winner, with both greyhounds providing an excellent option for breeders looking to utilise the strengths of either line.
More Greyhounds News