First time owners hit the jackpot in Northern Districts Cup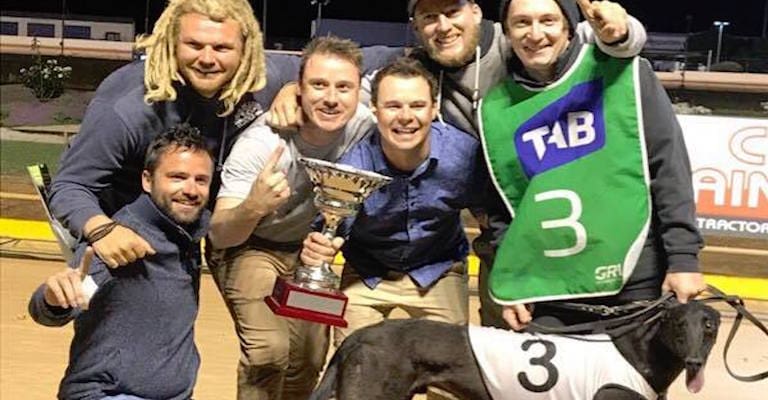 WHEN eight former school mates from Wodonga put together the winnings from their punter's club to buy a greyhound at the 2016 Ready To Race Auctions in Victoria, they never dreamed their first greyhound would go on to win a group listed event.
Managed by Chris Rogers, the Peckerheads Syndicate put in a successful $3,500 bid to buy an unraced greyhound from the Barcia Bale x Sprite Lee litter whelped in March 2015.
The black dog, which races under the name Crook Me Kindly, never looked like being anything special early in his career, winning his maiden in a pedestrian 24.74 at Bendigo at the start of 2017.
In August, after some disappointing efforts on the track, Rogers and his mates decided to transfer their greyhound into the kennels of prominent trainers Jason and Jessica Sharp, with the move proving to be a masterstroke.
Under the care of team Sharp, the 30-kilogram greyhound has won four of his eight starts with two placings, taking his overall record to seven wins and six minors from 25 outings.
"He didn't really show much at all early on," Rogers told Australian Racing Greyhound.
"Full credit to Jason and Jess for the work they've done with him – they have been great with the dog to get him to where he is today.
"Funnily enough I don't think Jason wanted to take him on at first – when I gave him a call initially he told me he wasn't taking on any more, but I told him about the dog and asked him to look him up.
"The next day he called back and said he'd train him, so it's great to see their faith and hard work paying off. He is actually surprising a few of us now with what he is doing on the track."

On Saturday night, Crook Me Kindly recorded the biggest win of his short career, taking out the Listed Northern Districts Cup (450m) at Shepparton.
The two-and-half-year-old sprinter stepped well off box three and was never headed, charging to the line to win by close to four lengths in a best of night 25.27.
Rogers said it was an enormous thrill to see their little champ – affectionately known as Sam – salute in the $25,000 to the winner event.
"Five of us were at the track on Saturday night – they knew if he won they'd be kicking themselves that they weren't there for the photo.
"A few of the other boys live a long way away so couldn't make it – but it was such a great night and so exciting to see him win.
"We have been very lucky with him – his brother sold for $15,000 at the auction – so as it turns out he has been a bit of a bargain buy for us."
Team Sharp said they were happy for the owners and pleased to keep up the kennel's successful year on the track.
"The boys were very excited with the win – we were hoping they didn't party too hard and get locked up," Jason quipped.
"They were screaming and over the moon with how he went – that makes even more rewarding for us to see how much enjoyment they got out of winning the race," Jessica added.
All going well, Crook Me Kindly will now be aimed at the heats of the Group 2 Ballarat Cup (450m) which will be run and won on December 2.
Similar Greyhound Racing News