Greyhound Recovery – Often Queried …… Never Answered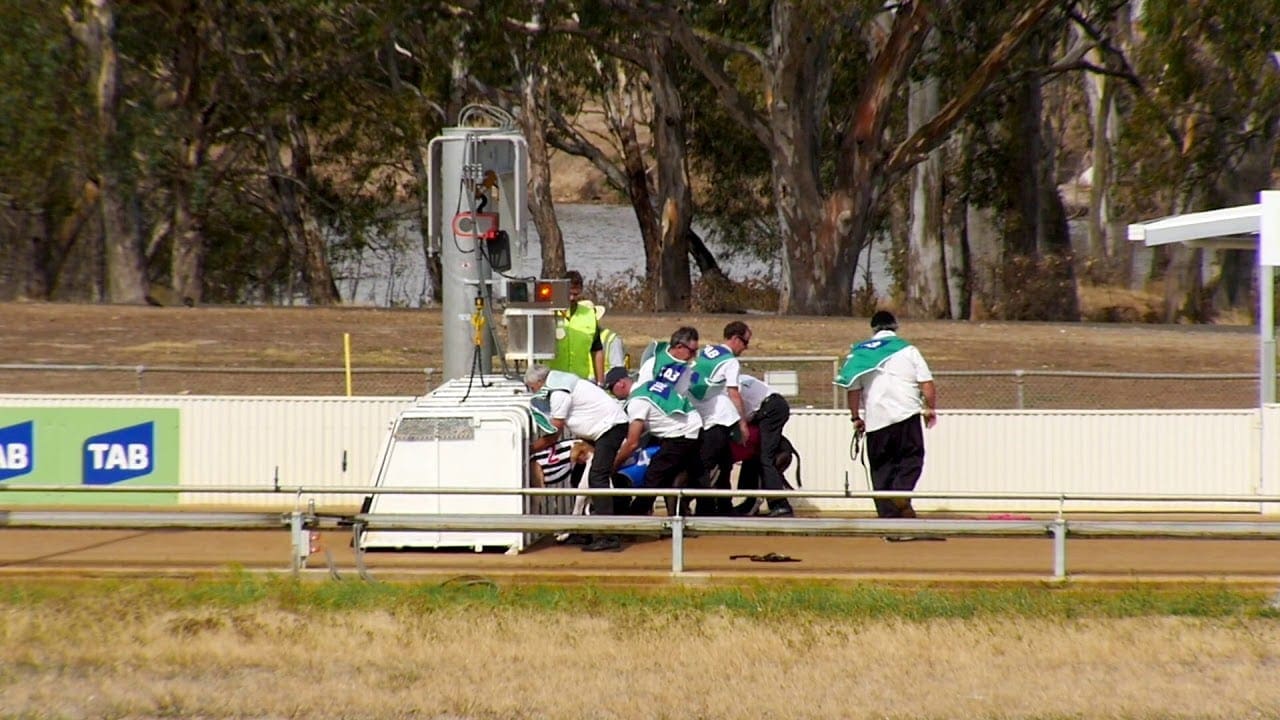 Last Saturday, Silver Chief night at The Meadows offered some very smart times on an obviously quick track. Youngsters like Lakeview Walter, Mepunga Felix, Earn the Answers and Equalizer did brilliantly, all hitting the 29.7 mark or better (record 29.27). However, there was also something you rarely see. Stewards scratched a runner based on the two-day National Rule – no backing up allowed within two days (coursing excepted). Good for them.
South Australian dog Private, from a prominent kennel, had raced at Angle Park on Christmas Eve (24 Dec), finishing fourth as a $2.90 favourite and here it was lined up again in Race 11 at The Meadows on Boxing Day (26 Dec). Back you go! Apparently the Victorian computer is not programmed to pick up such illegalities although the runs were shown in its career records and therefore in the formguide (which stewards must have noticed).
Moreover, it then just avoided border problems by darting back to Adelaide where it raced again on 31 December, finishing a fading 3rd as a $2.70 favourite. It must be a hardy type as its 27-race career includes four occasions when it had only a three-day break and another four when it had a four-day break.
More generally, Greyhounds Australasia (GA) has been asked to look into this subject with a view to extending the ban period for stayers at least, if not others. A study is justified on welfare grounds – for both dogs and punters. GA has ignored the correspondence. Since 2015 it has also ignored the need to produce national statistics. Is anyone looking after the shop?
Not Only, But Also
On a related subject, it was surprising to read (in The Australian, 25 Dec) that NFL players and teams have never had it better despite having restricted pre-seasons, no exhibition matches and frequent training pauses due to Covid outbreaks. "Players practised less. It didn't seem to affect their play at all", the article claimed.
Pittsburgh Steelers quarterback Ben Rothlisberger (at 38 years old) "missed a week of practice and then stepped onto the field and played phenomenally". The Wall Street Journal notes that "Scoring is at an all-time high. Penalties are at their lowest in more than a decade". Baseball and basketball saw similar effects.
Back home, it's becoming more common to see AFL and NRL coaches giving key players time off to replenish their juices during gruelling seasons. Questions are also being posed about cricketers in expanded Big Bash programs or other bubbles.
In modern times, thoroughbreds have plenty of time off but not so greyhounds which are asked to race week in, week out for months on end, pausing only when injured. Some race even more often than weekly. You have to wonder what sort of impact this has on their minds and bodies. Would less effort produce more cash in the end? Hands up everybody who has had a capable dog which just ambles around with the field collecting appearance money.
Of course, it would be a tough ask to restrict backups in an era when almost all meetings are short of competitors. But the question should be put. Two wrongs do not make a right. A study might consider queries like these ……
How often does a dog go around while still enduring a niggle in its system?
Why do top dogs rarely line up more often than weekly but lesser lights regularly do?
Does over-racing contribute to interference or race falls?
Why are there so many scratchings in Victoria and how do they compare with other states?
How and why was the two-day National Rule established in the first place?
Are the non-stop calls for more nominations attracting less fit dogs?
Should dogs pause after extensive interstate travel?
How much trialling is worthwhile on top of actual racing?
Is there a definitive scientific view on how long it takes to replenish a dog's resources?
What is the secret to keenness in veteran racers?
Is the industry leaving itself open to criticism from anti-racing groups?
Sure, the standard answer to some of these questions is "the trainer knows best". That's understandable when he has been living with a dog for years. Anyway, dogs do vary, one from the other. Yet it also implies that a trainer cannot learn anything new – which makes no sense in a fast-moving world. Besides, there is always a big variation in techniques used from one trainer to the next – each swearing by his own method. There are always options.
A Drop-in Means a Drop in Standards
Readers might recall that a few weeks ago we latched on to figures for the new-fangled drop-in boxes at Horsham and Shepparton. After a bit of to and fro it turned out that race falls had actually increased by comparison with the earlier conventional starts. It doesn't matter by exactly how much – they were still up.
Given that drop-ins were supposed to be a way forward, this had to cause some consternation. Why go to all that trouble when the result was not there? After all, the effort did suck both capital and operating funds out of the system.
A key difference between the old and the new was that the drop-ins were sited close to the running rail, rather than being well offset like the previous boxes. Most starts are offset, of course (not all, but most). Leaving aside all the fancy calculations and simulations it became obvious that pushing the field up against the rail was not a good idea, mainly because the dogs would not have had time to do their own thing and perhaps separate a little. While thinking about that, bear in mind that locating the lure out in the centre of the track was justified on that ground, too. Those two measures are fighting against each other.
That would be the first principle of racetrack design – always encourage the dogs to stay separate if you can. They are prone to running into each other and that causes falls.
The second principle is to give them space to string out before hitting the turn where the worst of the battles occur. Give them a chance to do the right thing.
The 385m/400m drop-in experiments failed on both counts, judging by the higher than average proportion of falls.
So we checked again by surveying all races in October, November and December. The result was much the same.
Falls were still on the high side, of course, and well above the Australian average – 6.3% of runners fell at Horsham (182 races) and 8.2% of runners at Shepparton (also 182 races). That's for the shorter trip. By comparison, Horsham's 485m trip experienced zero falls in 45 races, Shepparton's 450m had just one fall in 117 races. Both longer races have a longish run to the turn.
The message is clear; the theory did not pan out, so don't do it again. Meantime, get rid of drop-ins at the above two tracks and set up boxes somewhere off the track where they used to be. In company with the improved turn banking (said to be 10%), that is more likely to produce a better outcome.
Incidentally, while I didn't do the count, the average field size at Horsham in particular would have been well below average. This period frequently saw races with only 4, 5, 6, or 7 runners, which should have made life easier, but it didn't. In fact, you could argue that full fields would have made fall rates even higher.
Similar Greyhound Racing News