Updating the Horsham greyhound box picture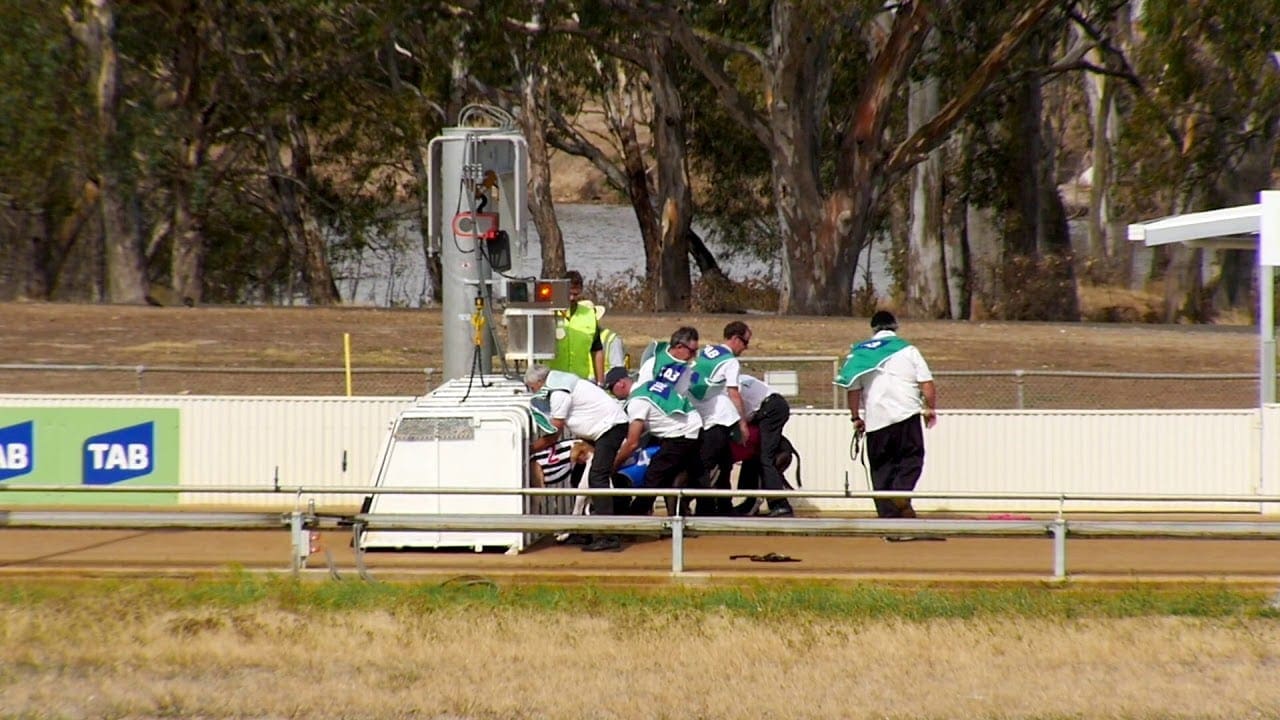 The Horsham club maintains some of the stats I used in a previous article about drop-in boxes were faulty. Since I had to do this laborious job manually I accept that some errors are possible. However, that is to miss the purpose of the article.
Two things happened at Horsham. First, a fresh concept of tightly located drop-in boxes was implemented. That came from the clouds. Second, work was done on re-shaping the actual circuit. These are separate matters.
The outcome was that 410m running did not improve as measured by whatever fall rate you choose. In contrast, it did improve in respect to 485m races. Reasonably, this tells us the circuit work provided a benefit, as indicated in the article. That same benefit did not accrue to 410m events when running around the same turns as in 485m races.
Why the difference? Well, whichever figures you use, it follows that positioning boxes close to the rail is not a good idea. Not just at Horsham but also at Shepparton (and probably also at Bulli). So don't do it.
Separately, my other major theme was that authorities or clubs are prone to do a job and then forget about it – that is, they don't do later checks to see if the job works well or better than before. Often, they also fail to outline exactly what has been done, and why, thereby leaving everyone confused. That's a management shortcoming.
Incidentally, we still don't know why the former 570m trip at Horsham was discontinued or not replaced by something similar. Also, a point was made that there were multiple falls in a few races, thereby overstating the risks. That's true, but it was also true in the past years' comparison rates so we had to compare apples with apples.
(PS: It is encouraging that GRSA routinely offers information and diagrams of track proposals and invites comment prior to reaching a decision – see current Kennel Capers, for example. Yes, GRV did likewise in respect to the most recent Traralgon re-build but not for earlier changes or re-builds. However, for the new Traralgon, GRV presented only two options, both radical, and did not include one which illustrated a conventional circuit upgrade which still embraced more modern principles. One outcome is that middle and long distance racing is no longer available. Another is that onsite race viewing will be poor due to the faraway box location. Then there's NSW, which never seeks comment anywhere, which is probably why it makes so many mistakes and has to pay for corrections).
Happily, there's more positive news around.
Never Mind Quantity, We Still Have Quality
At Sandown's main meeting this week, a 20 months old youngster rocketed around a 5th Grade 515m trip in an amazing 29.09, only two tenths short of Hooked on Scotch's track record. This was McCoolys Lad (Fernando Bale x Tatty Fields), which set up the run with a nippy 5.04 first section. It has now won four from six starts after breaking its Maiden at Broken Hill.
Mum was not well known but did win a few races including a smart 29.52 at Sandown.
Interestingly, 10 of the 12 races at that meeting were taken out by dogs leading all the way and all but one race jumped with a full field.
Cash Flowing
The Million Dollar meeting at Wenty demands comment after pulling in a record-breaking $9.4m for the night's wagering. Three quarters of that was via Fixed Odds bets, according to GRNSW. This is extraordinary as most of that would have come from the NT bookies because TAB outlets are still closed due to Covid-19.
There is no indication of the amounts bet by big punters but very few would have gone home happy after the big race where winner Handsome Prince paid $21. Even so, it suggests that quality racing and statewide promotion can work wonders. It will be interesting to see if the push continued at the GAP pup sales on Saturday afternoon.
It leaves us with the question of why the corporate bookies turnover is not published regularly. Or, even better, why GRNSW income is not updated at least monthly. The CEO was crying poor just a few months ago.
Similar Greyhound Racing News