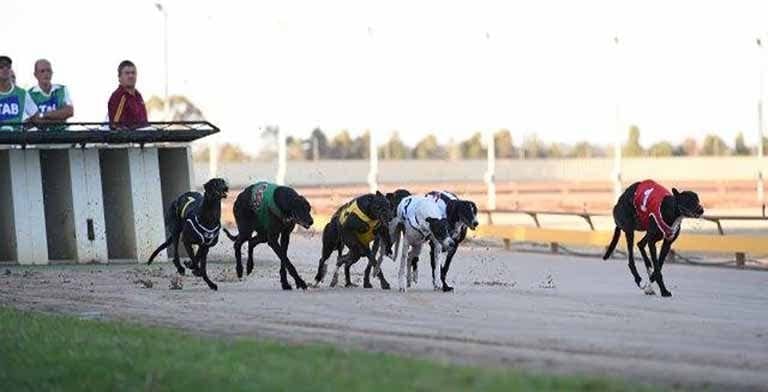 Two spectacular events occurred yesterday, forcing the critical news on Tabcorp to the rear.
1. BIG BETTING?
In the second race at Ballarat, a Maiden, a first starter jumped nicely and cleared out to run a top grade style time of 25.01. On the Bit paid $1.65 (Fixed Odds) and $2.10 (Tote in both Vic and NSW). Prices on the corporates are unknown, of course. That prompted stewards to enter this note:
"Stewards spoke to Mr M. Lanigan, trainer of On The Bit, regarding a significant early market move on fixed odds betting for the greyhound. Mr Lanigan stated that he did not support the greyhound in tonight's event. Stewards noted his comments and will refer the matter to GRV's betting analyist (sic) for further review".
What on earth do stewards hope to learn? With that knowledge on board, what will they do? I will supply the answers here – not a lot and nil. So why did they ask?
Tote win pools were $3938 and $8186 in NSW and Victoria – nothing unusual there. Similarly, First Four pools were $1624 and $5749 and the respective dividends $59.00 and $42.60. Corporate betting activity is unknown but no doubt the "betting analyst" can get hold of the figures.
All that tells us is that many thousands of dollars went on to the winning favourite. Connections must have known why – presumably because of some quick trials which never appear in the formguide.
So far, there is nothing here that would not have happened a dozen or more times this week. All it appears to be is a mild sting which caused angst to one or more betting houses. Possible follow-up action – again nil.
2. HEADLINE OF THE WEEK/MONTH/YEAR
A media release from GRNSW included these extraordinary comments:
"Greyhound Racing NSW (GRNSW) Chief Executive Officer Mr Tony Mestrov today welcomed the formation of the Parliamentary Friends of Greyhound Racing group at NSW Parliament. The Parliamentary Friends of Greyhound Racing group held its inaugural meeting in Parliament House on Tuesday where bipartisan support came from 28 founding members. Member for Wollondilly, the Hon Nathaniel Smith, and the Member for Fairfield, the Hon Guy Zangari, were elected Co-Chairs of the group, while the Hon Roy Butler, Member for Barwon, was elected Secretary".
This is huge news, and unprecedented as far as we know in Australian racing circles. Lots of congratulations are due to the GRNSW people who organised it as well as the MPs who put their hands up. Perhaps other states might follow suit?
Still, you might ask where all these folks were hiding when voting took place on banning the industry? Such is politics.
THE TABCORP STORY WILL GO ON FOR YEARS
The latest twist in the Tabcorp Victorian sell-off saga – all conjecture, mind you – is the addition of Rupert Murdoch to the list of potential bidders. The others are from overseas, including the UK's Entain which owns Ladbrokes brand.
What that brings to the mix is the increasingly close and overlapping relationships between wagering firms, TV companies and sports. Potential buy-ins of shares of sporting bodies further confuse the issues (private offers for bits of Rugby League and Rugby Union are floating around).
The first thing that seems to be a near certainty is that the profitable Tatts lottery arm will be hived off to the highest bidder – whether that is an outsider or Tabcorp itself.
That leaves wagering sticking out like a shag on a rock. It's barely holding its own in real terms (and not at all for greyhounds) and has been losing market share for decades to casinos and sports. Patronage is dominated by mug gamblers silly enough not to care about decent odds for their cash plus a tiny number of pros who do battle with the myriad betting houses chasing their business. The Tote product range has changed only in ways which rob Peter to pay Paul. Three different Quinella types are ridiculous, for example.
Or perhaps, as a previous Tabcorp boss announced, it's a "mature market". Whereupon he went chasing casinos and overseas tie-ups which, in the main, involved fields and tracks which no-one here knew about (and never would) but which often reduced the openings on SKY for intending greyhound punters. In turn, some of those international venues took in Aussie races to round out their local pitches – in each case for a tiny amount skimmed off the top, plus sometimes higher commission to cater for the policies of the other country.
The upshot of internationalisation is that while the Australian average takeout is about 17% or a bit less, the overseas authority (usually just a state, not a country) more often charges a 25% minimum to its local customers, in turn passing the effects of that high rate on to transactions with Australia. Tabcorp shareholders get a benefit because of higher throughput but local punters lose out. The nett financial result for Australian authorities is unknown but would be dubious when considering all the administrative and operational costs involved.
In short, Tabcorp went through a big development phase in the first half of its 70 year wagering life but then ran out of ideas – bar buying up Ubet/Tatts and other gambling organisations. Now, if it is left with nothing but wagering in a dedicated company there is no reason to expect much advancement (which is possibly why the Victorian government is calling for more imaginative tenders).
A new owner might think differently but the likelihood is that such a firm would quickly split up the organisation, proceed with the lottery half and leave the expensive-to-operate wagering to others – Tabcorp or whoever – or merge it into its own wagering firm (if it has one). It would have little reason to continue with TAB shops in the main street, instead maybe leaving them as a kind of digital access point – just like a public telephone box.
Very few clubs and pubs would make any significant profits from Tabcorp; they take it on mainly to encourage drinkers to come in and then use their profitable pokies as well. Hotels are often priced according to the number of poker machine licenses they possess.
Messy, isn't it? Critically though, greyhound racing is at the lower end of the pecking order, having been passed by sports betting in overall volume terms and by the corporate online bookmaker group in popularity with customers. This is why I pleaded in an earlier column for the greyhound code to mount a serious effort to buy in to whichever firm ends up getting the Victorian license. Only part ownership will provide the control we badly need.
ODD AND ODDER
The latest GRV release highlights the unusual success of box 8 at Shepparton in providing 15.8% of the recent year's winners for 450m races. Ferdinand Boy at $6.50 has that spot in next Saturday's Cup final.
Even more oddly, box 4 has been responsible for 16.4% of winners. Between them, these two boxes are now Shepparton's "best".
These results contrast sharply with long term figures of 14.3% and 14.0% respectively, taken over more than a decade. Box 1 was always way out in front in those days at 19.6% but lately is down to only 12.2%
The last year has seen only one change that we know about – the installation of drop-in boxes for the short trip and its distance change to 385m. We have seen no advice about the 450m trip or the track in general, but something must have happened.
Normally, box statistics for only a year can easily be misleading. You really need 1,000 to 2,000 races for reliable stats. However, a 600 race sample should be enough to achieve reasonable accuracy.
We already know that the 385m drop-in boxes have been a failure because the fall/interference level got worse, as it did at Horsham for its shorter trip, and they are more expensive to operate. A previous experiment at Bulli was also terminated quite early.
So what's going on? All we are left with is a hope that significant changes to tracks are followed by an analysis of their worth as time goes on. In this case we still have only half the story so that's not possible. Both these changes were an outcome of UTS proposals to GRV and the club. They bombed. No question.
BALANCED REPORTING?
Still with GRV, the habit of state authorities to publish only good news raises its head when we see occasional yarns about how great the GRV Watchdog did with his daily tips – returning X% profit for the previous day.
However, occasional is the word. Our checks of the last 25 days reveal that only four sets of tips made a modest profit while 24 lost cold, hard cash. On top of that, in live betting there is plenty of evidence that many gamblers take them at face value and back them down to less attractive prices, in which case profits are virtually impossible. (Watchdog's tips use Fixed Odds but, either way, you are still going to lose your bank).
Tipping is a tough gig and I have always resisted doing it although I occasionally get pressed to discuss the possibilities in a feature race. Even the world's best will be hard put to average 1 win in 3 (even less at the gallops).
I am reminded of wonderful advice from the late great Ken Howard: "Never run up stairs and never take odds-on".
Similar Greyhound Racing News