Hallucinate Leads National Sire Rankings
After sitting 17 points behind Primo Uno after January 2009's AGRA Sire Rankings, Hallucinate has taken over as Australia's Leading Sire with 262, 24 points in advance of Primo Uno, with Bombastic Shiraz a further point back in third.
Hallucinate enjoyed an enviable February 2009 with a win at Group 1 level going the way of Lilley Criminal (~Que Dee Tee (Picninc Point~De La Hoya) ) in the Australian Stayers Trophy, and Genista Thunder (~Smokey Whiskey (Token Prince~Princess Whsikey) ) running second in the Group 1 National Derby. Repeated (~Thai Again (Token Prince~Thai Magic) ) also ran second at Group 3 level behind Magnifique in the Group 3 Bulli South Coast Cup with Cradle Mountain (~Ruby Red Lips (Token Prince~Osti's Dream) ) third in the same race.

Primo Uno continued his Group 1 run with Fedex (~Tranquil Goddess (Tinas Jo~Goddess Of Fire) ) winning the Group 1 2009 National Derby at The Gardens and then running second behind El Galo in the Group 1 Temlee at The Meadows.
Bombastic Shiraz was the month's biggest mover rocketing from 12th on the Sires Rankings in Janury 2009 to third. Bombastic Shiraz's best performer was Gold Slammer (~Rachael Anne (Awesome Assassin~Silver Anne) ) who won the Group 2 Wentworth Park Gold Cup over 720m. Sandy On Target (~Jessica's Hope (Northern Legend~Real Ability) ) also contributed with a third in the Group 2 Rookie Rebel behind Vintage Octane, as did Snozz (~Special Osti (Placard~Elite Osti) ) by running second in the Group 2 World For Pets Richmond Derby.
In the AGRA National Dam Rankings, Thai Again still holds the lead through consistent group performers and litter brothers Repeated and Hendrix ( Hallucinate~Thai Again (Token Prince~Thai Magic) ) and Tranquil Goddess is now equal second with Roxy Reason largely through the exclusive deeds of Fedex ( Primo Uno ~Tranquil Goddess (Tinas Jo~Goddess Of Fire) ) and El Galo ( Where's Pedro~Roxy Reason (Malawi's Prince~Playground) ).
The AGRA National Rankings are determined by a points system applied to group races on a sliding scale of points first to eighth. The sires have a different scale of points to the dams and the AGRA have recently remodelled that rankings systems in order to try and reflect a more accurate assessment of all Australian Group Racing.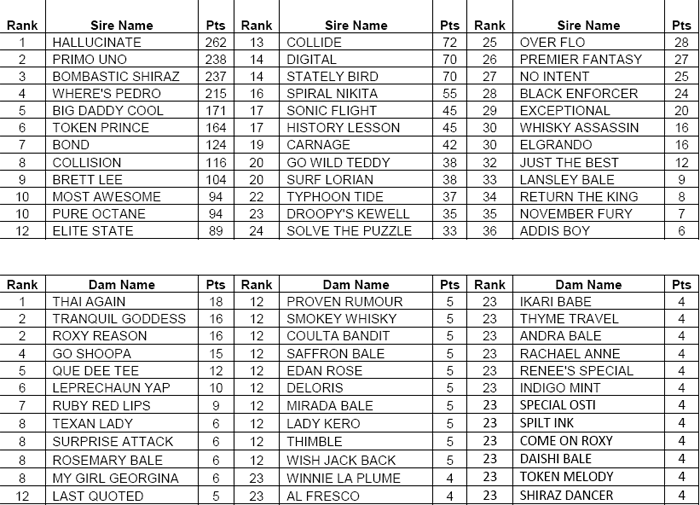 Similar Greyhound Racing News