Hard yards pay off as Mitchell St earns Golden Easter Egg spot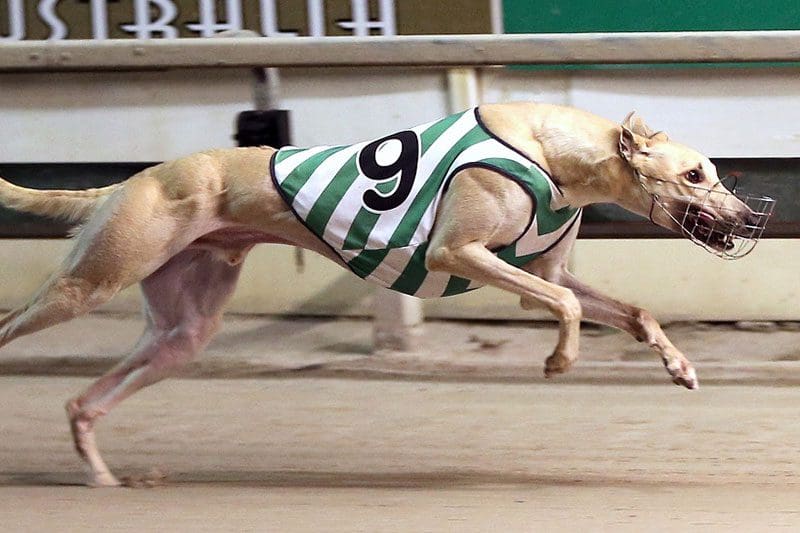 Travelling five times up and down the Pacific Highway over the past month was worth it for trainer Tom Tzouvelis because Mitchell St is in the final of the Golden Easter Egg (520m) at Wentworth Park on Saturday night.
Throw in an early-morning flight from Brisbane before once again fronting up at the Glebe venue for the semi-finals last Saturday night, and the veteran Queensland greyhound mentor has certainly racked up the kilometres.
Despite all the lost sleep venturing down to the New South Wales capital, Tzouvelis is smiling because his three-year-old will start in the $338,000 decider.
Mitchell St qualified after finishing second in a time of 29.99 seconds in the third semi-final.
There is no doubt making the decider of the lucrative feature series is a fairytale story for this dog with 66 starts to his name, so there was no way that Tzouvelis was going to miss the semi-final.
"I've been up and down the highway five times over the past month," Tzouvelis, who handled the dog on Saturday night because his trainer Jedda Cutlack was named Queensland Greyhounds' Young Achiever of 2021 that evening, told AustralianRacingGreyhound.com.
"This time I flew, but normally we drive.
"The dogs are in Jedda's name. I got crook about 18 months ago, so I've been scaling back a bit.
"She worked for us and she's started to take over, because the idea was I was going to travel.
"She got the young trainer of the year award for Queensland. So we went to the awards night. I knew I'd be too buggered to drive.
"I flew the dog down (on Friday), and I flew down myself (Saturday) morning.
"Lucky I've got friends to stay with down here. I got on the first flight here (Saturday) morning."
Indeed, the beer will be flowing if Mitchell St prevails on Saturday night.
The experienced runner is a Fernando Bale out of Off And On, who Tzouvelis trained to glory in the 2017 Darwin Cup.
"He's a dog we bred ourselves. His mother won the Darwin Cup, Off And On," he said after Saturday night's semi-final.
"When she won the Darwin Cup we went through Mitchell St celebrating with the trophy and drinking everywhere we went.
"And we thought if we got a good one out of her we'd call her Mitchell St.
"The guys who own Off And On own Mitchell St. My missus would be going nuts.
"I said to her 'come down – we probably won't make the final. We're a chance, but you can't hold your breath when you're 25 to one'.
"And she said 'no, no I'll come for the final. She'll get there'."
After largely dominating at the Albion Park and Ipswich tracks in south-east Queensland, the journey towards an unlikely berth in the Golden Easter Egg final for Mitchell St started in country NSW.
"We raced him in the Maitland Cup series. He won his heat and ran fifth in the final," Tzouvelis said.
"We thought he went really good in that, so we'll give him a try here.
"He won (his heat in a time of 30.21 seconds). He missed the start, but then powered to the lead.
"(Last Saturday night) he jumped a lot better. He actually led.
"He should hopefully get better each week, but there are a couple of real smart ones in this race (the final).
"And with 250k to the winner you've got to expect that."
While already stunning many punters in just making the semi-final, Tzouvelis was mentally preparing himself for Mitchell St's stunning Golden Easter Egg journey to come to an end last weekend.
"We weren't sure if he could get across, but his early speed is his asset," he said.
"They were all getting close to him and I was worried he'd get run down because he's not overly strong.
"But hey, it's nice to make an Easter Egg final.
"I actually thought he wouldn't hang on because the six dogs (behind him) were very strong.
"And the number-one dog (Fantastic Raven for Jason Mackay) was in the Dubbo Country Classic series over 600m.
"So there were both 600m dogs chasing him. I knew when they were close he might struggle, but I was happy to see him hold on for second."
It is hard not to feel elated for Tzouvelis in his efforts to have a runner in the Golden Easter Egg final.
The top Queensland trainer spent weeks in hospital and doctors' offices in an effort to rid neuroendocrine carcinoid cancer from his small intestine over a 12-month period right up until late last year.
Fortunately, Tzouvelis – who was an inspiration to everyone around him during his health battles because of his high work ethic – is cancer-free at the moment.
Mitchell St has also overcome his own health setbacks.
"Unfortunately he's getting a bit old. He's four years old (turns four on June 1). Last year we had all sorts of problems with him," Tzouvelis said.
"Now he's in the twilight of his career, and he's still racing as good as he was when he was young."
Tzouvelis is grateful to be the only Queensland trainer with a runner in the Golden Easter Egg final, particularly with everything he has overcome regarding his health battles.
"These are the sort of races you want to go in. These races are the pinnacle," he said.
"Just to make it is terrific. If we can do something it'd be even better.
"And in three weeks' time there'll be the Million Dollar series.
"It'll be bigger and better then, and similar dogs.
"These races you dream of. You hope you get a dog that can be good enough. But until they perform you just don't know."
Similar Greyhound Racing News