James expecting improvement from Sure To Excite in Maturity semis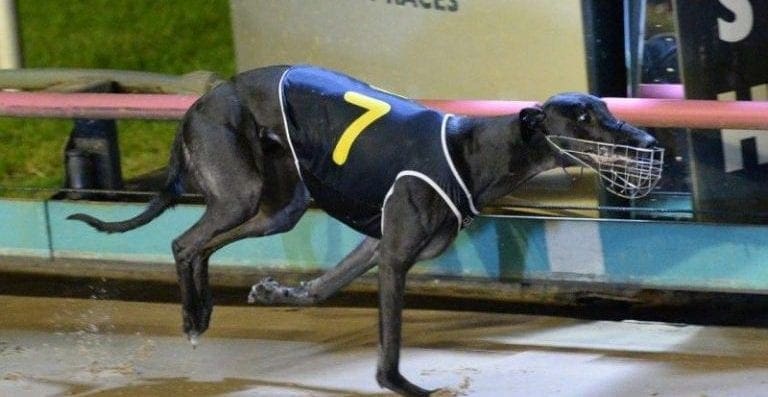 GRAHAM James is confident his powerhouse performer Sure To Excite (Goodesy x Paua To Excite Aug '15) can continue to step up throughout the Group 1 Maturity Classic (525m) series at The Meadows after recording a handy 30.15 dead heat victory in his qualifier on Saturday night.
Sent to the boxes as the odds-on favourite, Sure To Excite showed great pace and took the lead in the early stages before fighting out a tough finish with Liebig Street (Walk Hard x Dirty Angel May '15), with the judge unable to split the pair on the line.
While many people were expecting Sure To Excite to score by a wider margin, James said he is relieved to have made it through the opening round of the $100,000 to the winner series.
The Woodleigh conditioner conceded he too expected to see a more dominant performance, but admits his charge has had limited experience around two turn tracks, with Saturday's heat win just his third ever '500'.
"It wasn't what I was expecting from him, but I am just happy that he has made it through," James told Australian Racing Greyhound.
"He has put it all together at Shepparton, but he hasn't quite done that at The Meadows yet. His first couple of starts there he missed the jump and at his second start he won and it was a terrific effort because he got knocked around early.
"He had his box on Saturday night and once he got clear through the first turn I thought he would be running time. When 30.15 came up on the board I was a little bit shocked that he was able to get on the bunny early yet it didn't quite show up on the clock.
"But I can't be too disappointed with the run purely based on what the clock says because I am over the moon just to have won a heat of a group 1 series and I know he is only going to get better."

Sure To Excite has now won nine of his 12 starts with $42,000 in career earnings. Included in his victories was a strong win in May's Listed Northern Districts Cup at Shepparton – with that triumph stamping the black greyhound as one of the hottest prospects in training.
James says he expects Sure To Excite to strip fitter for Saturday's heat win heading towards the semi-finals, with the 35-kilogram greyhound also set to benefit from the experience.
"I have no doubt that he is capable of coming out and running 29.80 next week and I think that's where a lot of the dogs in the series are at," James said.
"The semi-finals are going to be red hot – whatever dogs begin cleanly and get through the first turn unscathed are probably going to be the two which will make the final because most of the dogs in the series are very even ability wise."
James explained he will be getting a full examination of Sure To Excite during the week to ensure he is 100 per cent ahead of the semi-finals, but says no matter what he is proud of his greyhound's efforts against some of the best young sprinters in the country.
"It is a big effort from him – he is only 22 months of age and most of the dogs in the series have had a lot more starts than him so he is giving away age and experience," he said.
"He is only going to get better with more racing and I am hopeful that we will see the best of him over the next 18 months.
"He appears to have pulled up well which is the main thing, but he will get checked tomorrow and we'll also get a blood count done on him just to make sure everything is right and as it should be."
Time honours from the Maturity Classic heats went to Group 1 Winter Cup (520m) winner Fast Times (Barcia Bale x Clockwise Apr '15) which clocked 29.92 at what was his first look at the track. He has now won four straight races for leading Queensland conditioner Tony Brett who also took out another heat with Opal Nera (Dyna Tron x Black Sambuca May '15) which stopped the clock in 30.01.
NSW had success in the heats, with Jodie Van Enkhuyzen training two heat winners – Shallay Pallay (Barcia Bale x Set To Shine Jul '15) in 30.20 and his litter sister Set To Storm in 30.23.
Jeff Britton won the remaining four heats of the feature with Vanderwop (Kelsos Fusileer x High Recall Oct '15) in 30.07, Mepunga Blazer (Barcia Bale x Mepunga Nicky Jun '15) in 29.97, Mepunga Tycoon (Barcia Bale x Mepunga Nicky Jun '15) in 30.15 and Paradiso Lass (My Bro Fabio x Key To Eden Sep '15) in 30.18.
Similar Greyhound Racing News