Lanigan's triple shot at glory in Launching Pad & Easter Egg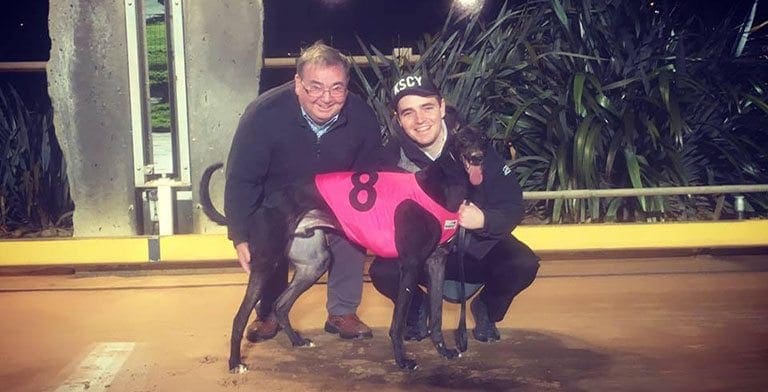 SEVENTY-FIVE per cent of the greyhounds in Matt Lanigan's kennels will compete in group races this week as the young trainer continues his pursuit of group glory.
The 24-year-old Victorian will have two runners engaged in the heats of the Group 2 Launching Pad at Sandown Park on Thursday night, before making the long journey interstate this Saturday for the opening round of the Group 1 Golden Easter Egg at Wentworth Park.
Lanigan's greyhounds, Zipping Quinsee, Zipping Hooch and Zipping Bruiser, are all from the same litter, by Don't Knocka Him out of Tricky Gypsy, with the latter winning last year's Group 1 Hobart Thousand for his rookie mentor.
'Quinsee' will be the first to fly the flag for Lanigan kennels, jumping from box seven in the opening qualifier of the Launching Pad series.
A winner of six from 26, the blue dog has been racing consistently at the top level in recent weeks, taking on some top-class company in the Devonport Cup, Launceston Cup and Bulli Cup series'.
However, it will be another tough assignment on Thursday night, meeting boom pup Nature's Gent for leading trainer Jason Thompson.
Despite the challenge, Lanigan remains confident in his greyhound's ability.
"If you look back at his past five or six runs, the majority of them have been in group race heats and semi-finals so he has been up against some very good dogs," Lanigan said.
"Obviously it's going to be hard up against Jason's dog [Nature's Gent] but there are only seven runners so I am hoping he can run a place and draw closer to the fence in the semis next week.
"He has been trialling really well and I think he can run a big race – he will give it his all."
Meanwhile, Zipping Hooch will start from box two in Launching Pad heat seven, with the early favourite being the regally-bred Suffragette from box six.
Lanigan says punters should not rule out Zipping Hooch which has found his best form after a recent stint in Tasmania.
"Hooch has the most ability out of the whole litter, which is funny to say because most of them have all been in group finals and he has only won three races," Lanigan said.
"It took him a while to settle in when we brought him from NSW last year and and even now he is still a bit immature – he plays up a bit at home and likes to get out and run around.
"But his last couple of runs over in Tasmania he has really let rip – he ran 26.02 at Hobart which almost would have won him the Hobart Thousand so we decided to bring him back over for a crack at the Launching Pad.
"He has drawn well in a nice heat – he is suited perfectly on the fence so if he can sit second or third early he will go close because he is very strong.
"As long as he gets a clear run I think he can run some serious time – it just depends what dog turns up on the night."

Forty-eight hours later all eyes will be on Wentworth Park for the Easter Egg heats, with Zipping Bruiser drawing a tough heat against Melbourne Cup winner Ando's Mac.
Zipping Bruiser will have to overcome box four to win the seventh heat, but comes into the event full of confidence after recording a last-to-first win over the track and trip two weeks ago.
Lanigan said he is hoping Zipping Bruiser will benefit from another look at Wentworth Park which he felt was necessary ahead of contesting the $250,000 series.
"After the Hobart Thousand we went after the Australian Cup heats and he had never been to The Meadows before – he missed the start by five or six lengths which you can't do against the best dogs in the country," he said.
"Even though he has raced at Wenty he hasn't been there in a while so we decided to go up there a couple of weeks before the series just to refresh his memory.
"It was a massive run – I couldn't believe he got there in the end – so I was very happy with him.
"Since then he has come home and he has been trialling really well – his run home times have been incredible.
"I am hoping he can come out a little better this week because it would be a massive thrill just to make the semi-finals of the Easter Egg."
Ten heats of the Group 1 Golden Easter Egg will be run and won at Wentworth Park this Saturday night, the first of which is set to jump at 7.48pm.
Similar Greyhound Racing News