Lightning Strikes in Group 2 Warrnambool Classic heats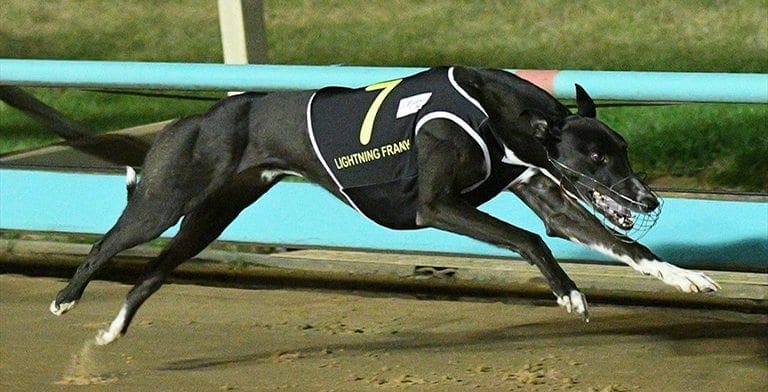 BOOM pup Lightning Frank returned to the racetrack in fine style on Tuesday night, taking out his heat of the Group 2 Warrnambool Classic (450m) in best of night time.
Starting from box four in the eighth heat of the night, Lightning Frank exploded from the traps and was never behind another running, stretching out to score by just under 12 lengths in the run to the line.
Trained at Allansford by Mathew Wright, the son of Black Magic Opal and Kirabilli Abbie stopped the clock in a sensational 24.81 – just 0.11 seconds outside of Unlawful Entry's track record.
Lightning Frank, a dual group 1 winner, is sure to strip fitter for the run which was his first race start since finishing last in the Group 1 Australian Cup (525m) in March.
All up, 11 heats of the Classic were run and won on Tuesday night, featuring some of the hottest youngsters in training.
The remaining qualifiers were won as follows.
Warrnambool Classic – heat one – Flawless Bling
The first heat was taken out by John Westerlo's Flawless Bling (box five) which defeated odds-on favourite Miss Morrisset (box four).
Despite the punter's pick being the best out of the boxes, Flawless Bling got a beautiful run into the race, driving to the front around the turn and sprinting clear in 25.12.
Warrnambool Classic – heat two – Bewildering
Seona Thompson's Bewildering was all the rage in the second qualifier, sent to the boxes as the $1.70 favourite from box two.
When the lids flew open, the son of Black Magic Opal and Outlandish didn't disappoint, bolting away from his closest rival, Duty Free (box six) to record a 5.93 length success in 24.93.
Despite winning just three of his 10 starts, Outlandish has shown some serious potential in his limited starts to date – having previously clocked an airborne 24.40 run at Sale back in March.
Warrnambool Classic – heat three – Zed Merrett
Team Thompson was aiming for a running double with Unprecedented in the third heat, but the favourite was only fairly away and in trouble early.
Meanwhile, taking up the front spot was Premier Zed (box six) ahead of Newcastle Ranger (box four), with Zed Merrett (box two) close behind in third.
Around the turn, Zed Merrett was able to use the inside draw to his advantage, railing through to assume the top spot and kicking clear in 25.30.
Warrnambool Classic – heat four – Elusive Jewel
John Westerlo bagged a winning double in the fourth heat, with Elusive Jewel (box two) leading virtually all the way in a slick 25.08.
A daughter of Mogambo and Butterfly Bling, the black bitch defeated Moneypenny (box seven) by more than six lengths. Elite Ollie (box three) rounded out the trifecta back in third spot.
Warrnambool Classic – heat five – Andrea Doria
After winning the Golden Easter Egg on Saturday night, Lovely Banks trainer Brett Bravo continued his quest for more group glory with Andrea Doria winning the fifth heat of the night.
Jumping from box three, the 27.7-kilogram bitch proved too good for Wadelock Venus (box four) and Cairnlea Ollie (box seven) when triumphing in a moderate 25.78.
Andrea Doria has now won nine of her 46 starts with an additional 14 minor placings.
Warrnambool Classic – heat six – Destroy I Said
Vostok (box six) was the only greyhound punters wanted to be on in heat six, sent to the boxes as the $1.30 top pick.
But after a fair beginning, the Angela Langton-trained greyhound was never in contention.
Instead, going to the lead was Another Blue (box three) which was quickly joined by Our Mate Wilson (box eight).
Also slipping into a prominent spot was Destroy I Said from box four which managed to barge his way into the clear around the home turn.
In a keenly contested finish, Destroy I Said was able to hold on to score by just under half a length in 25.71.
Warrnambool Classic – heat seven – Abergavenny
After going down in the heat prior, Angela Langton bounced back in the seventh qualifier with Abergavenny (box five) showcasing a tough chasing display.
The light fawn dog was only fairly away from box five and was still a fair way off the leaders around the turn, but hooked wide and stormed down the straight to score by 0.2 lengths in 25.50.
Our Boy Turbo (box eight), trained by Langton's partner Jeff Britton, grabbed second ahead of John Westerlo's Royal Bling (box seven).
Warrnambool Classic – heat nine – Up Hill Jill
Despite racing in the Group 1 Golden Easter Egg just three nights prior, Up Hill Jill was back on track on Tuesday night and showed no weariness from a busy interstate campaign over the past three weeks.
The David Geall-trained bitch was well away from box one, taking up the front spot and kicking on strongly to defeat Mo Daniher (box three) in 25.10.
With a week off ahead of next week's semi-finals, Up Hill Jill should have plenty of time to recharge her batteries and shave some time off that effort.
Warrnambool Classic – heat ten – John John Lava
Kumbia Lass (box eight) looked the winner in the penultimate heat of the night after taking the lead in the run to the turn, but the odds on pop was under siege in the home straight as John John Lava (box three) set off in pursuit of the prize.
After going stride for stride, John John Lava, a son of Djays Octane and Born On Lava, was able to go home the better, saluting by just under quarter of a length in a handy 25.42.
Warrnambool Classic – heat eleven – Rig Fifty Five
After being rolled in heat ten, Angela Langton was back in the winner's circle in the final qualifier of the night with the consistent Rig Fifty Five.
The black dog was only fairly away from the two, but was able to hold his spot on the fence and pushed up to take the lead around the turn.
Once on the bunny it was a case of times and margins, with the son of Oaks Road and Full Noise Turbo scoring by 6.67 lengths over Tear Away Socks (box one) in a fat 25.18.
++
Semi-finals of the Warrnambool Classic will be held next Wednesday ahead of the $75,000 final on May 3.
More Greyhounds News