Million Dollar Chase semi-final recap & MDC final box draw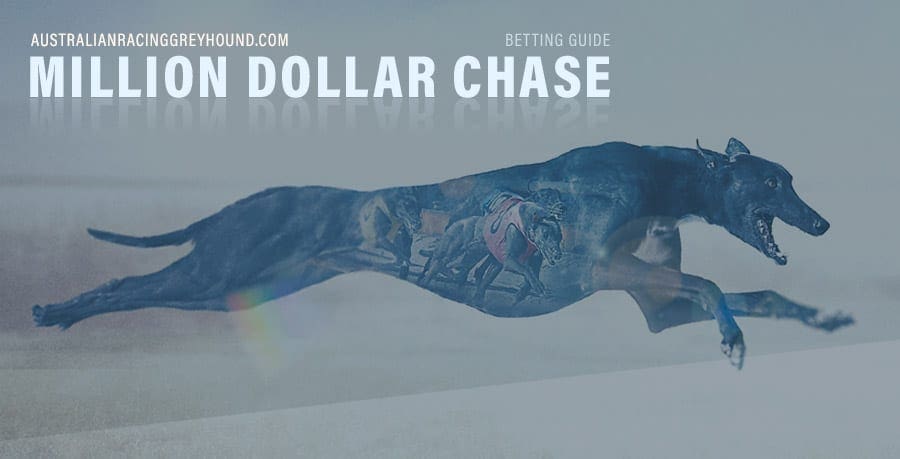 Western Sydney trainer Melinda Finn was dubbed "Queen Minnie" last night at Wentworth Park, after qualifying an incredible three runner's in next week's Million Dollar Chase final over the 520m.
Surprisingly, her fastest qualifier was Group One Peter Mosman victor Gatlin, who sizzled around the Glebe circuit in a scorching time of 29.28.
Stepping cleanly from the four alley, the son of Dyna Double One and Von Magic fought of a brave challenge by WA star Panama Pepper to salute by two and a half lengths at the finish. It continues the brindle chasers outstanding run of form having been unplaced only once in his past 12 outings.
Finn's other chasers to qualify included in-form stayer, turned sprinter Zipping Alabama, who used a rails run to her advantage in semi-final three, to sit behind early leader, Vamoose. The daughter of Superior Panama and Zipping Katelyn careered away on the home turn, to score by six and a quarter lengths over Orchestrate in a slick 29.41, including a blistering run home of 11.55.
All focus then shifted to King Zipping Kyrgios to see if he could make it a trio of winners for Team Finn, after Zipping Virginia won the opening heat of the G2 Sydney Cup earlier on. It was also an opportunity for him to continue his possible swan song on the race track, with talks of the son of Aussie Infrared and Zipping Lilly being retired after this series have been circling, however nothing has been officially decided, with the MDC result potentially having an impact.
The blue blazer stepped cleanly from the outside alley in semi-final six and sat ideally in third position heading into the back straight. Perhaps a less-experienced chaser may not have successfully negotiated the path he did between the two early leaders, with the Gosford Cup winner streaking away to score by four lengths in a brilliant time of 29.49.
Two-time MDC winning trainer Peter Lagogiane will be looking to make it a winning treble of successes after his charge French Martini overcame an early challenge from talented Victorian Plaintiff to secure her place in the final, clocking a speedy time of 29.62. Fittingly, she drew box seven in next Saturday night's final, the same box Lagogiane has won both of his previous titles from.
Nineteen-year old trainer Jay Opetaia would never have imagined so early into his career he would be putting the polish on an MDC finalist, with Agland Luai using box one to his full advantage to cause somewhat of an upset in semi-final two in 29.98.
He's On Fire for Allan Manwaring spoilt the She's A Pearl back-to-back title tilt, spearing the lids early from box three and holding off a late charge from Zipping Maserati in 29.73.
Hold Me Up for Joe Comito caused another upset in semi-final seven, clocking a new personal best time at the track from box five in 29.67.
The sole interstate finalist Mcinerney was victorious in the last semi-final of the series from box two, clocking a smart time of 29.68 for trainer Brendan Pursell.
The two emergencies for the Million Dollar Chase final will be Panama Pepper, for Steve Withers, and Chasing Fernando, for Craig Watts.
---
Million Dollar Chase Final Box Draw – Saturday 24th September 2022
The Million Dollar Chase final box draw is now out, with the eight dogs set to line-up like this:
Million Dollar Chase Final Box Draw

Wentworth Park520m

1

Mcinerney

T: Brendan Pursell

2

He's On Fire

T: Allan Manwaring

3

Zipping Kyrgios

T: John Finn

4

Agland Luai

T: Jay Opetaia

6

Hold Me Up

T: Joe Comito

7

French Martini

T: Peter Lagogiane

8

Zipping Alabama

T: John Finn

Reserves

9

Panama Pepper

T: Steve Withers

10

Chasing Fernando

T: Craig Watts
---
Million Dollar Chase '22 Semi-Final's Replays
MDC Semi Final 1
MDC Semi Final 2
MDC Semi Final 3
MDC Semi Final 4
MDC Semi Final 5
MDC Semi Final 6
MDC Semi Final 7
MDC Semi Final 8
Similar Greyhound Racing News