Million Dollar Chase Tips Finals Night Friday 16th October 2020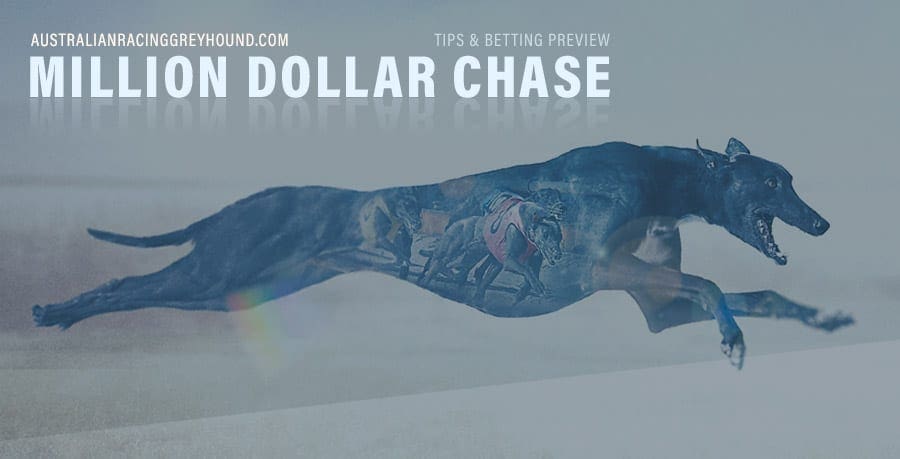 ---
AustralianRacingGreyhound.com has analysed all ten of the Million Dollar Chase finals night races, including the feature races; the Million Dollar Chase Final, the Masters Meteor, the Young Star Final, the Million Dollar Chase Maiden, the Group 3 Sydney Cup, and the Million Dollar Chase Consolation. Despite the time honoured Sydney Cup being the only group race on the race card at Wenty tonight, all eyes will be on the $1,000,000 to the winner Million Dollar Chase (MDC) Final.
Following last weeks semi finals, and the MDC Final box draw we took the early odds and analysed the eight Million Dollar Chase finalists for our in depth Million Dollar Chase Tips, where we clearly had Tommy Shelby as the best bet.
After this mornings scratchings, and the important one of Tornado Tears coming out of the Sydney Cup; we've analysed the full 10 race card from "Wenty" tonight for our MDC Finals night tips, odds, best bets and Million Dollar Chase races greyhound betting strategy.
Million Dollar Chase Finals Night Tips
Million Dollar Chase Finals Night Race 1 Tips, Form & Odds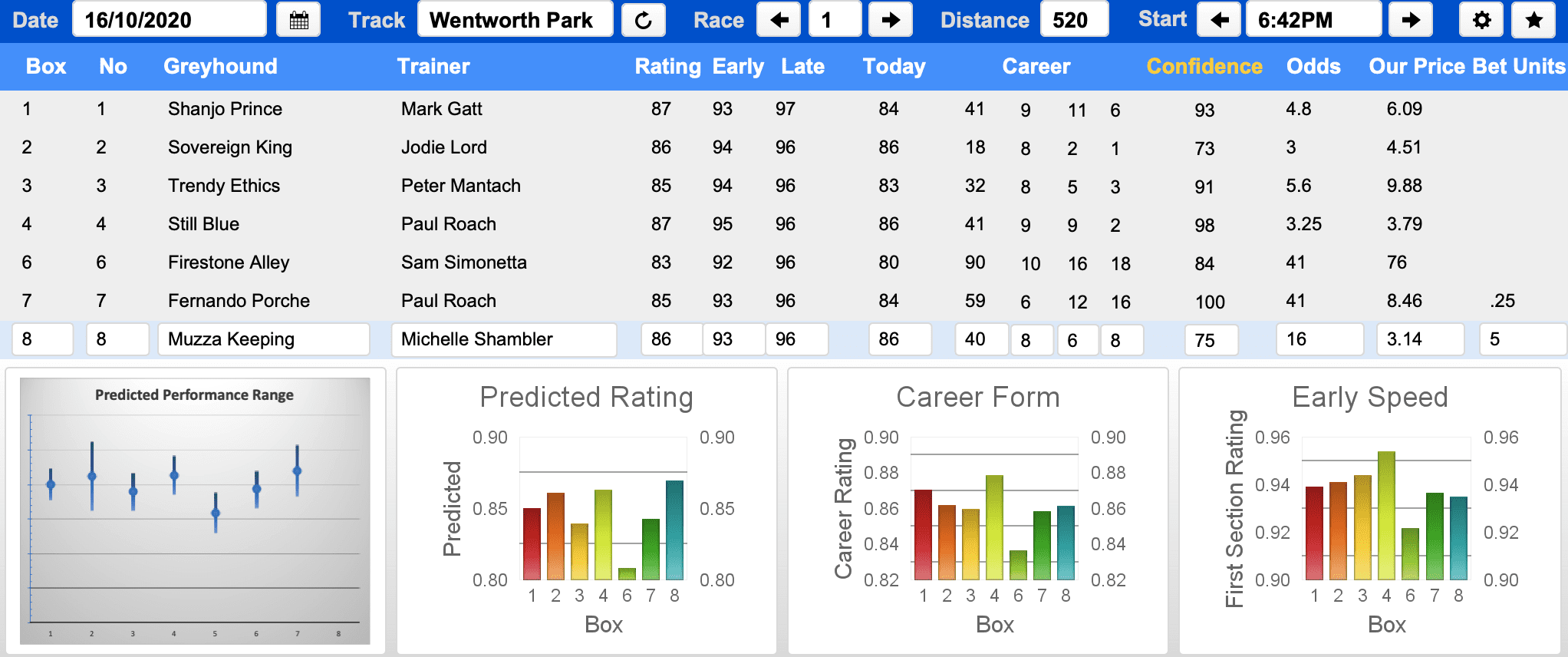 Million Dollar Chase Finals Night Race 1 Betting Preview
Kicking off MDC night with a fairly open 4/5th Grade betting race. Best form in the race goes the way of Still Blue who has been posted up under the odds at $3.25, but has the early pace to lead and take this out. Similarly Sovereign King off box two has to be given a chance in the race but is unbackable at only $3.00 in betting. Looking for value the best bet in the race lands out wide with Muzza Keeping who we are being offered $16.00 about. Has had five starts here at headquarters for a win and a second and will be hitting the line hard coming off a last start 600m event. Going wider Fernando Porsche at $41.00 is best of the rest.
---
Million Dollar Chase Maiden Final Race 2 Tips, Form & Odds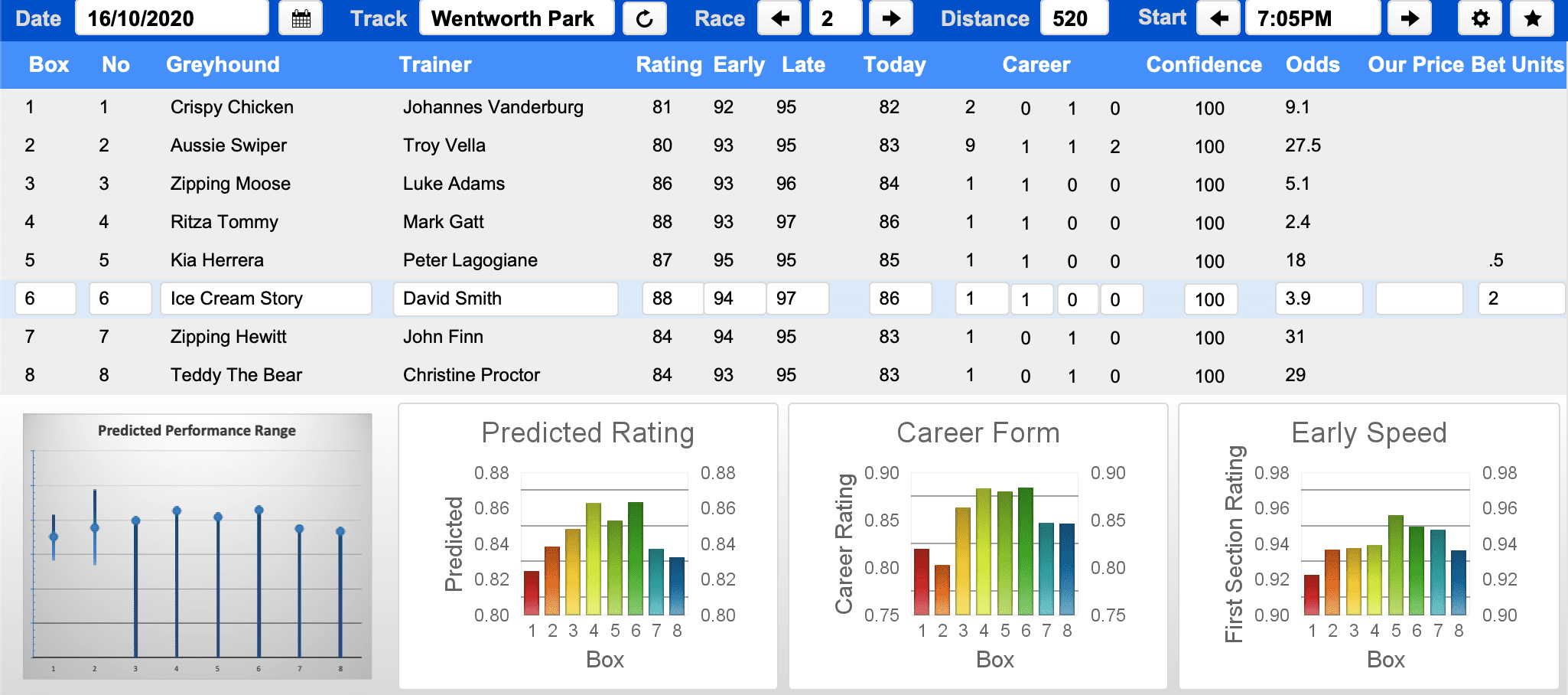 Million Dollar Chase Finals Night Race 2 Betting Preview
Million Dollar Chase Maiden final with $15,000 going to the winning youngster. Greyhounds qualified here last week in the heats, and like most maiden races, the race will be decided by the greyhounds who get out and going early as the the race field inexperience usually makes it tough for run on dogs to navigate a successful run to the line. The box draw has really thrown the race open with all the early speed boxed in the four outside boxes. For that reason we're pushing up for the dogs boxed on the inside of that early speed battle in boxes five and six. Kia Herrera gets every opportunity to lead here for trainer Peter Lagogiane who can get them out of the boxes and goes out an attractive $18.00 in betting; but we like the chances of Ice Cream Story to get up and race outside her and be too strong in the run to the line. They are the only two bets we can entertain at the odds. Ritza Tommy and Zipping Moose are best of the rest.
---
Young Star Final Race 3 Tips, Form & Odds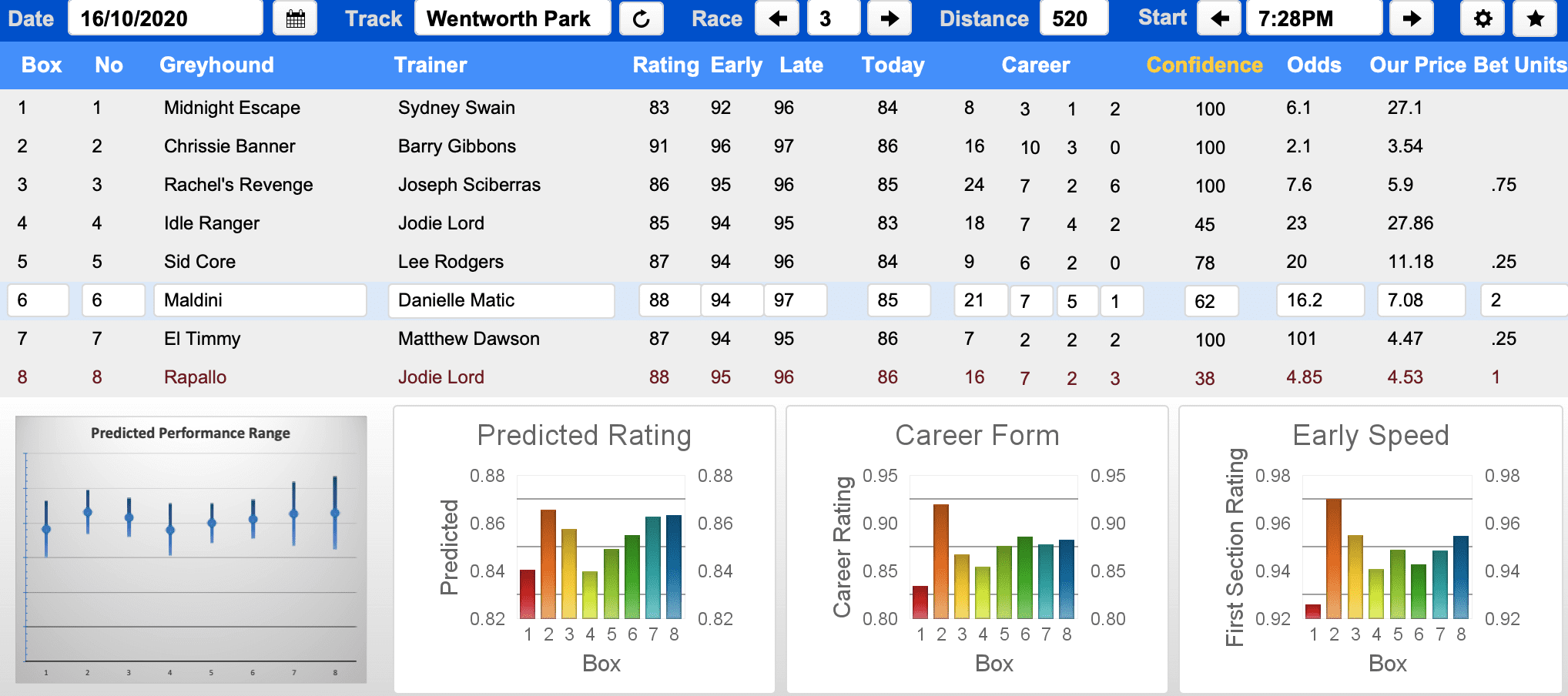 Million Dollar Chase Finals Night Race 3 Betting Preview
Young Star Final for the puppy aged chasers (similar to two olds in the horse racing world) with the prospect of $25,000 to the winner looming large for connections. The early pace and class in the race rests comfortably with Chrissie Banner off box two, unfortunately the greyhound bookmakers haven't missed her with only $2.10 on offer. Despite her obvious winning chances, we can't be on at the price as we marked her a $3.50 chance in the race. With Chrissie Banner taking up so much of the market, it presents opportunity to look wider for value. Maldini and Rapallo are both serious winning hopes who are being sent around at attractive odds. We suggest backing Maldini each way, and having a small saver only on Rapallo as the dog can race less than genuinely (denoted by the red text in the form). Given the prices very small bets on Rachel's Revenge, Sid Core and El Timmy could be entertained; but don't be surprised if Chrissie Banner starts odds on and just wins without us.
---
Million Dollar Chase Finals Night Race 4 Tips, Form & Odds

Million Dollar Chase Finals Night Race 4 Betting Preview
Just an ordinary 520m 5th Grade to bet on in race four of the big night at Wentworth Park tonight. Sniffy and Vamos Penny are the two with the early pace and class edge in the race and look set to fight it out. Vamos Penny has the stronger of the form but does have to find a way to get over to the rail and lead from the extreme outside draw which could be problematic, while bookmakers aren't really pricing us in to bet only offering $1.90 best price fixed odds. For that reason we're siding with Sniffy who has been underestimated by oddsmakers and is being sent out at $6.00 when we have priced her real chances as $2.62 so we have to be on at the over price. Boomin' Ethics is another being sent out over the odds and a very small bet there can be entertained, but bear in mind this race will only pay two place dividends due to the small field. Chrome who can get out of his ground early and make some poor race choices has enough raw ability to be in the finish if there is any trouble up front but is "unders" in the betting odds.
---
Million Dollar Chase Finals Night Race 5 Tips, Form & Odds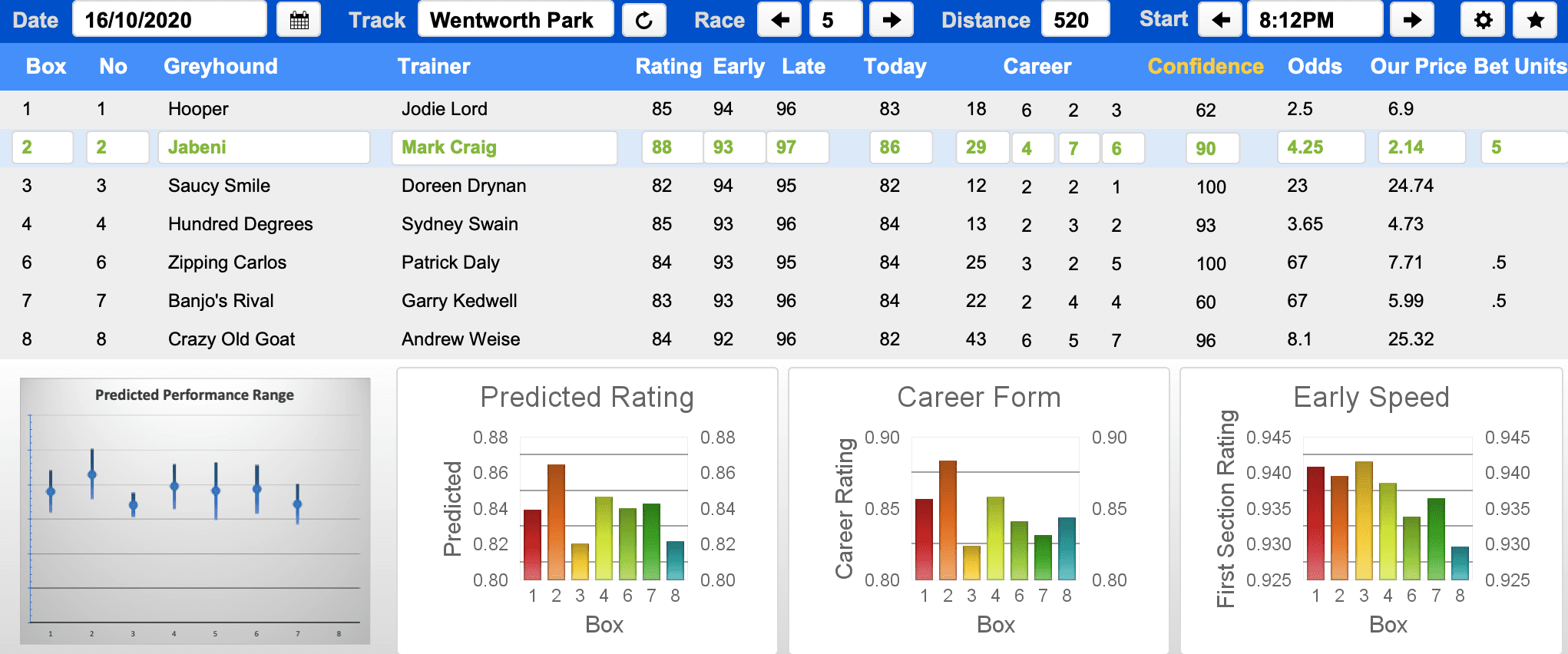 Million Dollar Chase Finals Night Race 5 Betting Preview
Another unremarkable 520m 5th Grade event for race five of MDC Night but a fabulous betting opportunity presents in this race with bookmakers missing one in the betting. Jabeni has been over looked in the betting in favour of the rails drawn Hooper for the powerful Jodie Lord kennel. Admittedly Hooper has the better form having won six from 18 starts; but Jabeni is the class runner of the race on best form despite its poor winning record of only four wins from 29 starts. Jabeni can lead Hooper from the boxes and has the strength to hold it off at $4.00 (best fixed odds) for punters. Cannot back Hooper at the price. With all the pace drawn the inside four boxes, those who like an interest at odds can have something small on Zipping Carlos and Banjo's Rival who can be given some hope and represent value at the odds.
---
Masters Meteor Race 6 Tips, Form & Odds
Million Dollar Chase Finals Night Race 6 Betting Preview
The old dogs hold centre stage and get the chance to run for good money in the Masters Meteor final which pays an incredible $100,000 to the connections of the veteran chasers. Like most of us on the wrong side of 50 years of age, these dogs can have good days and bad days and some of the old "war injuries" can play up from time to time, and joints get more tired with age. Oddly GRNSW only gave these stars of our sport just six days break between qualifying for this race and the final; while many of the younger greyhounds were afford seven days or more. Despite the strange scheduling, these battle hardened combatants will face off in one of the more open races of the night. Bookmakers have put up Sunburnt Highway and Nangar Kash as favourites, but neither represent a serious betting opportunity at the odds. Hello Robbo, who is one of the more lightly raced greyhounds; has box eight and the ability to miss any trouble to its inside in running, and represents a real winning chance and value at odds of $10.00 or better. Similarly Modus Operandi could play a strong hand here and is being sent out at $16.00 or better. We suggest backing both for a good return, but forced to pick one we'd lean slightly toward Hello Robbo. Benkennie Chic, Charlie Cockatoo and Robbie Knows are next best and at backable odds for small saver plays and exotics.
---
Group 3 Sydney Cup Final Race 7 Tips, Form & Odds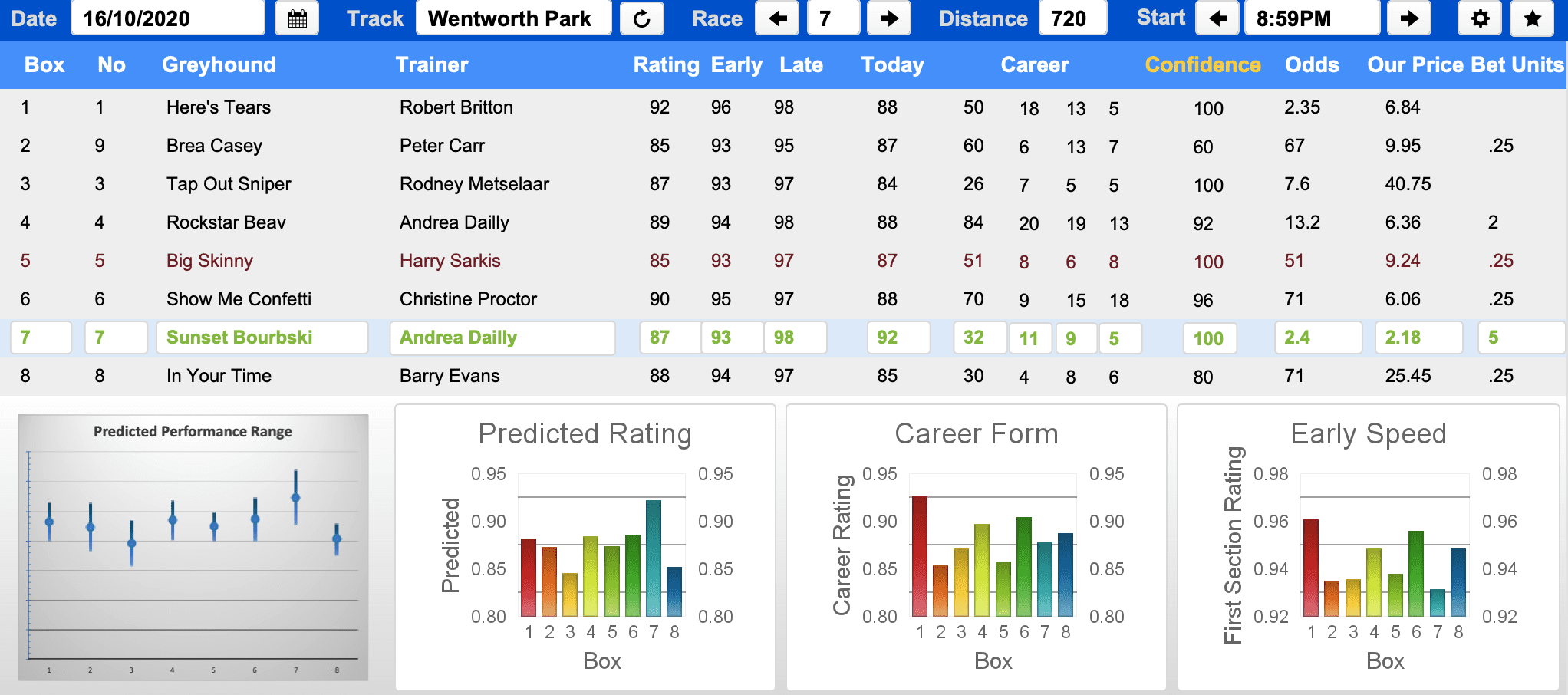 Million Dollar Chase Finals Night Race 7 Betting Preview
The only "real" prestige race on the card tonight is the Group 3 Sydney Cup, a race that has been run and won by some of the best stayers in greyhound racing history. Unfortunately veteran stayer Tornado Tears came out of the race this morning and would have been a genuine chance drawn favourably down near the rail. Instead the best betting chance in the race now lands with fellow Victorian Sunset Bourbski who also falls in to the veteran class having won 11 of 32 starts. Last week in the Sydney Cup heats, Here's Tears got to the lead easily off a preferred box eight box draw and Sunset Bourbski had to do all the chasing to get in to second taking ground of Here's Tears. Tonight Sunset Bourbski gets every opportunity to lead all the way of the testing trip from box seven; whereas Here's Tears will have to chase and could get shuffled back from the box one draw which is definitely not his preferred. Bookmakers have ignored his relative lack of success from box one though and posted Here's Tears as $2.35 favourite which we can't entertain as a betting opportunity. Outside of Sunset Bourbski, Rockstar Beav is next best and backable at over $13.00. He has the class to win this if Sunset Bourbski and Here's Tears don't show and produce their best efforts. With Here's Tears soaking up so much of the betting market, only he and Tap Out Sniper are unders, with all others showing value.
---
Million Dollar Chase Consolation Race 8 Tips, Form & Odds
Million Dollar Chase Finals Night Race 8 Betting Preview
The runners up race for last weeks MDC semi finals runners is race eight on the card, the Million Dollar Chase Consolation; and we have another bet here we can really bank our night around. Stardom did everything possible to book a place in the MDC final last week, leading Xerri early in the race while really giving every effort to reel the talented youngster in. Stardom gets every opportunity to lead again from box three here tonight and shouldn't have anything pressing him through the first corner. Punters are getting an incredible $6.50 about his chances, while we rated him a $2.95 hope. This should be a "fill up". If there are dangers to Stardom, the best of those would be Faithy Bale and Aston Zodiac with only Aston Zodiac representing a price that would suggest we could bet. Outside those, small hope at the odds can be given to Stinger Noir, Shetland, and to a lesser extent Canya Star.
---
Million Dollar Chase Final Race 9 Tips, Form & Odds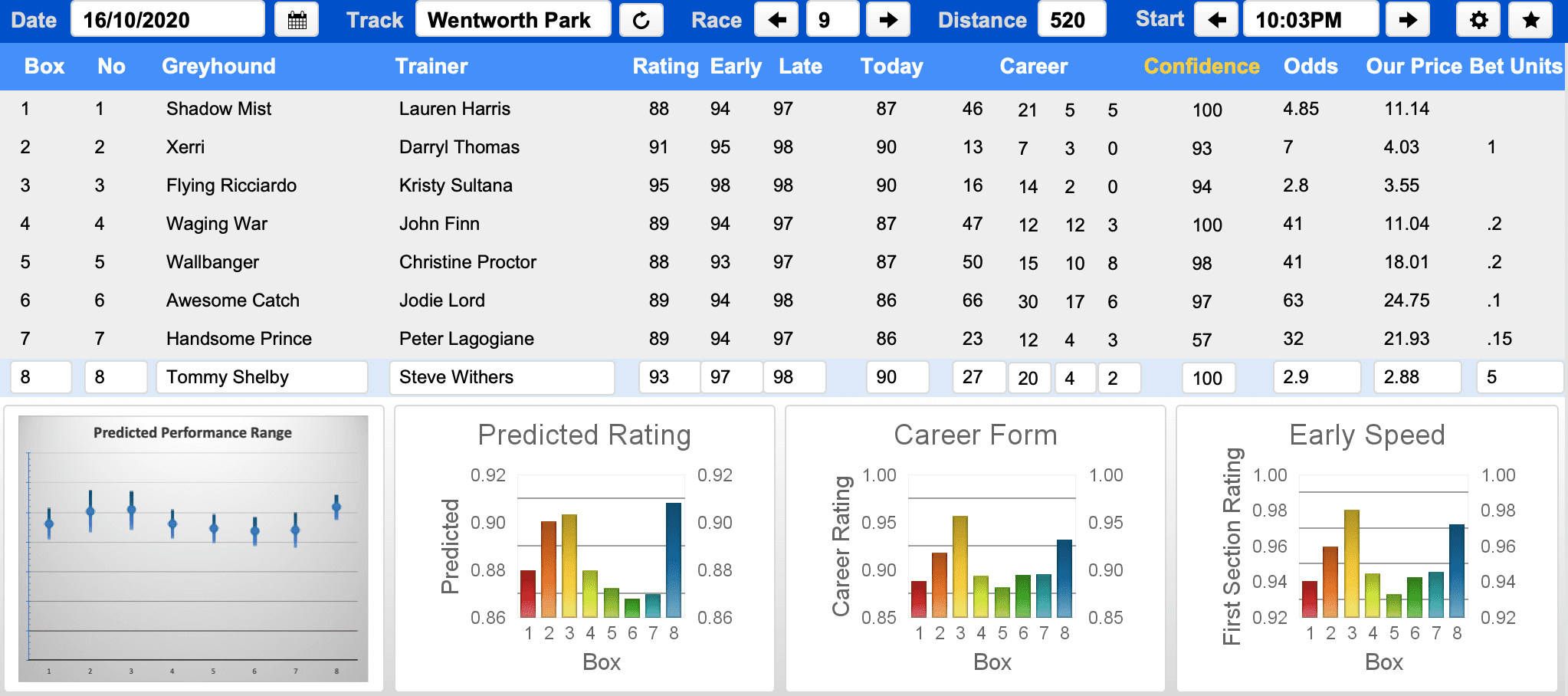 Million Dollar Chase Finals Night Race 9 Betting Preview
$1,000,000 on the line for the eight greyhounds involved and their connections. There's a very lop sided pay scale where second only gets $100,000 so winning is everything tonight. We covered the MDC Final extensively in our Million Dollar Final tips published immediately after the box draw on the Sunday following last Friday's semi finals. Since then a rash of local publicity has sent Flying Ricciardo even further in to favouritism in the betting. The "local hero" is now only $2.70 at most bookmakers, in from $3.40 when we did the tips. Likewise our main MDC selection Tommy Shelby, who we could have gotten $4.00 about on Sunday; has been smashed in to $3.20 at most places. Punters have clearly narrowed it down to a race in two; but Tommy Shelby still represents value at $3.20 if you failed to get the $4.00 earlier. Xerri is the next best at $7.00, with his odds only firming slightly from the $7.50 offered after the semi finals. With the top three in the Million Dollar Chase betting market commanding so much of the market, small saving bets can be had on the slow beginners Waging War, Wallbanger, Awesome Catch and Handsome Prince who are value at the odds and not hopeless.
---
Million Dollar Chase Final Race 10 Tips, Form & Odds
Million Dollar Chase Finals Night Race 10 Betting Preview
Small field in the Free For All race over 520m to round out MDC Finals night. All the mug money will be with Mark Gatt's get back and run on greyhound Ritza Coen. The "talking heads" will give this dog a real hard push just prior to race start time as they always do and he'll start much shorter than his current $1.95 price. Don't get sucked in to the hype and bullshit. We have the dog marked at over $5.00 to win this race so can't get involved in any way at $1.95. Both Drink Moet and Bland Purr will get the chance to set up huge leads over Ritza Coen early and we can back both as bookmakers have underestimated their chances. We can get set at $5.00 for Drink Moet to win and $6.00 for a Bland Purr win; great prices when we assessed their real chances as $2.62 and $2.85 respectively. Pushed to nominate one greyhound we would side slightly toward Drink Moet. Charlie Casey and Unreal Ethics aren't hopeless and should be thrown in exotics.
---
Similar Greyhound Racing News