Central Coast trainers chasing first group 1 in Paws of Thunder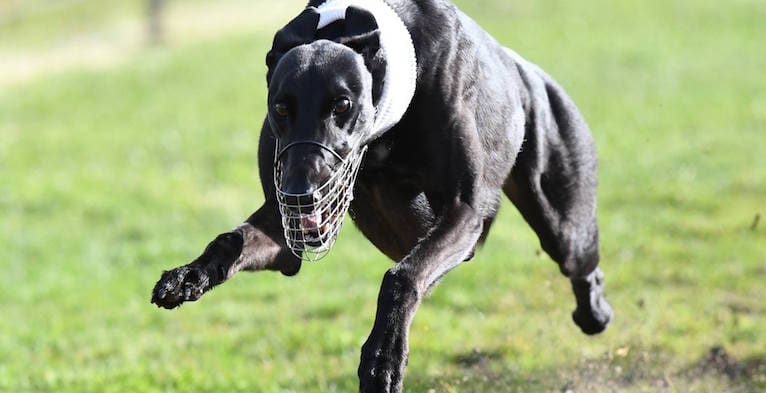 CENTRAL Coast trainers Ray and Susan Pitstock will have their first group 1 runner in 17 years when the in-form Dual Keroma (Lochinvar Marlow x Duanna Keroma Jun '15) lines up from the coveted rails alley in this Saturday's Group 1 Paws Of Thunder (520m) at Wentworth Park.
The black powerhouse qualified for the $75,000-to-the-winner race with a strong win in his heat over the weekend, overcoming a poor start off box seven and weaving his way through the field before running past Pants On Fire (Bralyn County x Erin Norris Jun '15) in the home straight to win by one and one quarter lengths in 30.05.
The win was his fourth straight and second since resuming from a six week freshen up in preparation for the lucrative series. Susan Pitstock, who bred and also owns the 32-kilogram racer, said it was an impressive performance.
"I was very pleased with the run – he didn't begin that well but he chased hard and he showed a lot of field sense," Pitstock told Australian Racing Greyhound.
"He hadn't raced at Wentworth Park in a while going into the heats. We gave him a short break then took him to Bulli first up where he won, so I do expect him to strip much fitter for the run and I know he can go quicker because he has run 29.80 [at WP] before."
Fastest qualifier Slick draws the checks in the Group 1 Paws Of Thunder final. @WPGrey pic.twitter.com/5qJCGiA622

— The Dogs (@Thedogs_com_au) January 13, 2018
Dual Keroma, rated an $11 chance to win the final, has now won eight of his 19 starts with seven seconds – his prize money creeping above $30,000 with Saturday's win.
Pitstock credits a trip to Victoria for a crack at coursing in 2017 the secret to Dual Keroma's strong recent form, believing the interstate trip helped him to mature as a race dog.
"He wasn't a brilliant dog early on – he did a lot of things wrong.
"Kevin [Sue's son] took him down to Victoria for the coursing last year and it really seemed to focus his mind.
"Since he has come home he has just kept improving and he has really turned things around."

Dual Keroma will move from box seven to box one for the final against a cracking field including group 1 winners Up Hill Jill (Premier Fantasy x Where's Demonica Feb '15) and Raw Ability (Barcia Bale x Bugatti Flyer Mar '15) as well as Queensland raider Slick (Dyna Lachlan x Pearl Za Zinger Apr '15) which clocked the fastest heat time on Saturday night – a flying 29.67.
"I don't know how our dog will go from the one because most of his Wentworth Park runs have been from out wide," Pitstock conceded.
"One good thing is because he has had all the wide draws he has got used to handling himself in a field, he can weave his way through them, but with that being said he won't be able to do too much wrong because there are some very good dogs in the race.
"I think it is a pretty even race. Obviously dogs like Up Hill Jill have already won a group 1 and are in with a good show, but the box draw has thrown everything around.
"Other than the QLD dog [Slick] there was only just over a tenth between all the heats so it makes for an exciting race – it will all come down to who begins the best on Saturday night."
Susan – who had Keroma Fire in the 2001 Australian Cup and Kid Keroma in the 1997 Golden Easter Egg – said it would be a career highlight for her and Ray if Dual Keroma can secure Saturday night's trophy.
"It's been a while since we've had a dog in a group 1 so it's very exciting," she said.
"It gives you a buzz and it reminds you that you are not getting up early in the morning and doing all the work for nothing – you can see a result for your work.
"It would be lovely if he could win it for us. We've had good success over the years – a Canberra Cup winner and we had a dog run third in the Golden Easter Egg – but we haven't managed to win a group 1 so it would be wonderful to win one this week."
The Group 1 Paws of Thunder will be run and won at Wentworth Park this Saturday night.
More Greyhounds News