Jesaulenko shooting for back to back Traralgon Cup wins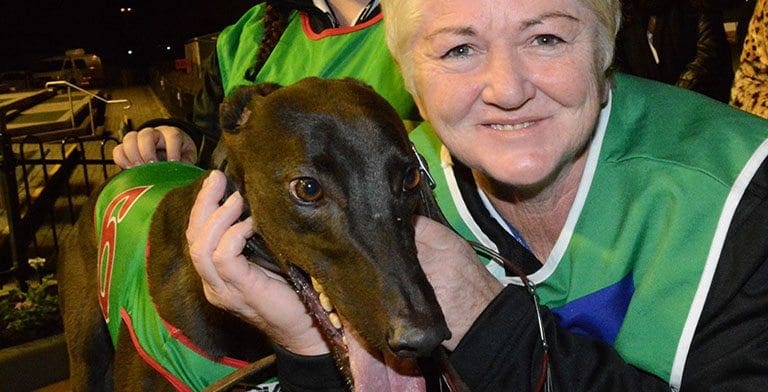 FAN favourite Jesaulenko (College Causeway x Elite Fairy Oct '13) will return to his home track this Saturday night to contest a heat of the Group 2 Traralgon Cup (525m).
It's set to be his first start at the track in almost a year after claiming the 2017 edition of the race last March. The black dog will head into the heats with close to two weeks between races, his most recent outing being a scintillating 24.67 effort at Sale on January 7.
Although he is approaching four and a half years of age, Jesaulenko's owner-trainer Terri Morris said he is feeling as good as ever and is primed to defend his title.
"I was very pleased with his run [at Sale] – there was only one other dog to break 25 that night so he went really well," Morris told Australian Racing Greyhound.
"I knew he'd go alright at Sale because I had trialled him over the shorts on the Tuesday prior and he went 17.22 which is as good as they go and on top of that he is feeling fantastic.
"He loves Traralgon but he wont have another look there before the heats – [he had] a trial at Sale on Sunday night so that he can go into the heats fresh as a daisy."
Jesaulenko has been one of the most consistent greyhounds in Victoria since making his debut back in 2015, winning 41 of his 88 starts with 28 placings and over $384,000 in prize money.
His recent form has also been solid and includes a dominant win in the Listed Cup Night Sprint at Sandown Park five runs ago where he posted 29.56 over the 515m trip.

Although he had been racing well, Morris said she resisted the temptation to chase after other feature races in Victoria, instead choosing to focus solely on the $47,000 final at Traralgon.
"I've had about 20 people ask me why I didn't put him in the Warragul Cup and the answer is simple – I have been saving him for Traralgon because that had always been the goal after the Melbourne Cup.
"He didn't make the Melbourne Cup final again this year, but he won the Cup Night Sprint which was a massive run because I think there are a few people out there who thought he was past his best – hopefully that run made them reconsider."
Morris said it would be an enormous thrill to qualify for the Traralgon Cup final this Saturday night and have a crack at taking out back to back editions of the race.
"It would be amazing if he could do it – but no matter what I am very proud of him already.
"He has changed our lives completely – if you told me five years ago I'd have a dog which would win more than 40 races I'd have laughed at you.
"It's been a great ride."
And Morris is hoping it's far from over, with no plans to retire her superstar sprinter in the immediate future.
"I have had people asking when he is going to retire – but they are a long time retired and he is still racing competitively and safely so why would I?
"He is enjoying his racing as much as ever at the moment and while he is happy and sound I'll keep him racing."
Heats of the Group 2 Traralgon Cup will be held this Saturday night. Jesaulenko will jump from box seven in race seven – the third heat of the Cup – at 8.09pm.
Similar Greyhound Racing News