Tuggeragh out to score an upset in Friday's Group 2 Traralgon Cup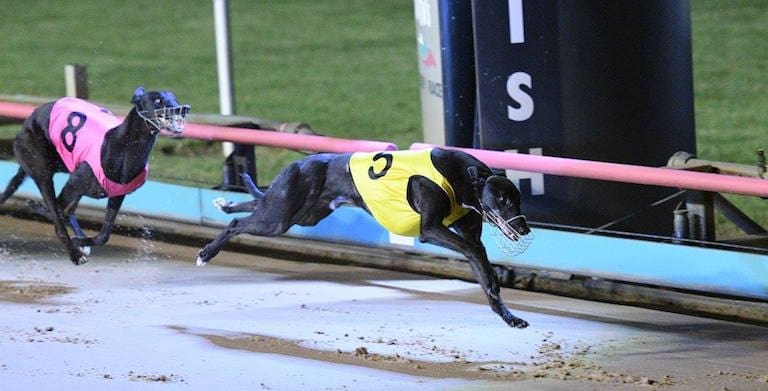 CONSISTENT chaser Tuggeragh (Cosmic Chief x Such Is Life Feb '14) will be aiming to break through for his first win at group level when he heads to the track on Friday night to contest the Group 2 Traralgon Cup (525m).
Trained at Buln Buln East by Steve White, Tuggeragh qualified for the $47,000 final with a tough second in his heat over the weekend, finishing one and a quarter lengths second behind roughie Ice Cool Kaedyn (Ice Trucker x Senorita Abbi Jan '16) in 30.37.
White said he was happy with his charge's heat effort off a tricky wide alley.
"I thought he was a bit unlucky. The red held him up for 100m down the back because it wanted to move off the track which took his momentum a bit," White told Australian Racing Greyhound.
"When that happened the leader got away from them and I thought he did a good job to get the margin back down to just over a length.
"Heading into the heats he didn't have a run for 10 days, so I think he should strip fitter for the run and if he gets a bit of luck he can put himself in the race."
Formerly trained in South Australia by respected conditioner and race caller Ray Fewings, Tuggeragh has made a name for himself in Victoria, winning 18 races and mixing it with some of the best in the country.

All up he has won 27 races from 74 starts with a further 28 placings – his prize money closing in on $85,000.
"He has been a good little dog," White said.
"He showed his ability early on in SA and Ray Fewings knew he could run so he decided to send him over – he is a very good judge of a dog and this fella has proven that.
"He has been thereabouts in these types of series' before, but he is just a couple of lengths short of being a real elite greyhound, but with that being said he has raced and beaten some really good dogs.
"He probably deserves some sort of decent race like this so I'd love to see him win this week."
Tuggeragh has drawn box three for the Traralgon Cup final and meets a quality field including boom youngster Poke The Bear (Fernando Bale x Nicki Fields Dec '15), classy frontrunner Tito Mojito (Nolen x Fancy Mojo Mar '15) and two runners for Kate Gorman – Monster Fish (Fernando Bale x Scissor Queen Aug '15) and Ice Cool Kaedyn.
Although it will be a tough challenge, White says Tuggeragh should be right in the race if he can produce his best this Friday.
"He can be hit and miss at the start – but when he gets it right he can really run time and he is a goo little chaser so you can never rule him out.
"There is a bit more pace in the race this week, but if he can nail the start and get to the front he is in with a chance."
The Group 2 Traralgon Cup will be run and won this Friday night.
2018 Traralgon Cup box draw
1. Ice Cool Kaedyn
2. Mi Blue Day
3. Tuggeragh
4. Tito Mojito
5. Reckoning
6. Poke The Bear
7. Monster Fish
8. Spring to Wyn
Reserves
9. Mars Rising
10. Jesaulenko
More Greyhounds News