Thirty Talks striving for Cup double after sublime Geelong win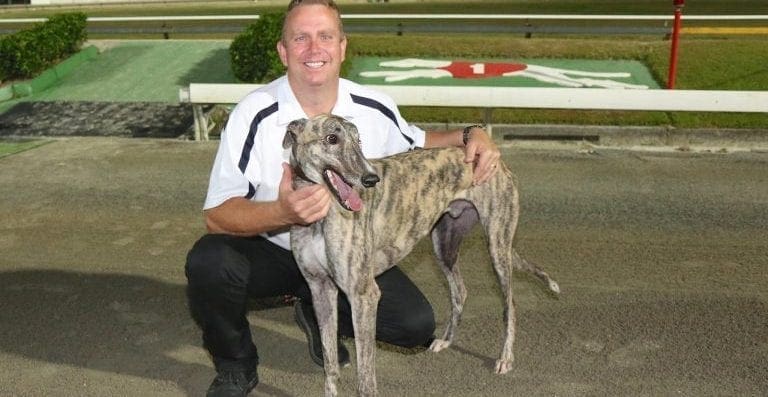 THIRTY Talks (Where's Pedro x Unfinished Jun '14) will be aiming to emulate the feats of former champion Black Magic Opal (Magic Sprite x Awesome Opal Apr '11) by annexing the Geelong Cup – Melbourne Cup double after taking out the Group 2 Geelong Gold Cup (460m) on Friday night.
Trained in Queensland by Tony Brett, Thirty Talks was only fair to begin but was able to punch up into third spot around the first turn. Turning for home the brindle powerhouse hooked to the outside and began storming home, hitting the front and bolting clear to win by two and one quarter lengths in 25.38.
Bewildering (Black Magic Opal x Outlandish Feb '15) stormed home to grab second, with Aston Miley (Barcia Bale x Aston Elle Apr '15) running a gallant race to finish third.
"It worked out exactly like I had hoped," Brett told Australian Racing Greyhound.
"The first stride out of the boxes the three cut into him, but luckily it didn't stop him from going forward and from there he got a clear run into the first turn.
"Once he got into third spot I knew we were going to be right in the finish."
REPLAY: THIRTY TALKS from Box 2 has won the 2017 Group Two 2017 Pet Panels #GeelongGoldCup for trainer Tony Brett. #GreyhoundRacing pic.twitter.com/vmJNucHYLO
Thirty Talks, which was purchased for $30,000 from the Richmond Puppy Auction by Lenny Antonio, has now won four group races – his others being the Group 1 Brisbane Cup, the Group 2 Ipswich Cup and the Group 3 Richmond Riches.
Although he has won plenty of accolades, Brett explained there is something extra special about winning against the best in Victoria.
"It's satisfying because it is so hard to win these races. Particularly down in Victoria – the Victorians are very hard to take on and beat down on their home tracks," he said.
"This has been the plan for six weeks which is why we gave him a look at Geelong when he came down for the Speed Star – so to have planned all of that and for him to actually come away with the win is enormous."
Now a winner of $366,000 and 29 races, the Geelong Cup was Thirty Talks' first major success since returning from sixth months on the side lines after dropping a back muscle at the start of the year.
"When everything is 100 per cent it's still never easy to win these races – so for him to come back from where he was is a big achievement," Brett said.

"He's just an amazing dog."
Brett confirmed Thirty Talks will now head towards the $420,000 to the winner Group 1 Melbourne Cup at Sandown Park – aiming to follow in the footsteps of the aforementioned Black Magic Opal which captured the double in 2013.
"The Melbourne Cup is the next target and I am blessed to have four dogs to have a crack at it," Brett said.
"I never want to get too far ahead, but that will be the next aim for him and we'll just take it one race at a time now."
Brett had a massive week on the track, also winning last Tuesday's Group 2 Lismore Cup (520m) with National Sprint Championship winner Jury (Cosmic Chief x Velocity Sheba Mar '15).
The black dog had to work hard for the win, pushing through to take the lead around the first turn and kicking on strongly to defeat a brave Terra Torra (Don't Knocka Him x Kingsbrae Sam Nov '14) by one and three quarter lengths in 29.46.
"It was a huge run – he had to go around Terra Torra and she is a great bitch which knows Lismore like the back of her hand," Brett said.
"For him to get in front of her and hold her to the line – I couldn't have been happier."
Jury has now won 12 of his 22 starts with five placings and will also head south to tackle the Melbourne Cup with Thirty Talks as well as kennel mates Fast Times (Barcia Bale x Clockwise Apr '15) and Opal Nera (Dyna Tron x Black Sambuca May '15).
"I am hoping to take him to Sandown next week for a trial – I had trialled at Lismore a couple of weeks ago and he went terrible.
"He improved off that run and the timing was just right for that series – but he definitely needed the look there and heading into the Melbourne Cup you have to give him every chance.
"He isn't the fastest dog I have – but he is a reliable dog and he jumps good and that's going to put him right in contention."
More Greyhounds News