Double shot in Geelong Cup to start Britton's winning weekend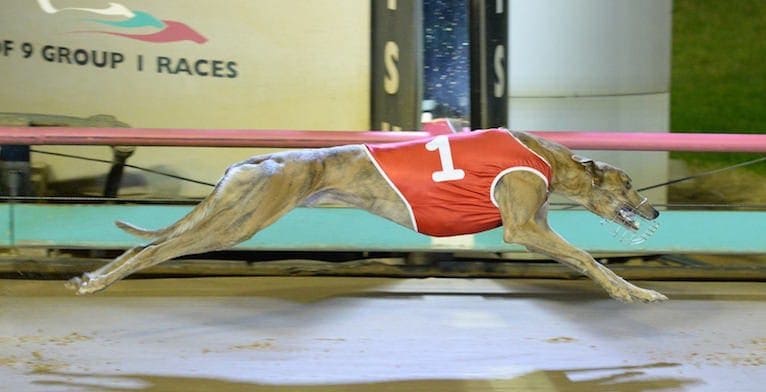 LEADING Victorian conditioner Rob Britton looks set for a massive weekend on the track with three runners in two separate group finals.
Whilst most of the attention will be on his champion bitch Fanta Bale (David Bale x Ucme Typhoon Aug '14) in Saturday's Group 2 Topgun Stayers at The Meadows, Britton will be hoping to snare a feature success 24 hours prior when he puts the polish on two greyhounds in Friday's Group 2 Geelong Cup (460m).
Britton prepares Not Available (Barcia Bale x Lochinvar Vogue Apr '15) which won his heat in a smart 25.57 last Friday night as well as the ultra-consistent Blue Gum Hill (Barcia Bale x Ema's Princess Feb '15) which qualified for the final when running second behind Thirty Talks in his heat of the series.
Both greyhounds are currently $10 with online bookmaker Bet365, with the current favourite being Speed Star champion Bewildering (Black Magic Opal x Outlandish Apr '15) at $2.25.
Although just two months separate Britton's pair in age, they both come into the race with different race track experience.
Not Available is an exciting prospect, having faced the starter just 14 times for seven wins and one minor placing.
A litter brother to boom NSW greyhound Lochinvar Hugo, Not Available relished a suitable draw in box three in his heat, bouncing straight to the front and holding off group 1 winner Black Mumbo to win by 2.7 lengths on the line.
Britton said he could not have been prouder of the run up against one of the best dog's in the state.
"The inside draw helped a lot as well as a clear run, of course, but he was under a lot of pressure throughout the race and he really stepped up," Britton told Australian Racing Greyhound.
"He is an up and coming young dog and he has risen through the grades very quickly.
"He has always shown ability, but it is a big ask for them to step up and produce their best against the top dogs – credit to the dog because he has been able to do that so far.
"It's quite remarkable to think this time two months ago he was racing in grade six and seven events and now he's in a group race. It's fantastic just to have him there."

On the other end of the spectrum is Blue Gum Hill which has been racing against the top dogs in the state for several months.
Having faced the starter 40 times for nine wins and 14 placings, he was far from disgraced when finishing less than a length behind multiple group winner Thirty Talks which won his heat in 25.68.
"He hadn't seen Geelong and it had been a long time since he'd been on a horseshoe shaped track; to be honest I didn't expect him to go as well as he did," Britton said.
"With that being said he has been racing well. His start prior in a Melbourne Cup Prelude against Ando's Mac was full of merit. Ando's Mac checked him around the first turn, but he ran on well and he clocked around 29.40 himself.
"I think he could be the improver heading into the final and I give him a chance."
Blue Gum Hill is owned in NSW by Charlie and Lisa Lamb who have been friends and owners with Britton for many years.
"Charlie and I have had a great partnership together. We won the Paws of Thunder with this dog's grand dam One Tree Hill – she also won the Black Top and competed in the Topgun.
"He has been sending dogs down to me for many years. One thing I know getting a dog off him is that they will have ability – he has a very fast line and he rears his dogs very well.
"It would be great to see Blue Gum Hill go well this Friday, it's really rewarding when you can win a race with someone who you consider a friend."
Blue Gum Hill will start from box three in the final, whilst Not Available will jump from box seven. Britton says both greyhounds have the talent to feature in the finish and admits he can't decide which dog is his best chance.
"I couldn't guess which one would be the best ability wise," Britton said.
"Not Available is on the up and you'd expect three or four months down the track he'll be a very nice dog – but he is going into this race inexperienced at this level whereas Blue Gum Hill knows how to race against the better dogs.
"At the end of the day it's a great final and it is a thrill just to be there – if one of the boys got a bit of luck and was able to pinch the race it would be the icing on the cake."
More Greyhounds News