Remember when: Queen Lauryn comes of age in QLD Futurity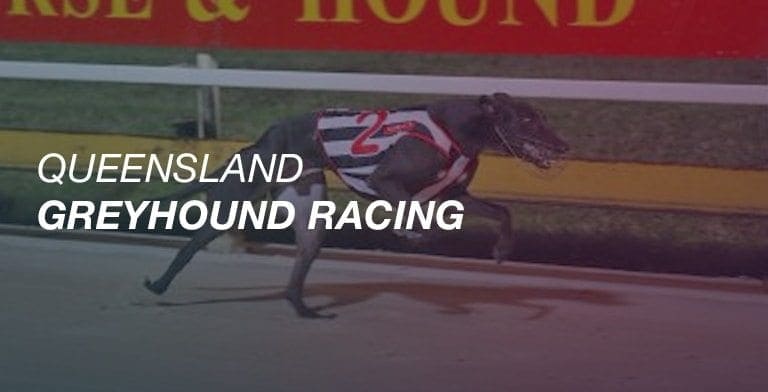 ON March 27, 2008, a 27-month-old black bitch named Queen Lauryn downed the smart Tricode Flojo by a length to annex the final of the Queensland Futurity, running 30.01 for the 520m trip at Albion Park and taking her career record to seven starts for seven wins.
The victory was a just reward for the Token Prince x Cheeky Sprite speedster who had qualified for the final of the prestigious Vic Peters Memorial Classic at Wentworth Park the previous October, only to be found to be injured after winning her semi-final and was therefore unable to take her place in the final.
Queen Lauryn had begun her career at the end of July 2007 in the care of trainer Joanne Gale, winning her first start, over 520m at Lismore, by 10.5 lengths.
She was then transferred to the care of leading Queensland mentor Tony Brett where she scored first-up over 520m at Ipswich and Albion Park before going to Sydney for the Vic Peters series.
After nearly five months on the sidelines following her injury, Queen Lauryn had resumed with a win at Albion Park and then breezed through her heat of the Group 2 Futurity.
After adding her name to an impressive honour roll of winners of the Queensland Futurity, Brett took her to Cannington for the Perth Cup series, but here she suffered her first defeat, running only fourth in her heat behind fellow Queenslander Miss Hot Gossip.
Miss Hot Gossip was then in the twilight of her career, but she and Queen Lauryn would clash twice more, with the veteran dominating her younger rival on both occasions.
Queen Lauryn then rattled off three successive wins, one at Albion Park and two at Wentworth Park. On April 26 she ran 29.51 to set a new track record and then seven days later scored by just over 14 lengths in a heat of the Ladies Bracelet (Group 2) and ran 29.44 to clip 7/100ths off her own mark.
Drawn badly in box six for the final, Queen Lauryn was narrowly defeated by Miss Beeslee.
Back in Brisbane she competed against Miss Hot Gossip twice, and each time was beaten two lengths into second place by the veteran.
With an eye to the feature races in Victoria, Brett gave Queen Lauryn a short break and resumed on June 26 in Free For All over 515m at Sandown Park. Despite box five, she overcame an average start to score in good style.

Back in Queensland, she won at Ipswich in a track record 30.01 for the 520m trip and then scored an easy win in a heat of the Winter Carnival Cup (Group 1) at Albion Park before running third behind Made To Size on a wet track in the final.
Queen Lauryn was then unplaced at three of her next four starts. At one of these she was injured and, when she resumed, her next start was in the Topgun (Group 1) at the Meadows, where she was unable to overcome box six at her first look at the course.
She quickly redeemed herself, winning a heat of the Sapphire Crown Classic (Group 1) at Sandown and then taking out the final, scoring by just over four lengths.
Her next run was the Sandown Shootout (Group 3) where she led everywhere but on the post, being run down by the brilliant all-distance dog Mantra Lad. This was the first in a series of clashes with the Victorian star.
Queen Lauryn raced just once more in 2008, running second behind Velocette in a heat of the Melbourne Cup.
She finished the year with 12 wins and six placings from just 22 starts and finished runner-up behind Size Can Matter for the Queensland Greyhound of the Year title.
Queen Lauryn kicked off 2009 with a win at Albion Park followed by a third behind El Galo in The Temlee (Group 1) and a fourth in a heat of the Australian Cup.
Taken to Cannington, she could only finish fourth in heat of the Perth Cup, beaten by Mantra Lad, at what was their second meeting.
Back in Queensland, Tony Brett decided to test her mettle over the longer journey, contesting a 600m race at Albion Park on April 7. Queen Lauryn made light work of her opposition, scoring by just over 15 lengths in a fast 34.60, just 3/100ths outside the track record.
Her next two outings were over 630m at Ipswich and Queen Lauryn won the first by six lengths and the second by almost 19 lengths in 37.07, setting a new track record.
After running only third over 600m at Albion Park at her next run, Brett stepped her up to the tough 710m at the Brisbane headquarters and the champion bounced back, winning by almost nine lengths in 41.63, only 4/100ths outside the track record.
On May 28 she contested the heats of the Albion Park Gold Cup (Group 1) and in a thrilling race defeated champion Tasmanian stayer Chinatown Lad by a length in 42.00 to make the final.
Mantra Lad set the time standard in the heats, scoring in 41.78. With the likes of star NSW stayer Forty Twenty in the field, the final was set to be a thriller.
Mantra Lad was sent out favourite but Queen Lauryn produced a strong effort to hold off her arch rival and win by half a length.
Eased up, Queen Lauryn returned to sprint racing with a third in a heat of the Winter Carnival Cup before being trekked off to Darwin where she ran a narrow second in a heat of the 537m Darwin Cup (Group 3) to Voodoo Prince, who broke the track record with a 31.45 effort.
In the final, run four days later, Queen Lauryn reversed the placings, scoring by three-quarters of a length in 31.22, clipping a whopping 23/100ths from the track record.
Given a six-week break, Queen Lauryn resumed with a fourth placing in an unsuitable 395m event at Albion Park. She then finished second behind Cosmic Rumble in the Bill Collins Memorial at Sandown Park before finally breaking through at Cannington, scoring successive wins, the latter by seven lengths in the All Stars Sprint (Group 2).
Queen Lauryn came back to Sandown to defend her Sapphire Crown Classic title but although she won her heat she was only fourth in the final, well beaten by NSW sprinter Cindeen Shelby.
At what would be her final Sandown race, Queen Lauryn failed to qualify for the Melbourne Cup when fourth to Remo Rubik in her heat.
Queen Lauryn's last race took place on December 1 over 635m at Lismore and the four-year-old bitch went out in style, winning by 16 lengths in 36.98, setting her sixth track record.
Overall, Queen Lauryn raced 48 times for 28 wins, seven seconds and four thirds, as well as seven fourths. She was undefeated in six starts over 630m or more. She raced on eight tracks and won on seven. Her average winning margin was 6.9 lengths.
Queen Lauryn contested 12 Group class events, winning two of her seven Group 1 contests (with one scratching and two placings), two of her three Group 2 races (with one second) and one of her two Group 3 clashes (she was second in the other).
Similar Greyhound Racing News