Scott-Smith's dual shot at Sandown Cup stardom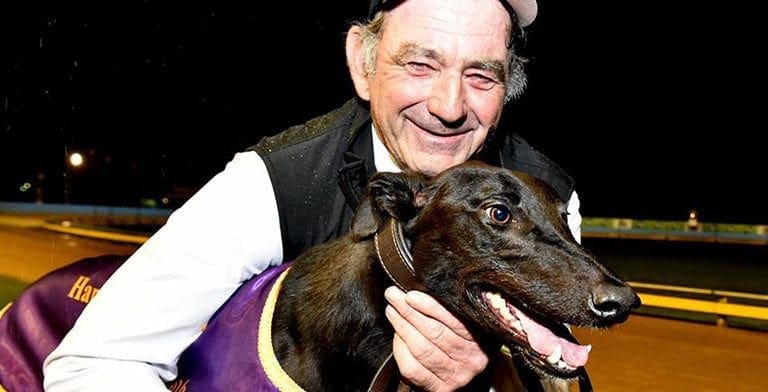 GEOFF Scott-Smith will head to Sandown Park this Thursday night with two chances of winning the world's richest staying event, the Group 1 Sandown Cup (715m).
Worth a staggering $175,000 to the winner, the race has attracted a stellar field including four individual group 1 winners. All up, the field has won 127 races with more than $1.9 million in prize money earnings.
Scott-Smith puts the polish on Dundee Calypso, a winner of four of her past five, and Dundee Osprey, a three-time group 1 winner, which will jump from boxes seven and eight respectively.
A son of Fabregas and Dundee Rose, Dundee Osprey was an all the way winner in his heat over Brolly Bale, clocking 42.04 at what was his third attempt over the 'half-mile'.
"I thought it was a really good run – his first three sections were super and as good as anything on the night," Scott-Smith told Australian Racing Greyhound.
"He got a bit tired in the last 70-80 metres but I suppose you can't do it at both ends."
While many do not consider him a 'genuine' stayer, Scott-Smith concedes Dundee Osprey will need to lead again this week to be a chance of taking home the final.
"For him to win he will have to do the same thing he did last week – come out really quick and get to the front by the winning post the first time," he said.
"He isn't the type of dog which will be able to come from behind in the home straight, so hopefully he can get to the front without having to do too much work.
"With that being said he did run away from the field at his first 700 – although the class of dogs on that occasion wasn't as good as what he meets this week.
"Some dogs take six or eight runs to get them used to the staying trip, but I don't think he is the type of dog which would stand up to racing over the 700 every week.
"He is still capable of putting in a very good run on his night and he is doing a really good job at the moment so you still have to give him a chance.
"He has been a fantastic dog and he gives it his all every time he goes around."

Meanwhile, Dundee Calypso will be aiming to score her maiden group 1 win in the Sandown Cup.
Half a dozen runs ago Scott-Smith probably wouldn't have believed it if someone said the bonny bitch would be lining up in the lucrative feature, however the daughter of Barcia Bale and Crown Poker has continued to improve with each and every run in recent weeks.
"She has always shown plenty of ability and potential but she was finding trouble in a lot of races," Scott-Smith explained.
"She fell and got squeezed up against the rail which I thought might shake her confidence a bit – next thing you know she comes out and has won four in a row.
"I gave her a spell when she come on season and she just seems to have come back stronger and a bit more mature – she is very focused at the moment."
The fawn bitch ran a cracking second in her heat of the Sandown Cup last week, only going down in the last few strides behind star stayer Burn One Down.
"It was a super run – she just didn't get far enough in front of [Burn One Down] and even though he came from behind he got a clear run.
"When he was only four lengths behind her down the back everyone was saying 'how far is this thing going to win by?' and he only just got there on the line so it was a great effort from her – she kept trying and she wasn't going down without a fight."
Scott-Smith says box seven may not be as bad as it seems on paper and is optimistic Dundee Calypso can run well even if she doesn't get the chance to lead.
"Ideally I would have liked one, two or three – but box seven isn't the worst draw for her because Fanta Bale might give her a good cart into the race.
"I don't think she has to lead to win – a few starts back she gave Fanta Bale five lengths start and beat her in 41.70 so I think she can do it both ways – she can lead or come from behind – but hopefully she doesn't settle too far back."
Scott-Smith found it hard to split his duo, but eventually went the way of experience over the longer distance.
"It's hard to split them but if I had to I'd probably lead towards Calypso because she is a bit stronger in the last 80m.
"If Osprey can come out and do what he did last week then he will be very hard to get past – but she is a bit stronger and is more conditioned to the 700 so for that reason I'd say she is the better chance."
The Group 1 Sandown Cup is race eight at Sandown Park on Thursday night and will jump at 9.40pm.
Similar Greyhound Racing News