Shantui set to launch to stardom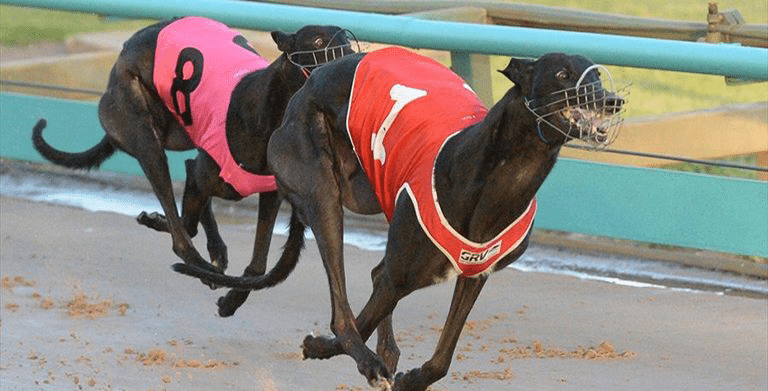 THE regally-bred Shantui will face his biggest test to date on Thursday night when he lines up from box seven in the Group 2 Launching Pad (515m) at Sandown Park.
Trained by Peter Gavin, the son of Djays Octane and Witch's Potion was a surprise winner of his semi-final last week, running home in the closing stages to score in 29.72 after the leaders struck interference on the home turn.
The victory followed a fourth placing in his heat of the $150,000 final the week prior, with Gavin certain his black powerhouse is capable of producing more on the race track.
"I was a bit disappointed in his heat and semi-final because I know he still hasn't shown his true ability," Gavin told Australian Racing Greyhound.
"With that being said I think he is definitely still learning – he is a big dog and he has had a few niggling injuries so I only started him off late to give him time to mature."
Shantui will start from box seven in the final, a draw which appears suitable on paper.
"I am still trying to work out where he is best suited on the track, but because he is such a big boy I think he is boxed well on the outside," Gavin said.
"He still needs to begin well and get up within a length or two of the leaders in the early stages otherwise he is going to get caught wide.
"But he is a smart dog and I trust him to work it out."
A winner of five from 12 overall with a further four minor placings, Shantui has been a handy pup for Gavin and his owners, Wally Harris and Kathleen Boyle, having already banked $27,650.

His success has been surprising for some, with an elaborate series of events resulting in Shantui being sold to Gavin, who gave shares in the dog to his friend, Harris, and girlfriend, Boyle.
"He was bred by Paul Westerveld and was reared and broken in up in NSW. The rest of his litter broke in well but they couldn't get him going.
"Paul Westerveld gave him to another trainer in return for picking the litter up and bringing them back down to Victoria and that trainer rang me and asked me if I had any room to re-educate him.
"I didn't at the time, but eight weeks later I took him and was told that he wouldn't go – yet after two weeks we had him chasing.
"I rang up his owner who was ready to put him through GAP and he didn't believe me when I said I got him going – so I said I'd buy him off him and the rest is history."
Despite being ranked as an outsider this Thursday at $10 with Sportsbet, Gavin remains optimistic his promising youngster can make an impact when the lids fly open.
"One out his trials are sensational and I think he would be the fastest dog in the race – but in a field he still does a few things wrong.
"He is not a fast beginner and being such a big dog he needs a bit of luck, but if he can run up to his trial times I expect him to go close.
"I know I have got a dog good enough to win, so that does give me some confidence, but he needs to step up again this week.
"He has got a long way to go but I do think he has a bright future – especially down the track as a 600m dog as his run home times in trials tell me that he is a very strong animal."
The Group 2 Launching Pad is race six at Sandown Park on Thursday night and will jump at 8.52pm.
Similar Greyhound Racing News