Shinners seeking out next challenge after WA Oaks win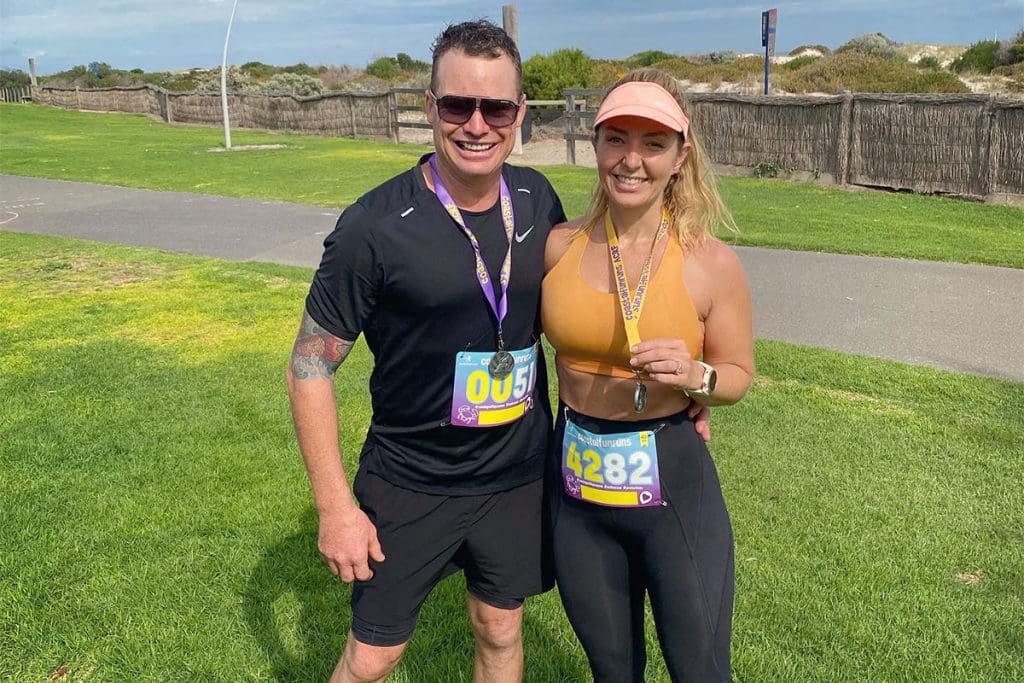 If you commit to hiking the 1,000km Bibbulman Track while hauling a 13kg backpack, you literally cannot run or hide.
But this is the sort of challenge which trainer Krystal Shinners lives for, and the happiness this gives her is a big reason why she and husband Steve are a force within Western Australian greyhound racing.
And it was why she thrived on such a mentally and physically gruelling trek – from Kalamunda in the Perth hills to Albany in south WA – in September last year.
Shinners' commitment was outstanding, finishing her task in just 30 days.
"I'd never done anything like that before, but I really enjoyed the challenge and I was really happy to do it in 30 days," she told AustralianRacingGreyhound.com.
"I'm the type of person who is always thinking 'what's my next challenge?' I live for stuff like this."
Shinners runs 60-80km a week, so she was prepared for her month of physical and mental torture.
"It all went to plan for me. I had one rest day at the halfway point. I averaged about 40km a day," she said.
"One of the days I covered 48km.
"I'd spend 12 hours a day walking. And in my pack I had my food, water, sleeping bag and tent.
"It weighed 12-13kg, which meant all I could do was walk and not run."
Shinners said the runners' or hikers' high she gets from always being active is contagious among her greyhounds.
Her work ethic and positive attitude played a major part in Refined winning the WA Oaks at Cannington on May 28.
Her husband Steve worked tirelessly on the two-year-old's box manners before the $57,000 feature over 520m, with Krystal assisting him.
According to Shinners, the discipline required to run and hike over long distances has made her a better greyhound trainer.
"Nowadays, I run for pleasure. I taught myself how to run 10 years ago and it's really good for my mental health," she said.
"I really enjoy it and it keeps me grounded.
"I finished my first marathon in four hours and seven minutes in April."
If running and training greyhounds wasn't already enough, Shinners works as an emergency-room nurse.
It is yet another discipline which helps keep her grounded.
"I do 14-hour days, and I sometimes run for up to two hours before I start," she said.
"So it's a lot of early mornings where I'm up and running at 4:30am.
"I'll get home after 8pm, so it's pretty full-on and then I've got to prepare for my next day.
"It's a big commitment. I'm training for my second marathon at the moment.
"My goal is to run under four hours for my next one at Bunbury at the end of August."
Getting up so early before work to put your body through the rigours of running long distances is certainly not for everyone.
But it is something Shinners simply cannot do without.
"Running is part of my DNA – it's who I am," she said.
"When I wake up I'm thinking about the run I'm going to go on that morning."
From Alaska, Shinners met Steve while solo travelling in Bali eight years ago.
She lived in San Diego at that stage of her life, before following Steve – who moved from Melbourne – to the WA capital.
And just like the way she attacks her running and hiking challenges, Shinners hasn't looked back since.
"Both (San Diego and Perth) are beautiful cities with similar weather. But hands down, Australia is the best country in the world to live in," she said.
"Perth is beautiful and has so many amazing outdoor options and things to do, and I love the people and culture so much."
Similar Greyhound Racing News