Star Queenslander Outside Pass retired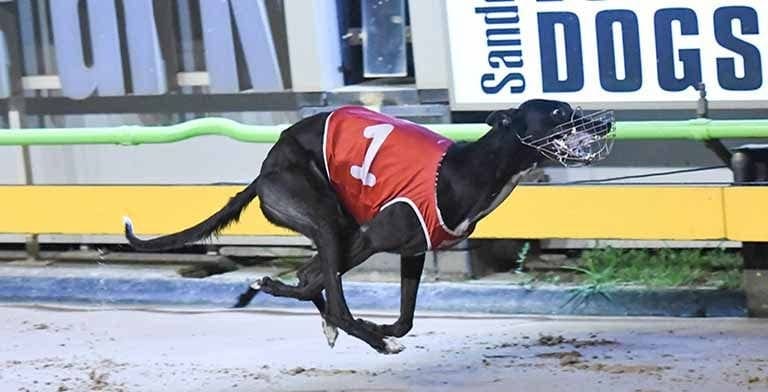 STAR Queensland bitch Outside Pass (Head Bound x Tina's Show Aug '13) has been retired after breaking down in the Group 3 QLD Cup (600m) at Albion Park last Thursday night.
Outside Pass was sent to the boxes as the favourite for the $25,000 race, which was won by her kennelmate Jalapeno, but when the lids flew open the bonny racer drifted back to the tail of the field where she stayed throughout the entire race.
"She gives you 110 per cent every time she races, but didn't raise an eyebrow during the race," trainer Tony Apap told Australian Racing Greyhound.
"I knew we were in a bit of trouble straight away. It definitely soured the win a bit, but she is fine within herself and she will make a full recovery which is the main thing."
Outside Pass has been a remarkable racer for Apap and the That Will Do Me Syndicate since making her debut at Ipswich in July 2015.
Facing the starter 69 times she registered 31 wins, 10 seconds and seven third and almost $250,000 in prize money.
She was arguably racing in career best form prior to going amiss last week, having won the Group 3 Ipswich Cup in November.
"She has been racing terrifically lately – prior to Thursday she had won 12 of her past 20 starts so she was going as well as ever," Apap said.
Some of Outside Pass' career highlights include second placings in the 2016 Group 1 Winter Cup, the Group 2 Shootout and the Group 3 Speed Star.
She also finished third in the Group 1 2016 Brisbane Cup and was a finalist in the 2016 Group 1 National Sprint, the 2016 Group 1 Melbourne Cup, the 2017 Group 1 Winter Cup, the 2017 National Distance Championship, the 2016 Group 2 Richmond Oaks and the 2017 Group 2 Maitland Cup.

The black bitch won over 450m through to 710m – running scintillating times at Maitland (24.81), Sandown Park (29.13), Albion Park (29.61, 34.65, 41.83), Wentworth Park (29.63) and Ipswich (30.22).
While she never broke through for a deserved group 1 win, Apap said he has enjoyed training her throughout her career.
"I did a lot of travelling with her – she was always competitive in those big races and I wouldn't change anything.
"No matter what track you took her to she would run time – she wasn't far off the record over 450m at Maitland, she is the fastest bitch to race over 520m at Albion Park, she has gone a tenth off the record over 600m and she has run slick time over the 700.
"She is going to be very hard to replace, that's for sure."
Despite finishing top three 70 per cent of the time, Apap declared her best run as her unplaced effort in the Group 1 Melbourne Cup – finishing fourth behind Ando's Mac, Jesaulenko and Worm Burner.
"She had a lot going against her that night – she was absolutely terrified before the race with all the commotion going on.
"When I walked past the big speaker before the race she freaked out and she actually went left at the start which is something she didn't normally do – I think she wanted to get away from the speaker.
Without doubt (for us anyway!) Ando's Mac's best run was his @tabcomau Melbourne Cup victory!

The first interstate trained chaser to win the race in 16 years, the first to win from box 5 in 15 years pic.twitter.com/qllT8JLYLo
"She wasn't in the race for the first half of it, but at the finish she was only beaten two lengths by some of the best dogs in the country.
"Considering the circumstances I thought that was a massive run."
Outside Pass will begin the next stage of her life as a brood bitch once she has recovered and comes on season. Apap says she has what it takes to make it as a successful dam – but concedes luck is often involved in greyhound breeding.
"She ticks all the boxes – she had the ability and she has the perfect composition.
"She is the Elle MacPherson of the greyhound world – she is 30 kilos, leggy, long – and she is from a good litter and line.
"I think she will make a great brood bitch – but there is no exact science and a lot of the time racing and breeding are two different things."
More Greyhounds News