Mandjoogoordap blitzes her rivals in Canning Trophy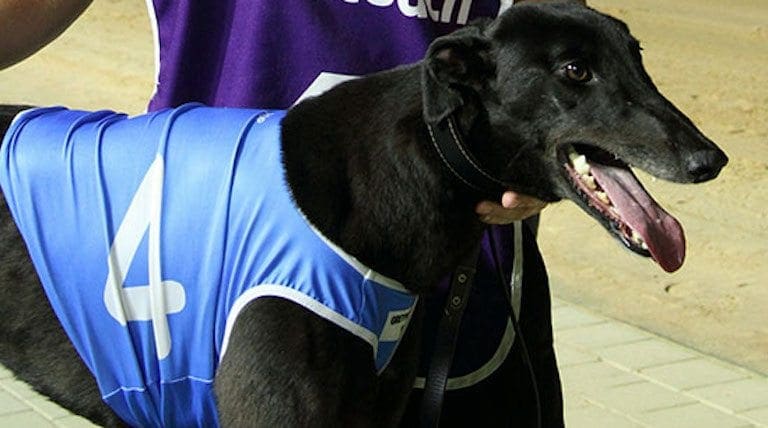 MANDJOOGOORDAP (Collision x Ritza Night Feb '16) affirmed her status as one of the most exciting youngsters in WA with an emphatic victory in the $30,000 Canning Trophy (520m) at Cannington on Saturday night.
Prepared by Paul Stuart, Mandjoogoordap flew the lids from box six, striding straight to the front of the pack in the run to the first turn.
Once she led it was a case of times and margins, stretching out to defeat Fire Blaze (Brett Lee x Starlight Delly Mar '14) by six and a half lengths in a fast 29.80.
Stuart said he was confident the black speedster could take out the lucrative feature, with her blistering box speed always making her hard to beat.
"Her heat win was probably the best run of her career so I gave her a big chance even though the box draw wasn't too kind to her on paper," Stuart told Australian Racing Greyhound.
"As it turns the dog in box five showed speed and wanted to get to the fence, so she got a nice run early and she pretty much had the race won within the first 20 or 30 metres.
"She's going super – I couldn't be happier with her."
Mandjoogoordap has now won 10 of her 13 starts with two seconds and has earned more than $76,000 throughout her short career.

Stuart said a short break after winning the Group 3 Young Stars Classic late last year worked wonders, with the 28-kilogram youngster returning to the track as a more rounded racer.
"When she first started out she got run down a couple of times, but she is really starting to run out a strong 500 now and I put that down to a bit of seasoning and maturity.
"After her first few runs she was running home in 11.50-ish which is ok but nothing flash. I gave her a couple of weeks off and put a bit of weight on her – since she has come back she's improved a tenth or two in the last section.
"She's becoming better and better every week and there is no reason to suggest why she couldn't still have some improvement left in her."
Stuart said Mandjoogoordap – which turns two at the end of February – has always shown ability and says he believes she has what it takes to mix it with the top greyhounds in WA.
"I've always had an opinion of her. She has the right habits at home and she does everything right on the race track too.
"She can run the sections needed to mix it against the top grade, but she still has to prove herself against those dogs so I don't want to get too excited just yet.
"In saying that she has done everything I have asked of her so far from some pretty terrible box draws so I don't think she will have an issue."
Mandjoogoordap is now likely to have an easy few weeks, with Stuart hoping to keep her confidence high ahead of some big plans over the next couple of months.
"The Perth Cup and the WA Oaks are the aim now. By the time the Oaks comes around she should be up in top grade and have plenty of experience – that really looks to be the perfect race for her.
"With the way she races she is always a big chance so if she keeps improving I'll have to consider taking her over for some of the bigger races in Melbourne too.
"For now I want to keep her confidence up – so I am unsure what I will do next with her. She'll probably have a week or two off and then I might take her down to Mandurah for a change of scenery."
Similar Greyhound Racing News