Untapped wins Sandown Cup in faultless display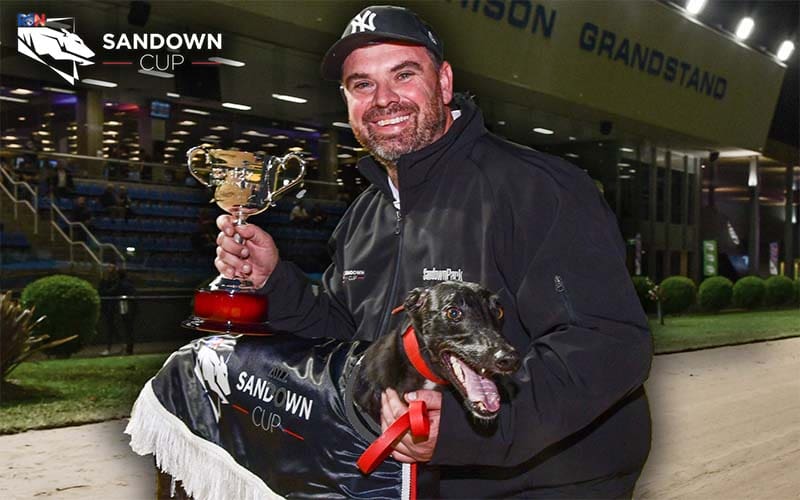 Front running stayer Untapped put in a faultless display to notch up the Group 1 Sandown Park Cup on Thursday night for Warrnambool's Dustin Drew.
The 27 kilogram black bitch out of Aston Dee Bee x Mepunga Fame started a $5.50 favourite with online bookmakers and had her punters up on their feet straight away after clocking the first split in 6.03.
She was joined by Jarick Bale down the back who looked like he might take over, but she proved she has a big heart by sticking on to win by one length in a time of 41.40.
Australia's newest group one greyhound winner is trained by Drew and owned by Team Border syndicate. Untapped was reared and educated by Linda and Robert Gore of Warrnambool.
Drew, who was lured into greyhound racing by his late father, Ray, was emotional after the win and struggled to believe what had just happened.
"41 seconds felt like four minutes there then," he said, shortly after the race.
"It's been an amazing ride. She's been racing against Mepunga Ruby and some pretty good dogs over the staying trip and to keep her up, it's hard you know, I had to make a few changes.
"It still hasn't really sunk in yet but it's been one hell of a journey."
Australian Racing Greyhound spoke to a delighted Linda Gore, who is the breeder of Untapped (Izzy), just moments after the victory.
The win is Moonlight Kennels first group winner and it was a popular win in the south west of Victoria.
"We are so excited with the win," she said.
"We follow all of the dogs we breed and Izzy's journey has been super special as we also sold her for the national draft.
"Dustin and the Drew family have done a magnificent job with her, taking a timid bitch who didn't want to come out of her kennel to now a group one bitch."
2022 Sandown Cup Final (715m) – Untapped (41.40)
---
Second placing in the Sandown Cup went to Jarick Bale (Mark Delbridge) and third position was Aston Velvet for Michelle Mallia.
In the first group one race of the night (Harrison-Dawson) it was a win for Mario Briganti's Rapaki Rocks in a time of 29.33.
"You never like to see them miss the start but it probably worked in his favour," Briganti said.
2022 Hrrison Dawson Final (Sandown Park, 515m) – Rapaki Rocks (29.33)
---
Wow She's Fast was breathtaking in taking out the Sapphire Crown Final for Jacqueline Greenough in a time of 28.81.
Wow She's Fast is one of the more popular greyhounds racing in Australia and she proved that all the hype throughout the early starts in her career was on the money.
She has now earned over $1 million in prizemoney and is the second fastest greyhound to have ever raced at Sandown Park over the 515m distance, behind Aston Rupee.
2022 Sandown Cup Final (Sandown Park, 515m) – Wow She's Fast (28.81)
---
Similar Greyhound Racing News