Vidi Vici out to upset top series chance in Townsville Cup heat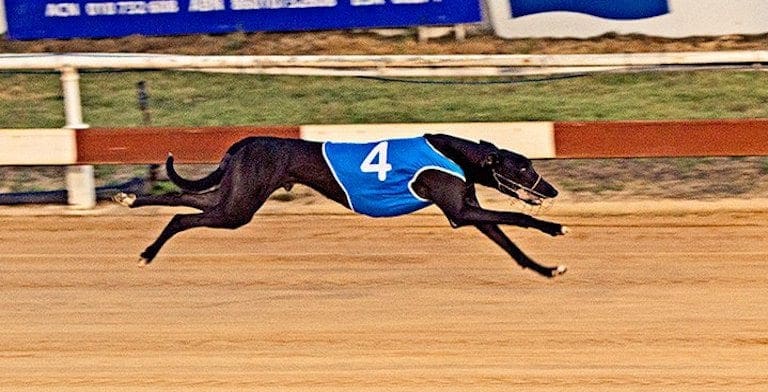 HERBERTON trainer Allan Metcalfe believes Vidi Vici (Magic Sprite x Sheikha Jan '14) can score an upset victory when she jumps from box one in a heat of the Group 3 Townsville Cup (498m) next Tuesday night.
Metcalfe will make the four-hour drive south to Townsville with the daughter of Group 1 Paws of Thunder winner Sheikha (Collision x I'm Exceptional Sep '10) where she will meet a solid field including Group 3 Rockhampton Cup winner Split Image (Where's Pedro x Unfinished Jun '14).
A winner of nine from 71 with 37 minor placings, the Cyril Anderson-owned greyhound has been racing fairly since joining Metcalfe's kennel in June, winning once and placing twice from six outings, however Metcalfe says he expects her to put her best paw forward.
"She is well within herself and she is ready for Tuesday," Metcalfe told Australian Racing Greyhound.
"It took her a while to get used to things, but she is settled in now and she is feeling the best she has since she has been here."
Vidi Vici has done her fair share of travelling since starting her career in August 2015, having changed kennels seven times.
The move to far-north Queensland was an attempt to see the black greyhound regain her best form and gain some confidence, with her connections assured of her ability to contest a series such as the Townsville Cup.
"I have trained for her owner before and he asked me if I could take her and try to get her going for the Cup," Metcalfe explained.
"She was racing in NSW and then she came on season earlier in the year – since coming back she wasn't going as well so he decided to send her up for a go up here.
"She has been an honest little dog, but she is one of those greyhounds which need things to go her way."

Vidi Vici doesn't win all that often but has been a terrific money spinner, earning more than $40,000 throughout her career and qualifying for both the Group 2 QLD Futurity and the Group 3 Richmond Riches in 2016.
From box one, a draw from which she has finished in the money in seven of nine starts, Metcalfe gives her a big chance of qualifying for the $25,000 to the winner final to be run and won on September 5.
"She loves an inside box which is what she has got on Tuesday night so I am hoping for the best.
"Split Image will be hard to beat – but if she gets into a bit of a tussle out wide I think [Vidi Vici] could be a big chance.
"You have always got to have luck, especially in races like this, but I think she can win on Tuesday night – I think she is capable of leading if she jumps well and she is a pretty good bitch out in front."
The heats are packed with quality, with leading conditioner Tony Brett headlining the series with Split Image, Opal Nera (Dyna Tron x Black Sambuca May '15) and 2016 Townsville Cup winner Zabdon Ferrari (Magic Sprite x Awesome Knocka May '14).
Also prominent chances of claiming the series are litter mates Roll So Deep (Fabregas x Spirited Flame Feb '15) and Fire To Rain which will be trying to emulate the feats of their mother Spirited Flame (Vapour Whirl x Fire Goddess Jun '10) which won the event in 2013.
Four heats of the Townsville Cup will be run on Tuesday night, with the first two from each qualifier progressing through to the final.
The first heat is race five which is scheduled to jump at 8.38pm.