Red Zero: six months from beginning to glory to the end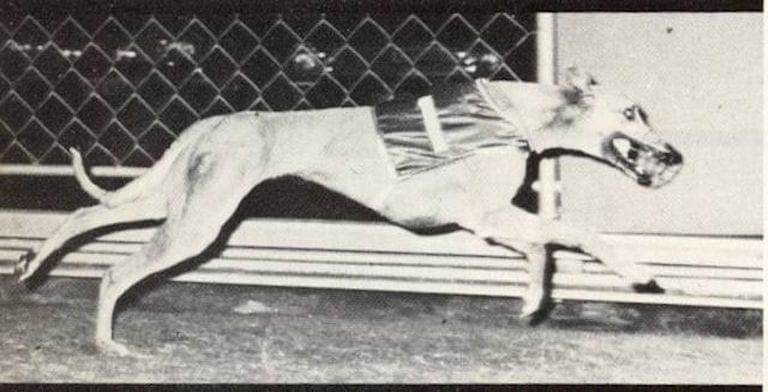 ONE of the more intriguing aspects of the honour roll for the National Sprint Championship is the number of winners who have taken out the nation's peak sprint event having raced 21 times or less.
New Mariner (21 starts; 1973), Prince Of Tigers (18 starts; 1997), Placard (15 starts; 2000), Fabregas (13 starts; 2012), and Best Sun (11 starts; 1965) make up a special sub-set of National Sprint Championship victors.
Included in that sub-set is the 1969 winner Red Zero, with the red fawn dog having only his 18th start when he annexed a star-studded final at Harold Park.
Red Zero was whelped in July 1967 from the mating of Chariot Charm with Grand Duel. Owned and trained by Len Tonks, Red Zero began his career on April 26, 1969 at the age of 21 months, running fifth in a maiden stake over 500 yards (457m) at Harold Park behind future sprint star Milimsimbi.
In that race Red Zero was slowly away, a trait he would exhibit throughout his short career.
Two weeks later, Red Zero broke his maiden status with a strong two lengths victory in a fair 26.8 at Harold Park.
On May 17 he finished strongly but was beaten a head into second place at Harold Park and then ran third in a race over 530 yards (485m) at Maitland.
Red Zero won again at Harold Park on May 31 and then found himself up against Milimsimbi again, this time in a Third Grade event at the Glebe course, finishing a respectable third, beaten just over two lengths behind the boom puppy.
On June 14, Red Zero had his first start at Wentworth Park, over 580 yards (530m). Slowly away as usual, Red Zero finished a two and a half lengths second behind My Safari, who ran 31.3, the best time of the night.
A week later, Red Zero finished well to win a Third Grade race at Harold Park by a neck.
Elevated to Invitation Stake (top grade) class at Harold Park on June 28, Red Zero finished fourth behind the smart Silent Retreat and then came from fourth on the home turn to be beaten a nose by Second Stage a week later.
On July 12, after easily getting through his non-betting qualifying rounds, Red Zero contested a semi-final of the National Derby at Wentworth Park but found bother in the run and could only finish fourth.
With just three wins in his 11 career starts to date, Red Zero looked competent but hardly imposing. Over the next seven weeks all that would change.
On August 4, Red Zero breezed home by five lengths at Harold Park in a quick 26.5 and then cemented his place as a genuine top-grader by defeating an Invitation Stake field by five lengths in a fast 26.3 just five nights later. Busy's Charm, the litter sister of superstar Zoom Top and a strong all-distance greyhound in her own right, was second, with the smart Sammie Sparrow third.
This pair of victories convinced Len Tonk that his charge was a chance of qualifying for the National Sprint Championship final, that year to be held at Harold Park.
In those early days (the Championship had only been inaugurated in 1965) the race consisted of quarter-finals and semi-finals held in the state where the final was due to be run with interstate contenders, most from Victoria, but some from Queensland and Tasmania, arriving to take on the locals. The eight highest point scorers from the semi-finals made up the final field.
On August 23, Red Zero began his campaign in brilliant style, downing the mighty Benjamin John by four lengths in his Harold Park quarter-final and running a fast 26.4, the best of the night on a soft track. Starook was third while Busy's Charm was only seventh.
A week later and the second set of quarter-finals were run at Wentworth Park. Again, Red Zero showed his mettle. Sixth away he made a fast run to be second at the first turn and then hit the front passing the leger. He stormed home to score by three lengths from a fast-finishing Benjamin John, running 30.8 to equal the track record.
Red Zero virtually assured himself of a place in the final when he made it five wins on end by taking out his semi-final at Harold Park on September 6. He began well enough and led for home, defeating Benjamin John for the third successive time, by two and a half lengths and running 26.5, the best of the night. Forest Gleam was third.
On September 13, in the return set of semi-finals at Wentworth Park it nearly all came unstuck. Red Zero found serious trouble and almost fell at the first turn, but came steaming home to finish fifth (in a photo for third) behind Benjamin John.
Despite the unplaced run, Red Zero had sufficient points to make the September 20 final.
Included in the field was the Queensland star Pied Rebel while Johnny Rose made it through for Tasmania. The other six finalists were all from New South Wales.
Red Zero drew well in box one, with Benjamin John in box two. This pair looked to have the race at their mercy, based on the box draw, although both could be tardy at the start.
In what proved to be a one-act affair, Red Zero used the rails alley to perfection in the $6,000-to-the-winner final and breezed away to win by a massive eight lengths in a fast 26.3. Busy's Charm ran home well for second, edging out Pied Rebel by a neck with Benjamin John fourth after finding plenty of trouble in the run.
Five days later, the highs and lows of racing came to haunt Len Tonks as Red Zero finished fifth at Harold Park, beaten 17 lengths by Top Kabana. After the race he was found to be injured and was out of action for a month.
He returned and qualified for the Vic Peters Memorial Classic semi-finals at Harold Park, run on October 25. Once more he was opposed to Milimsimbi and once more he could not match motors with the speedster, finishing a well-beaten fourth behind the black flash. Red Zero was again found to be injured and Tonks was forced into retiring his still-young charge.
Red Zero had raced just 20 times, recording nine wins, three seconds and two thirds. His six unplaced runs consisted of three fourths and three fifths, a testament to his keenness to chase.
Red Zero went on to become a successful sire, producing the likes of Iron Hawk, Duel Fair, Tramp Fast, Gorgeous Zero, Crimson Blue, Kylie Monaro, Sister Zero, Overdraft, Fashion Master, Dainty Monaro, Ibis Lady, Cashell's Dream, Borough Cheer, and Zero Ranger, all winners of feature races across the country.
2017 Group 1 National Sprint Championship
Jury (Cosmic Chief x Velocity Sheba Mar '15) and Bekin Street (Bekim Bale x Serisier Street Sep '15) will be lining up for their 19th and 15th starts respectively in Friday night's Group 1 National Sprint Championship final at Albion Park.
Find out what the trainers of this year's contenders had to say ahead of the $75,000 to the winner decider.
Similar Greyhound Racing News