Young eyeing an upset in Eric Thomson Memorial final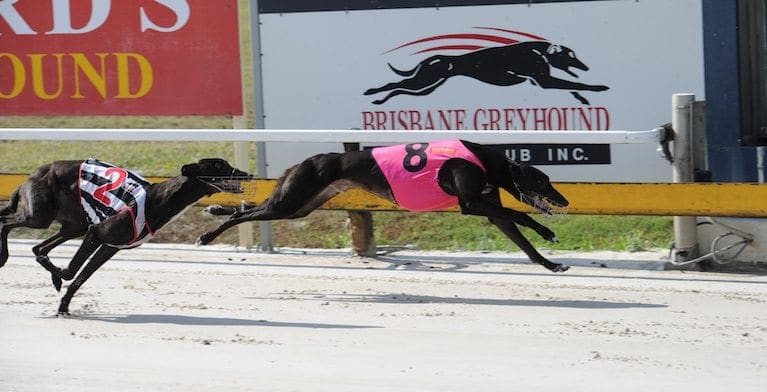 PETER Young will have a double shot heading into the lucrative Eric Thomson Memorial Maiden at Albion Park next Thursday night after qualifying two runners from his kennel in the heats on Wednesday afternoon.
Young, who has a handful of greyhounds in work at his Morayfield property, took out the second heat with first starter Ogodei Star (Kiowa Mon Manny x Mogambo Beach Feb '16) which overcame a slow beginning from box eight, accelerating to find the front around the first turn.
Down the back the big striding black dog kicked clear and, although getting tired in the run to the line, he was far enough in front to hold off a late challenge from Calypso Bay (Shakey Jakey x Sundance Calypso Jun '15) to triumph by three quarters of a length in a moderate 31.03 over 520m.
Young said he was happy with the performance, which came as a surprise given the lack of age, field experience and '500' fitness his greyhound had going into the series.
"He is very young and green – he has only had about three or four trials over 500," Young told Australian Racing Greyhound.
"He wasn't the fastest to begin, but he showed good acceleration and he put a lot of ground on them down the back.
"If didn't look at the time you would have been ecstatic with the run. The time was a bit disappointing – but he got tired at the end and I think that's due to a lack of fitness and age.
"He is not race fit by any means and he definitely will get stronger as he keeps racing and matures."

Young says Ogodei Star has the makings of a good dog looking ahead – and he would know – having trained plenty of quality chasers with his father Brian including Group 2 QLD Futurity winner Visualize It and Group 2 Sandown Shootout winner Iva Vision.
"He is very relaxed – he was half asleep in the stir up before the race on Wednesday," Young explained.
"In my eyes that's the sign of a good dog. I'd rather have a dog that's relaxed off the track and saves everything for when the boxes open.
"He has shown us a lot of ability and we think the world of him. He has a lot of learning to do, but I honestly believe he will be a special dog later on."
Young will also be represented in the final by Spookie Dynamic (Keybow x Zipping Yoko Nov '15) which finished one and three quarter lengths behind Alpha Atlas (Magic Sprite x Queen Of Cyprus Jul '15) in 30.75.
Showing good early speed on Wednesday, Young also has a high opinion of the blue dog and says he just needs to learn how to race with other dogs.
"He drifted out on the back straight which caught us by surprise as he has never done that before, but I think he went through the corner a bit quicker than he normally does and when the other dog got underneath him it pushed him out a bit," Young said.
"He is very green but he is going to go places – I have a very high opinion of him too.
"Both of them are only young so they need race fitness and experience – its hard to get that by trialling."

Both greyhounds are owned by Dave Mennie as a part of the Spookie 8 Syndicate, with Young relieved to see them both race competitively on debut.
"You can ask a lot of trainers and they'll tell you pups can run track record times on their own, but its can be different once they are in a field.
"Thankfully these two look like they wont have any problems racing amongst other dogs so we are very happy as they are only going to get better."
Ogodei Star will jump from box four in the feature, while kennel mate Spookie Dynamic will exit the traps wearing yellow.
The final is set to be a cracker, with the remaining heats won by Pure Vengeance (Jagger Swagger x Midnight Tammy Aug '15) in 30.36 and Hay Cyndie (Barcia Bale x Regal Silver Mar '16) in 30.52.
The $19,000 Eric Thomson Maiden final will be run on Thursday night as a support race for the Group 3 Gold Coast Cup final, with both feature races set to be run over 520m.
Eric Thomson Maiden – box draw
1 – Pure Vengeance
2 – Alpha Phoebe
3 – Friendz
4 – Ogodei Star
5 – Spookie Dynamic
6 – Alpha Atlas
7 – Hay Cyndie
8 – Calypso Bay
Reserves
9 – Rumble Soldier
10 – Ankle Tap
More Greyhounds News