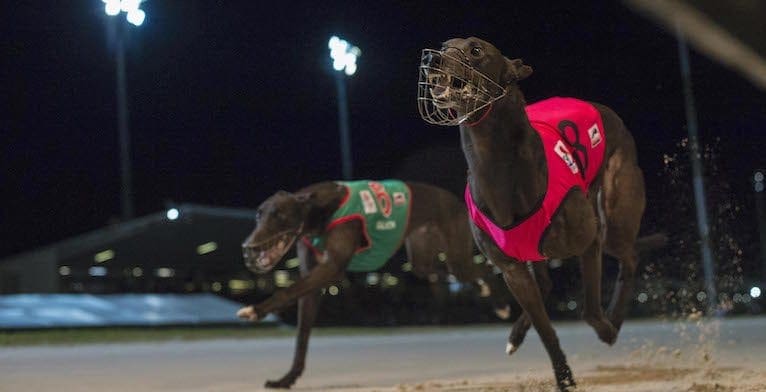 The Group 1 Brisbane Cup is one of the flagship events on the Queensland greyhound racing calendar and is run over the 520m sprint trip at Albion Park.
The Brisbane attracts some of the top sprinters across the country, with the final, held in July in 2023, with a sizeable $1 million purse up for grabs.
The Brisbane Cup has been won by some of the finest chasers the sport has seen, with the 2022 edition won by Tony Brett's Orchestrate.
The heats of the 2023 Brisbane Cup will be raced on June 29, while the final will be race on July 6, with Amron Boy the favourite.
---
Brisbane Cup odds 2023
| Dog | Win Odds | Top 3 Odds |
| --- | --- | --- |
| Amron Boy | $7 | $2.50 |
| Jay is Jay | $8 | $2.75 |
| Victa Damian | $8 | $2.75 |
| Baby Jaycee | $9 | $3 |
| Big Energy | $9 | $3 |
| Len Me Dad | $9 | $3 |
| Rejuvenate | $10 | $3.25 |
| Lentil Monelli | $12 | $3.75 |
| Postman Pat | $12 | $3.75 |
| She's A Pearl | $12 | $3.75 |
** Odds were current as of May 26, 2023, and were taken from neds.com.au
---
Brisbane Cup greyhounds fields 2023
The 2023 Brisbane Cup greyhound field will released after the heats of the race, with the final set to be run on July 7.
---
About the Group 1 Brisbane Cup
The inaugural running of the Brisbane Cup was held at The Gabba in 1972 and was known as the Gabba Sprint Championship until 1975.
The first edition of the race was taken out by Victorian greyhound Garron Court on October 26, which used box two to perfection, keeping her perfect record at the track intact, making it six wins from as many appearances at The Gabba.
From 1976 onwards the race has been known as the Brisbane Cup, with the event run over 558 metres at The Gabba until 1993 after which it moved to greyhound racing's new Queensland headquarters, Albion Park, and over today's distance of 520 metres.
The race is run in December each year, although it had previously been held in October or September up until 2000.
The first Queensland greyhound to win the race was Top Simbi, which won by five lengths to take out the 1993 final. The only dog to win the event twice has been Tricky Creek, which saluted in 2001 and 2002.
The most successful trainer in the event is Tony Brett who has won the race four times – Bogie Leigh (2003), Glen Gallon (2011), Thirty Talks (2016) and Fast Times (2017).
Jason Thompson has won three Brisbane Cup titles – Uno Joel (2007), El Galo (2008) and Got A Moment (2012).
While the honour roll is packed with former stars, some great performers have also been defeated in the final including Roanokee (second 1997), Rapid Journey (second 1998), Dashing Corsair (second 2009), Xylia Allen (fourth 2013) and Flash Reality (seventh 2015).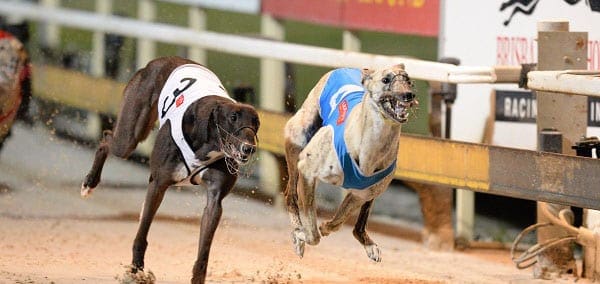 Betting on the Group 1 Brisbane Cup
Being one of the pinnacle events in the Sunshine State, there is always plenty of betting interest on the Group 1 Brisbane Cup.
Subsequently, most online bookmakers offer fixed odds betting on the final once the field and box draw have been decided, allowing punters to shop around to get the best price about their chosen runner.
Additionally, punters can also claim lucrative sign-up bonuses when betting through corporate bookmakers which can make wagering on massive group 1 events even more enticing.
For more information on the sign-up bonuses available through out recommended bookies, check out Australian Racing Greyhound's free bets page.
Other advantages of betting with online bookmakers, particularly in the big events, is the ability to take advantage of some of the great promotional deals – for example some bookies may refund your stake in bonus bets if your dog runs second in the final.

Brisbane Cup Bookmakers
---
Group 1 Brisbane Cup – the recent years
The 2022 Brisbane Cup again had Tony Brett's fingerprints all over, with Orchestrate defeating Just A Sort and Photo Man in the final. Brett, who was caretaker trainer for the past two Brisbane Cup winners, notched up his fifth victory in the Group 1 feature in 29.65.

Equalizer won the 2021 Brisbane Cup in impressive fashion, a year on from her older half-sister winning the same race. Also trained by Jason Thompson, but looked after by Tony Brett for the Queensland campaign, Equalizer looked in trouble early when he went to last but a breathtaking burst helped him claim the group 1. Music Event finished second after matching the run-home time of Equalizer, while Western Australian Wise Thunder finished third after a bold display at long odds.

Black Opium, a year on from finishing second in the same race, has won the Brisbane Cup. The victory delivered Jason Thompson a fourth Brisbane Cup title and forced him to declare her "an amazing bitch". Black Opium took her record to 28 wins from 54 starts and helped her click over $550,000 in prize-money. Local runner Special Cyndie finished second.

South Australian runner Sennachie produced another scintillating performance to win the G1 Brisbane Cup for greyhounds. The Steve White-trained Sennachie, which had previously won the Queensland Derby and was unlucky in the Flying Amy Classic, broke the track record at Albion Park in this run and proved too strong for the star studded field, The son of Fernando Bale and Rhonda Rocks was paying $3.70 with bookmakers pre-race and proved the money was around the mark, beating home Black Opium by 3.75 lengths in 29.38s.

Angela Langton tasted the ultimate success in the Brisbane Cup when Hasten Slowly proved too strong for a powerful field. Hasten Slowly beat home Cosmic Bonus and pre-racing favourite Miss Splendamiro over the 520m journey. Remarkably Hasten Slowly ($8.70) was racing in a fifth Group 1 final, but only just recorded a first win, after finishing runner up in the Topgun, Winter Cup, Australian Cup and National Sprint.

Fast Times became just the fifth greyhound to complete the Winter Cup – Brisbane Cup double with a tenacious win in the 2017 race. It was only a narrow win, defeating a gallant Slick by three quarters of a length across the line for leading Queensland trainer Tony Brett.

2017 Brisbane Cup results

December 7, 2017. 7/12/2017 Albion Park. First Prize: $75,250
Winner: Fast Times (Barcia Bale X Clockwise) Black Dog. Whelped: 5 Apr 2015
Trainer: Tony Brett Owner: Terry Hill
Winning Time: 29.77 Margins:0.75 X 4.75
Others in Finishing Order: Slick, Alpha Aion, Spring Time Girl, Adhara Steel, Cyn's Magic, Off And On, Snug.

Thirty Talks and Zabdon Ferrari gave champion trainer Tony Brett the quinella in the $75,000-to-the-winner event. It was the second group win for Thirty Talks within a fortnight, having also taken out the Group 3 Ipswich Cup in November.

2016 Brisbane Cup results

December 9, 2016. Albion Park BGRC First Prize $75,250 Thirty Talks (Where's Pedro x Unfinished) Born: June 2014 Brindle Dog
Owner: Leonardo Antonio, Trainer: Tony Brett.
Time: 29.57. Margins: 0.75 x 5.5.
Others in finishing order: Zabdon Ferrari, Outside Pass, Blazin Bomber, Whata Nice Size, Lady Abigail, Crazy Vixon, Not Like Tommy.

Champion greyhound Dyna Double One continued his hot run of form, landing the Melbourne Cup – Brisbane Cup double in stunning fashion. The son of Barcia Bale and Crystin Bale clocked a flying 29.71, defeating the classy Cyndie's Magic and Fantastic Spiral which filled out the minor placings.

2015 Brisbane Cup results

December 3, 2015. Albion Park BGRC $100,450
Winner: Dyna Double One (Barcia Bale x Crystin Bale) Born: March 2013 Black Dog
Owner: Brendan Wheeler, Trainer: Andrea Dailly.
Time: 29.71. Margins: 4.25 x Head.
Others in finishing order: Cyndie's Magic, Fantastic Spiral, Simpatico, Old Spice, Cervelo, Flash Reality, Chatsworthy.

Keybow took his career earnings beyond $480,000 with a brilliant win in the 2014 Brisbane Cup. The son of Take The Kitty and Key Exit defeated Fusaichi Kahn by two-and-three-quarter lengths in 29.98, recording his 18th victory at start 38.

2014 Brisbane Cup results

December 4, 2014. Albion Park, BGRC First Prize $75,000
Winner: Keybow (Take the Kitty x Key Exit) Born: December 2011 Black Dog
Owner: Kelvin Lean. Trainer: Darren McDonald.
Time: 29.98. Margins: 3.25L.
Others in finishing order: Fusaichi Kahn, Kiss Me Ketut, Cyndie's Special, Iva Vision, Le Sirenuse, You Can Talk, Exhibitionist.

Arguably one of the most popular greyhounds in recent years, Kiss Me Ketut scored a deserved group 1 win in the 2013 Cup. The black dog defeated a star studded field including the likes of Xylia Allen and Farmor Las Vegas, clocking a fast 29.82 in the process.

2013 Brisbane Cup results

December 5, 2013. Albion Park BGRC. First Prize $75,000
Winner: Kiss me Ketut (Bombastic Shiraz x Spiral Siyan) Aug 2011 Black Dog.
Owner and Trainer; David Burnett.
Time: 29.82. Margin: Neck x 2.25
Others in finishing order: Farmor Las Vegas, Battistuzzi, Xylia Allen, Captain Clarrie, Tomac Bale, Top Story, Hawko's Mistake.
Group 1 Brisbane Cup – honour roll
| | |
| --- | --- |
| 1972 | Garron Court |
| 1973 | Top Simbi |
| 1974 | Mister Oollee |
| 1975 | Alpha Brava |
| 1976 | Clover Duke |
| 1977 | Rebel Attack |
| 1978 | Young Breeze |
| 1979 | Acclaim Star |
| 1980 | General Jeff |
| 1981 | Picture This |
| 1982 | Peter Glider |
| 1983 | Acacia Park |
| 1984 | National Lass |
| 1985 | Super Max |
| 1986 | Pretty Fearless |
| 1987 | Whip Tip |
| 1988 | Dancing Gamble |
| 1989 | Golden Fox |
| 1990 | Whisky Bale |
| 1991 | No It's Not |
| 1992 | White Coonowrin |
| 1993 | Star Title |
| 1994 | Toss The Teddy |
| 1995 | Flying Amy |
| 1996 | Silver Pageant |
| 1997 | Barrio Babe |
| 1998 | Questions |
| 1999 | Bob's One |
| 2000 | Kantarn Bale |
| 2001 | Tricky Creek |
| 2002 | Tricky Creek |
| 2003 | Bogie Leigh |
| 2004 | Malfoy |
| 2005 | Pororoca |
| 2006 | Pure Burst |
| 2007 | Uno Joel |
| 2008 | El Galo |
| 2009 | Mr Metz |
| 2010 | He Knows Uno |
| 2011 | Glen Gallon |
| 2012 | Got A Moment |
| 2013 | Kiss Me Ketut |
| 2014 | Keybow |
| 2015 | Dyna Double One |
| 2016 | Thirty Talks |
| 2017 | Fast Times |
| 2018 | Hasten Slowly |
| 2019 | Sennachie |
| 2020 | Black Opium |
| 2021 | Equalizer |
| 2022 | Orchestrate |
| 2023 | ?? |