Bombastic Shiraz Heads March 2009 Sires Rankings

Bombastic Shiraz, February's fastest mover in the sire rankings, has consolidated his run during last month to be Australia's leading sire to the end of March 2009 using the AGRA rankings.
Bombastic Shiraz's stellar March came mostly courtesy of Miss Slick's ( ~ Little Lamplight (Light Of Fire ~ Ginsin )) Group 1 Perth Cup win, as well as Velocette's ( ~ Texan Lady (Fortress ~ Midnight Flirt)) Group 2 Horsham Cup and Group 3 Perth Cup Consolation wins.
The top five sires have all stayed in the top five positions, just shuffled their chairs with Hallucinate impr0ving just enough during March to hold down the second position, from Primo Uno, and Big Daddy Cool did just enough to edge out Where's Pedro for fourth.
In fact the whole top ten has remained the same just shuffled positions with just Most Awesome dropping out of his equal tenth ranking from February 2009, to fall back to outright eleventh. Black Enforcer was the big mover for March 2009, rising from 28th to just edge out Carnage for the 20th ranking.

Import sire WW Applejax debuted in the rankings for the first time in 30th spot and is the sixth highest ranked import sire behind Digital, Sonic Flight, Premier Fantasy and Droopy's Kewell. There is no import sire in the top ten sires.
Listed below are the sire rankings for March 2009. The ranked positions are determined by a points system applied to group races on a sliding scale of points first to eighth.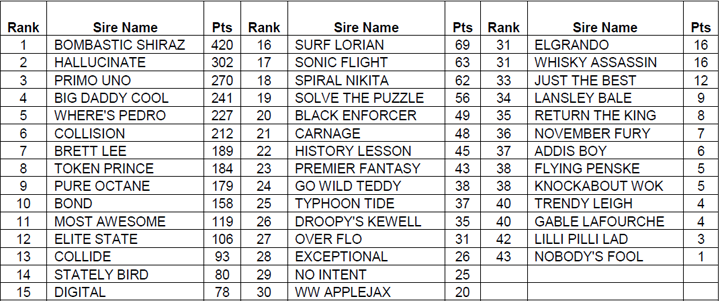 More Greyhounds News